This year, man. This year. Aside from being the butt of everyone's jokes, 2016 featured a plethora of TV- and movie-related hits and misses. Before the ball drops, Pop City Life's Noelle and Nicola sat down to list some of the best, worst, and otherwise notable onscreen moments of 2016…
Shows of the Year
Noelle: A funny and well-done show full of heart and nostalgia, Fuller House tops my list. It's also the perfect binge series, which makes it a jewel in the crown of Netflix original programming. ICYMI, I interviewed the lovely Ashley Liao, who plays Lola on the show, earlier this month!
Nicola: I'm a big fan of floppy hair, queer teens in love, and adaptations of Scandinavian crime dramas, so it's no surprise I adored USA's Eyewitness. NBC's Aquarius and The CW's iZombie were also frontrunners, but the LGBTQ+ allyship of James Paxton (Lukas) and Tyler Young (Philip) gave Eyewitness the edge. I love when actors not only acknowledge but celebrate queer ships, shippers, and fanworks! Did I mention James and Tyler compiled a Philkas playlist? Those two beautiful cinnamon rolls are too good for this world, too pure.
Favorite Onscreen Moments of 2016
Nicola: When I first heard about FOX's adaptation of the Lethal Weapon movie franchise, I was skeptical. Fortunately, Clayne Crawford and Damon Wayans slay as iconic duo Riggs and Murtaugh. True to the franchise's spirit, car chases and explosions abound, but nothing tops Lethal Weapon 1×05, when the two men jump off a skyscraper with a bomb that Riggs shoots and detonates in midair. The good people of Twitter recently voted the stunt as the most #LethalAF moment thus far, and it's not hard to see why.
Noelle: Every time Trai Byers turned around on FOX's Empire. You know what I'm talking about. Also, Colin Farrell simply existing as Percival Graves in Fantastic Beasts and Where To Find Them.
Funniest Onscreen Moments of 2016
Noelle: I present you with this beautiful scene from ABC's dearly departed Galavant. I screamed.
Nicola: This year, one outrageous megalomaniac was elected President of the United States while another wreaked havoc in the sophomore season of iZombie before ultimately meeting his gory demise. Although the latter – Vaughn Du Clark, superbly portrayed by Steven Weber – definitely deserved his inglorious fate, I was truly sad to see him go. Sure, Du Clark was an atrocious human being, but the fact that he was devoured by zombies in the season 2 finale means there'll be no more laugh-out-loud moments like this in season 3:
Most "WTF?" Onscreen Moments of 2016
Nicola: After such a stellar first season, I had high hopes for ABC's Secrets & Lies. Alas, the entirety of season 2 was essentially one big "WTF?" Fortunately, MTV's Scream delivered some quality WTF-ery, including Kieran's big reveal, Zoe's watery death, and Brooke's literal bloodbath. ICYMI, we interviewed Bex Taylor-Klaus (Audrey) about her character's bi-curiosity, her take on Scream ships, and raiding Audrey's closet!
Noelle: My most "WTF?" TV moment has to be the entirety of Gilmore Girls: A Year in the Life. I mean, to destroy a whole series like that takes some serious skill. If, like me, you miss when the show was actually good, check out our list of the 30 best Gilmore Girls episodes to binge-watch.
In terms of movies, the ending of Fantastic Beasts delivered too hefty a dose of "WTF?" for my tastes. Spoiler alert: It featured the bloated potato known as Johnny Depp. I'm pretty sure I let loose a string of profanities when it became clear that Depp's role – which could have been perfectly played by Colin Farrell – would now be a PR nightmare.
An honorable mention goes to Independence Day: Resurgence. I mean, WTF was that? (Shout-out to Bill Pullman's beard, though.)
Biggest Breakout Hits of 2016
Noelle: I've been a fan of Jordan Fisher since chatting with the well-spoken, multi-talented star back in 2015. This year was his biggest yet, and he consistently slayed us all with each new project. Since his breakout role as Doody in January's Grease: Live that caused America – this writer included – to collectively swoon, Jordan has provided plenty to flail over. Highlights include the catchy-as-hell single All About Us from his new EP, and a contribution to the Moana soundtrack that would stop Walt in his tracks. He also joined the cast of Hamilton, which I'll never see because money, but I'm positive he's fantastic in that as well!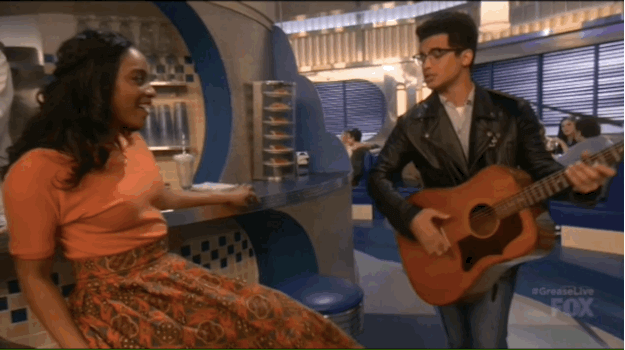 Nicola: I was apparently the only one who saw potential in ABC's Conviction and Notorious, as their ratings have been pretty dismal. Both shows center on powerful women grappling with compelling (if contrived) plot lines, and while neither has been officially canceled at the time of writing, it's not looking good.
Most Eagerly Anticipated Returns
Nicola: Did you know 2016 was both a complete dumpster fire and entirely devoid of Switched at Birth? I'm not saying those two things are connected, but I'm also not saying they're not. Happily, the Freeform show will return for its fifth and final season on Jan. 31, when we'll finally learn more about the mysterious phone call that summoned Bay and Daphne home from Beijing!
Noelle: Younger – which is TV Land's best offering, in my opinion – just wrapped up another hilarious and fantastic season. It's the ideal show to binge-watch during these lazy holiday nights, but I'm already looking for more.
Dearly Departed Shows
Noelle: Galavant! How dare you, ABC?! This show was gold. Comedic, musical, toe-tapping, beard-growing gold. I still believe in you, Tad Cooper.
Nicola: 2016 has been widely characterized as a year of loss, and the television roster was no exception. Two of my Freeform faves (Guilt and Recovery Road) were axed, along with NBC's Aquarius. Also, TNT canceled the superb Murder in the First plus Rizzoli & Isles, the queer-baiting extravaganza I loved to hate to love. True to form, the series ended with Jane and Maura about to jet off to the City of Love together. No homo.
---
What were your most notable onscreen moments of 2016?