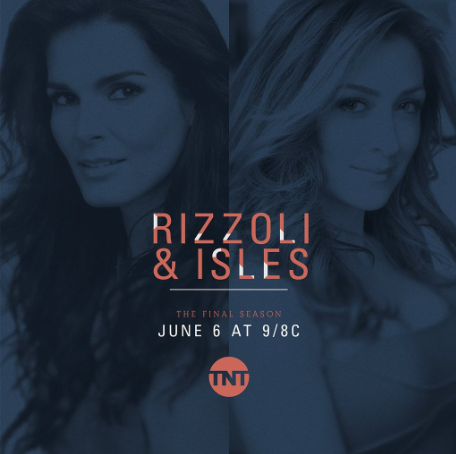 Monday marked the eagerly anticipated return of TNT's Rizzoli & Isles, which embarked on its seventh and final season with two back-to-back episodes. Our recap of Rizzoli & Isles 7×01 is below, with Rizzoli & Isles 7×02 coming later this week.

Wedding bells ring, shooter flees, BPD fails
Rizzoli & Isles 7×01 picked up right where the season 6 finale left off – with gunshots ringing out at Korsak and Kiki's wedding. (Naturally, they got married at the Dirty Robber, because A) this is Korsak, and B) this is Boston.) Jane, being Jane, whips out her firearm from… somewhere… and fires back at the shooter. One thing's for sure: There aren't a lot of hiding places in that dress. When the shooter takes off running, Jane throws off her heels and goes in barefoot pursuit, with Frankie trailing – as usual – in her wake. She's one second from climbing a fire escape in an alley when Frankie literally talks her off the ledge, opting for a six-block lockdown and an orchestrated building search over Jane risking her life in the dark.
Outside the Robber, two wedding attendees have been wounded: Maura has a superficial (or so she claims) head injury, while Nina's more seriously hurt. According to Kent and a dazed Maura's assessment, Nina sustained a through-and-through bullet wound with entry just below the clavicle, which means any movement will sever the subclavian artery. According to my assessment, Nina was shot and it could be bad. As Kent climbs into the ambulance to take Nina to the hospital, he tries to tell Jane about Maura's injury, but only gets as far as "Maura suffered a – " before the door closes. Jane frantically rushes into the bar, checks on her mom and then makes a beeline for Maura. It's only right that the first (semi-) lighthearted exchange of season 7 would be between the titular characters, and that's what we get:
Jane: "Kent said that you suffered something. What happened?"
Maura: "I cut my head."
Jane: "OK, the end of that sentence was not 'Maura suffered a cut on the head' – what happened?"
Maura admits to having a possible concussion, then Korsak interrupts to ask if Jane got a look at the shooter. She didn't, but she's adamant it's Alice Sands, a former police academy classmate with quite a vendetta against her.
The next morning, Jane evades the gaggle of reporters at BPD headquarters by sneaking in through the back entrance, but there's no avoiding the coverage itself. "Wedding bells ring, shooter flees, BPD fails," reads the front page of the Boston Dispatch – and needless to say, Jane takes umbrage. "We haven't failed, we just haven't succeeded yet!" she protests. I think I saw that embroidered on a pillow once.
TNT knows drama
Despite Jane's positive spin, the facts of the case aren't looking too good: The apartment search proved fruitless, there was no forensic evidence found in the van, and Frankie's interview with the van driver suggested the man was more a pawn than an accomplice. Maura has the presence of mind to take some tape from the box the shooter hid in and send it to be tested for trace amounts of exhaled DNA… but how present is her mind, really? She trails off mid-case update, tells the detectives to call an ambulance, then faints. Half of me is like "Telling someone to call an ambulance for herself is the most Maura thing Maura has ever done," and the other half is like "OH MY GOD, MAURA?!"
Of course, there's an ad break, because TNT knows drama, then Rizzoli & Isles 7×01 returns with a doctor telling a worried Jane that Maura's not supposed to physically or mentally exert herself. In other words, having a closed-door "lunch" in Maura's office is off the table. Jane demands to take Maura home, but Maura knows a little something about getting Jane Rizzoli to do what she wants.
Maura: "I want to go back to the office. … I want to help find Alice Sands, and anyway, I'd rather be at BPD where you can keep an eye on me."
Jane: "If you don't take it easy, I'm gonna have you arrested."
Maura: "On what charges?"
Jane: "Failure to… listen to me. Clinical stubbornness. I don't know, I'll think of something."
Game, set and match to Maura, even in her compromised condition. (Side note: Remember that time in season 2 when Jane and Maura played tennis together? Before you click that link, trigger warning for talk of Casey.)
Trickling down
After Nina wakes up post-surgery with Frankie at her bedside, he gives her the 411: The other wedding guests are all OK, but the non-cop guests are a little freaked out (let's just say he probably won't be having another date with Nicole anytime soon). Oh, also, Alice Sands is still in the wind, so Nina helps Frankie hunt down leads on a laptop from her hospital bed. Now, that's dedication to the job.
Speaking of the job, Kiki and Angela are over at the Robber, bonding over the difficulties of loving members of law enforcement. Angela mentions that her boyfriend's daughter Joanne saw the shooting on the news, and wonders aloud, "How far can it trickle down until the effects of this job aren't OK?" When Joanne herself drops by to share that her own young daughter, who had been watching the news with her, is traumatized by what she saw, Angela grows even more conflicted (and Lorraine Bracco does some really superb acting).
Back at headquarters, Kent is doing his best to keep Maura physically inactive, but he can't do much about that brain of hers: She thinks there may be a missed clue in the alley, and sends a CSRU team to examine the scene. Upstairs, Jane's puzzling through the case with Korsak, citing Maura's psychological profile of Alice as someone who won't quit until she's beaten Jane. When Korsak posits that Maura could be wrong, Jane flatly denies the idea and then strides out of the room, declaring Alice isn't going to run because she's not going to let her. Jane's destination? The BPD lobby, where she makes a statement intended to draw Alice out of hiding by calling her a "police academy dropout [who] wasn't good enough to be a part of BPD, so it's just a matter of time before we find her." Badass level 1946: ACHIEVEMENT UNLOCKED.
Needless to say, Korsak's furious with Jane for putting a target on her back and disrespecting the chain of command all in one fell swoop, but before he can really warm up his yelling voice, Frankie interrupts. He and Nina found something: The prison psychiatrist who kidnapped Maura last season and was summarily shot dead by Jane showed up on the payroll of one of Alice Sands' companies. Jane has to let Korsak and Frankie pursue the lead, though, as she's been summoned downtown by the chief of police. "He seems to think I'm not camera-friendly," she tells Maura after the meeting, but those X-rated photos in a locked folder on Maura's computer beg to differ.
Speaking of stuff that simply isn't true, Maura gets word from the CSRU team that the dust on the rungs of the ladder at the crime scene is undisturbed, which contradicts their theory that Alice escaped by climbing up the fire escape. When Jane heads over to the scene herself, she spies a grate, and a new theory takes shape: Alice didn't go up, she went down. Korsak does some digging, and apparently there's a whole neighborhood of people living in the city's network of sewage tunnels, some of whom have ties to Alice…
Shitty, not fine
Jane may be a little tied up arresting an uncooperative tunnel-dweller for being an accessory after the fact in the shooting of a police officer, but she's never too busy to check in on her boo. Maura is doing fine – according to her, at least – and she's adopted a charming system that involves Kent appearing at her office door every time she rings a bell.
Satisfied, Jane heads back upstairs, and Maura promptly forgets the term "mass spectrometer" in conversation with Kent moments later. Yes, it's a hell of a name for the little microwave-looking thingy they use in the crime lab, but it's not like Googlemouth Isles to lose her words like that.
Blissfully unaware of Maura's ongoing symptoms, Jane's questioning a couple of the tunnel-dwellers when a girl comes up to her with a piece of paper and a message: "Alice says hello." Jane reads the note, rips it up, and tells the girl to tell Alice to go to hell. The thunder clouds over her head follow her back to the office, where she discovers Maura has gone to a mysterious appointment. Kent has no further details, claiming he didn't think it was his business to pry. "She suffered a head injury yesterday – everything she does is your business," Jane growls, ringing the bell in his face and storming out of his office as he puts his head in his hands. That's right, Kent; you done goofed.
Jane's bad mood doesn't extend to Nina, though, who's already back at work and claiming she feels fine. "I've been shot: It feels shitty, not fine," Jane deadpans, and Nina admits she's hurting not just physically, but emotionally. If you'll recall, her fiance was killed when she was a cop in Chicago, so the case is personal for her – and nobody understands that better than Jane.
Nina: "I remember how I felt after my fiance was shot. Powerless, scared. I don't want to feel like that again."
Jane: "Do you want to find the person who shot you?"
Nina: "More than anything."
Jane: "You promise to go home when the pain gets too much?"
Nina: "Promise."
Jane: "Let's get started."
Cut from Jane and Nina connecting in a heartwarming way to Kent and Maura connecting in… well, a creepy way. Kent tells Maura her empathy would make her a great doctor to the living, which is all well and good except for how he says it. This guy has a short memory given that Maura's one and only was reaming him out mere hours earlier. Maura swiftly brings the conversation back to the professional realm by saying Kent's been working at the ME's office for a while now and deserves a raise, but there's just one problem: She invites him to lunch to talk about it, which… well, could be interpreted a certain way if you're Kent and you're creepy. I'm not, so we're done here.
Meanwhile in Rizzoli & Isles 7×01, Angela visits Ron at work and breaks off their relationship, her conversation with Kiki ringing in her ears. At the Robber, Kiki listens quietly as Korsak first talks about the Sands case over dinner, then moves on to the fact that he'll be retiring sooner rather than later, sharing his worries about who Jane's next partner will be and how well he or she (let's face it, probably he) will look out for her. Next, he thanks Kiki for listening, asserts that he shouldn't fret about the things he can't control, and says he's lucky to have married the smartest woman in the world before heading back to headquarters to resume the investigation. While Angela's relationship with Ron has fallen apart in Rizzoli & Isles 7×01, Korsak and Kiki's appears to have strengthened.
Jane Careful Rizzoli
Remember that note Alice sent to Jane? It was an invitation to meet her at a specific time and location, but Jane, Frankie, Korsak, and Nina think it's a bluff. Instead, they focus on the mass spectrometry results that Maura brings them, which point to a decommissioned sewage station in another area of the city. As Jane, Korsak, and a SWAT team fan out across the structure, Korsak warns Jane to be careful. She retorts "Careful's my middle name," to which Korsak responds, "I know your middle name; I wish it was Careful." (For anyone who's forgotten, Jane's middle name is Clementine, so, honestly, she probably wishes it were Careful as well.) Of course, Jane's the one who encounters Alice after she ventures off on her own – and Alice makes sure she stays isolated by instructing her tunnel-dwelling minions to seal off the other entrances. Everything's set for a showdown, but then Alice lowers her gun, tells one of the kids to shoot the others, and takes advantage of the ensuing chaos to disappear into the darkness.
Just as Korsak went to Kiki for moral support and comfort, Jane seeks out Maura, inviting the good doctor over for a beer she can't actually have because she's still recuperating from her concussion. Never one to let things lie, Jane asks Maura about the appointment she went to that afternoon, and although Maura downplays the situation, Jane can tell something's up.
Jane: "What did you find out?"
Maura: "What makes you think I had to find out anything?"
Jane: "Because when you have something important to say, you always exhale a lot louder than when you don't."
Not to detract from what's about to become a very serious scene, but listen, Rizzles deniers, when was the last time you noticed the breathing patterns of someone who was just your friend?
As Rizzoli & Isles 7×01 winds down, Maura reveals the bad news Jane had a feeling was coming: Her injury caused bleeding in her brain, which resulted in cognitive impairment like the forgetfulness we saw her experience earlier in the episode. Echoing Korsak's words during his conversation with Kiki, Maura tells Jane she's not going to worry about the things she can't control, and she's prepared to let her friends help her if needed. "We'll get through it," Jane assures her.
In the final scene of Rizzoli & Isles 7×01, Jane heads to church – specifically, to confession – and makes a shocking admission.
"It's been… a really long time since my last confession. I'm not really sure what I should say. There are a lot of reasons that I should come here, I'm sure. None of them are why I'm here today. Someone's after me. They're hurting my friends, my family. It's not what I've done – it's what I'm going to do."
Cue ominous chords.