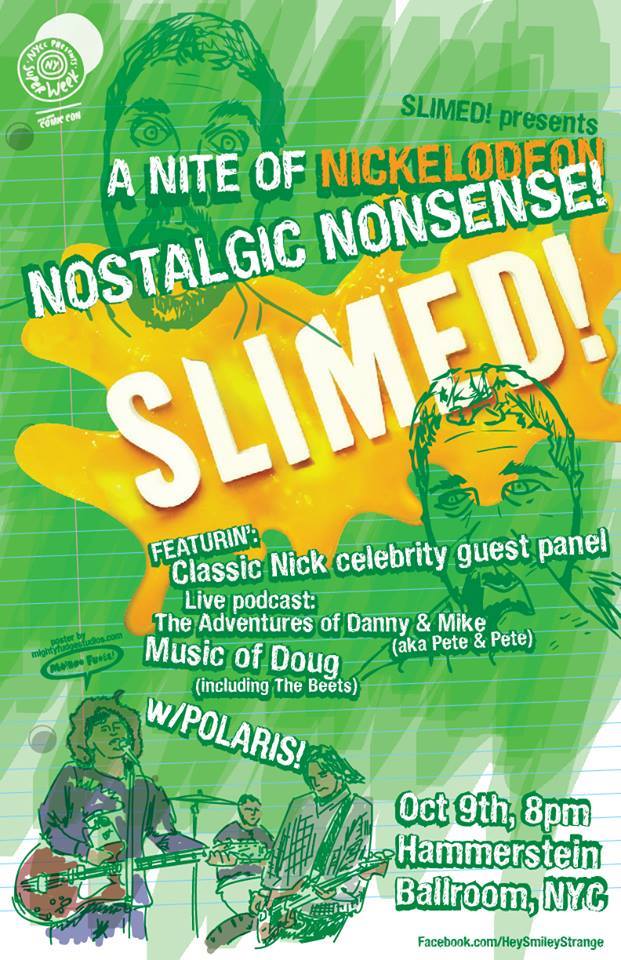 Calling all you kids that grew up in the 90s. It's time to celebrate one of the greatest decades and the television network that helped make it so memorable…Nickelodeon. The network changed the landscape of children's television and helped mold a generation. Growing up during such a special and revolutionary time for kids was pretty freakin' sweet.
Remember last year's special 90s Nickelodeon event in New York City? The spectacular night that was 25 years in the making? Well, they're doin' it again!
If you missed the event last year, you're in luck. The genius minds behind "Slimed: An Oral History of Nickelodeon's Golden Age" are gearing up for round 2 with an all new nostalgic celebration. "A Nite of Nickelodeon Nostalgic Nonsense!" is set to take over the city during New York Super Week, a special week long celebration leading up to the 2014 New York Comic Con.
Tickets are already on sale and this is the perfect opportunity to live out those Nickelodeon dreams. I would never trade in my memories of growing up wanting to stick my hand up that giant nose on Double Dare, wanting to get slimed or go down the pie slide on What Would You Do, pondering why Artie was the Strongest Man in the World on The Adventures of Pete and Pete, wanting Clarissa's entire wardrobe on Clarissa Explains It All, being terrified of those damn clowns and that rickety boat on Are You Afraid of The Dark, singing my heart out to the Salute Your Shorts theme song, and waking up early on the weekend to enjoy all of the groundbreaking animated shows.
I promise, I ventured out into the sunlight at some point in time but… let's be real, how many of us wanted to try our hands at that elusive silver monkey?
A full guest list has unfortunately, not yet been revealed. It may seem steep to go on a whim for a surprise guest list but check out some of the highlights you can expect below. Who doesn't want to jam out to The Beets?
The event will include:
1. A live performance by Polaris, the house band of The Adventures of Pete & Pete, fronted by Mark Mulcahy ("The greatest voice I've ever heard," says Radiohead's Thom Yorke).

2. A live performance by Fred Newman and Dan Sawyer, the masterminds behind the music of Nicktoons' Doug. ("Killer Tofu," anyone … ?)

3. A surprise celebrity guest panel with stars from some of your favorite Classic Nick shows, moderated by SLIMED! author Mathew Klickstein.

4. A live podcast by The Adventures of Pete & Pete's Michael Maronna and Danny Tamberelli (Big/Little Pete, respectively, though Little Pete has little to no respect for anyone except for Artie … and MAYBE Big Pete). The Pete's are bringing along a few special guests of their own, as well, from both the world of Pete AND Classic Nick in general.
And don't forget the VIP Meet and Greet beforehand.
That's a lot of Pete and Pete. Danny Tamberelli and Michael Maronna made a video together promoting the event and dropped a few hints of their own. I can't quite figure it out though…
"A Nite of Nickelodeon Nostalgic Nonsense!" will be taking place on October 9th at the Hammerstein Ballroom in New York City. For more information, check out the official Facebook for Slimed for any and all updates.
Visit Ticketmaster to purchase your tickets.
Still not convinced? Please enjoy this video of Ross Hull from Are You Afraid of the Dark taking the ALS Ice Bucket Challenge:

Who are you hoping to see on the panel? Let us know below!