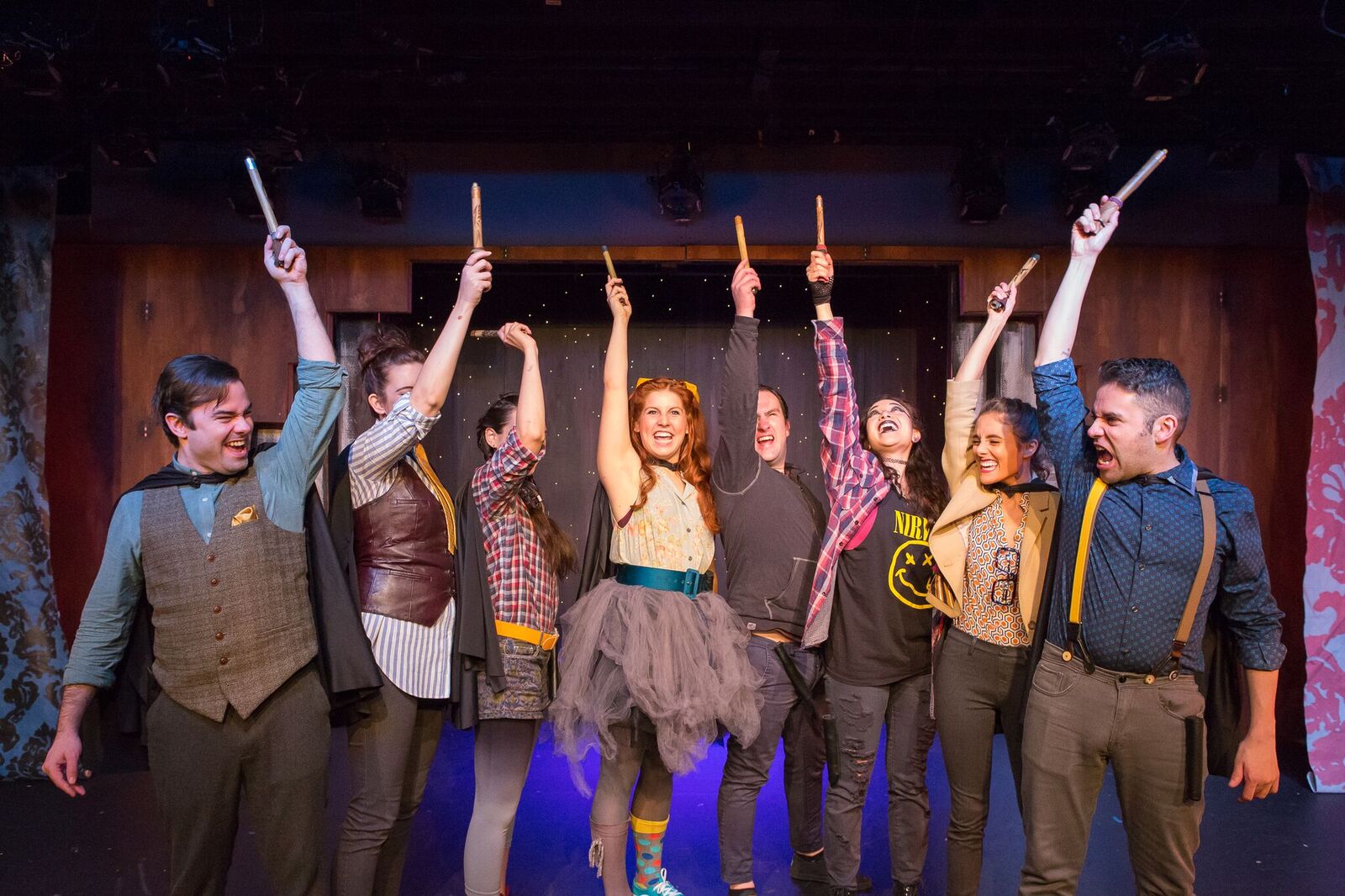 I. Love. Bread. Puffs. Puffs, or: Seven Increasingly Eventful Years at a Certain School of Magic and Magic is settling in to a new off-Broadway home at the Elektra Theatre in New York. The magical adult parody from writer Matt Cox has begun a new run of shows, and we can't wait to see the magical journey that awaits us.
We spoke with Matt about the changes fans can expect from the show, how the move to a new theater provided creative wiggle room, the addition of James Fouhey to the cast, and why this magical journey is anything but over.
Read on for our exclusive interview with Matt Cox below:
A massive congratulations is in order on your move to the Elektra Theatre for the off-Broadway run of Puffs! Some amazing things have been happening since we last spoke. Did you ever imagine this Little Show That Could would bring you to this point?
Matt Cox: Thank you, thank you! And no, I definitely never would have imagined that our little wizard play would still be trucking along. We were only supposed to run for five shows, so I am forever grateful for the many people who have come out over the months, and spread the word about us to the world. It's very exciting!
What does it mean to you to have inspired a dedicated fandom among Harry Potter devotees who continue to support you and share the Puffs love?
This was perhaps ever more unexpected than running for almost a year! I am overjoyed, amazed, and humbled by our growing fanbase. Whenever someone tells me they've seen the show two or more times, I can't believe it. And then, I mostly just hope they keep liking it, especially when we've changed some things! (Which we did a lot of!) It's kept us on our A-game as well with the transfer and the rewrites I've made to the script. We want to make sure we do right by the World of Wizards, to the best of our abilities.
People love Mr. Harry, and rightfully so, and when we are embraced with a similar passion, that is something that's really really cool.
Speaking of local Potter fans, I'm so bummed I missed you guys at New York Comic Con, but it looks like you had a blast! What was it like getting to meet and greet a bunch of Puffs fans in that new environment?
It was amazing! As I'm not in the show, most people don't know who I am when I'm around afterwards, so it was fun to talk some people who have seen it multiple times, as well as those who were just interested in the idea. We got to put the word out to many people dressed in robes who seemed excited, so that was great!
I love the Comic Con's environment. It's full of people who really love things, unabashedly. I've been going for five years, so having the chance to be a person there and talking to people who are excited about the show and for the show's success was super fun.
Your move from the PIT to the Elektra Theatre means more people will get to enjoy the show. While the setting isn't as intimate, there's certainly more room to play on a bigger stage. What differences can we expect from Puffs at the Elektra?
The show itself is definitely larger. We've made it a point to keep the sort of home-grown feel all throughout, but the creatures and the bigger moments have all been redone and are super cool. The show itself is completely restaged; there is a dedicated set, and I also did a fair amount of rewrites throughout. New bits! New jokes! New entire character arcs! Lots of new things.
Also, a big difference moving from a comedy theater to a theater-theater: We put a lot of effort in making Puffs feel more like a play. It's still very silly, and a joke a minute, but we wanted to highlight the heart and let some of the emotional parts of the play shine a bit more. I'm very happy with where the script has ended up. There's a lot of new moments, especially for our trio.
One of the things that was so charming about the original Puffs was how the cast and crew had to think outside the box with the limited budget and props. Now, you have a little more wiggle room – has that been fun, challenging, or both?
Our production designers, Madeleine Bundy and Liz Blessing, have been doing wonders since the beginning. They have gone above and beyond for the show at the Elektra. The play has a whole lot of props (sorry everyone!). Pretty much everything is new, as the Elektra is a much longer space than the PIT, so everything had to increase in size. There were certainly some challenges, but I couldn't be happier with what those two have done. So thanks!
Having seen Puffs at the PIT several times, I got to experience the ever-evolving script. Toward the end, you had begun incorporating new plot points from a certain cursed book. Do you enjoy the freedom of allowing yourself to retool the show as you go along?
This was definitely a plus of running the show at the PIT for so long. I attended most of the shows, and any time a new idea popped into my head, I wrote it down and slept on it. If I still thought it was funny, I would throw it to one of the actors, we'd try it, and if it worked, it stayed!
It's my favorite way to work, and keeps the humor of the show fresh. It's also created a show where most of the bits and jokes have been thoroughly tested, so most of them work. Which is exciting! (Not always, unfortunately.) With the show frozen now, I won't be retooling anymore and I am a little sad about it. But, as said above, I'm very happy with where it is now.
Do you have any plans to incorporate the new beasts and their to-be-determined-if-it's-fantastic movie into the play once it hits screens this November?
With timelines, etc., at the moment there are no plans. However, if there's something that is screaming to be incorporated then perhaps it will find its way in. We do like to stay up to date with the fans, so I'll leave this as a very solid… maybe?
How has the cast adapted to the play's new home on 43rd St.? Did the move breathe new life into their performances?
Everyone is as great as they have ever been! It's definitely a different space to perform in, and everyone has adapted wonderfully. Kristin McCarthy Parker (our director) did a lot of great work in adding a lot of specificity to the characters and I certainly think our lovable group of Puffs is as lovable as ever.
Fans who are familiar with the show will notice that Evan Maltby does not reprise his role as Cedric. What can we expect from the new Most Popular Puff?
Yes, Evan was such a wonderful Cedric, and he is dearly missed. When seeking a new performer, we wanted to find someone who wouldn't be a copy of what Evan was previously (wonderfully!) doing, but would bring a different Cedric to the play. James Fouhey is super nice, sweet, and lovable as Cedric, and as himself in real life. A real Puff. Maybe this time, everything will work out for Cedric? Who knows. (It doesn't.)
We've talked about why your existing fans – me included – need to get back into the city to see this new installment of Puffs. What would you say to those out there who missed the play's run at the PIT and are wondering whether they should check out this re-imagining of a favorite magical story for the first time?
Puffs is a joke a minute. Blast through a certain magic school that a certain famous boy wizard attended, from a new perspective with a surprising touch of heart. At its core, it's really a story about being a normal person in the world, a celebration of all of us who don't necessarily get to be the Harrys of the world. There's also a ton of very silly wizard jokes (and also a lot of non-wizard jokes! I've had a fair amount of people not super familiar with the series enjoy themselves!) It's a story anyone can relate to, inside of a story many have already related to. And don't forget the many silly wizard jokes. (And a few Rocky IV ones too!)
---
Thanks so much to Matt Cox for taking the time to answer some questions for us!
For more information on Puffs, be sure to visit the official website for information on tickets and all things Puff.
Puffs, or: Seven Increasingly Eventful Years at a Certain School of Magic and Magic can currently be seen at the Elektra Theatre in New York.