In Rizzoli & Isles 7×10, the crime of the week was that Maura kept her past marriage a secret from Jane. Oh, and a guy was killed in a park. Also, this episode was directed by Sasha Alexander! Read on for our recap of Rizzoli & Isles 7×10.

Fighting crime & restoring justice
Rizzoli & Isles 7×10 opens at Jane-or-Maura's place as usual (this time Jane's), but instead of seeing Rizzoli and Isles, we get a double helping of Rizzoli. Turns out Jane's mom came by to drop off some photos ("Anything to make this place look a little more homey"). Right from the pilot episode, Angela's made no secret of the fact that she has a hard time living with the realities of her daughter's work, and she finally snapped in Rizzoli & Isles 7×08. She and Jane haven't spoken about the heated exchange since, and just as they awkwardly start to navigate the situation, Maura appears.
There are no tandem "Rizzoli!" "Isles!" calls this week – rather, Maura simply asks if Jane received Korsak's call about the case. "I did, and I told him that I would wait for you," Jane responds. True girlfriend behavior right there, ladies. Jane tells her mom she loves her, then heads off to fight crime and restore justice to the streets of Boston.
A good thing
Here's another thing that's been consistent since the pilot episode: Jane's not exactly a subtle kind of person. Midway through Maura talking about how much she's enjoying volunteering at birth mom Hope's clinic, Jane blurts out that she got a job offer to be a teaching instructor at the FBI Academy at Quantico. She's on the fence about taking it, so the ever-practical Maura suggests they weigh the pros and cons.
Maura: "No more calls in the middle of the night."
Jane: "Yeah, but there's not that much excitement in a regular 9-to-5."
Maura: "All right, but you don't have to chase vicious criminals into dangerous situations."
Jane: "But that's just good exercise."
Maura: "I'm sure they have a gym! OK, how about this? No one will be shooting at you."
Jane: "And that's a good thing?"
Maura: "It is for your mother."
Uh, match point to Maura.
Jerry Springer comes to Boston
Back to the crime. The murder in Rizzoli & Isles 7×10 wasn't a professional hit or a robbery, so Maura suggests it could be random. "I hate random," Jane pouts.
At headquarters, Nina reveals three things to Frankie. 1) The victim was Michael Steele, a forensic accountant. 2) Steele's phone is somewhere at the park. 3) Her mother's in town. One of those things isn't like the others, but they'll have to prep Frankie for interrogation later.
Meanwhile in Rizzoli & Isles 7×10, Jane finds Michael's cellphone and what she thinks is another body until she realizes the guy is still alive, albeit in a coma. When she checks his wallet for ID, she comes away with a whole lot more than she bargained for – namely a photo of the man with Maura, taken outside a Vegas wedding chapel. "Who's Edward?" Jane presses. "My ex-husband," Maura answers, and Jane's face is also my face at this point in Rizzoli & Isles 7×10.
Back in the BPD squad room, Maura provides more details to a small yet studiously interested audience. She and Edward, a wealthy investment firm owner, impulsively married but quickly got an annulment when they "came to [their] senses."
Korsak: "About the time the booze wore off?"
Maura: "We were young and foolish, not drunk."
Jane: "This is a police station; this is not The Jerry Springer Show. Maura's marriage has nothing to do with our investigation, so let's focus on the facts, shall we?"
I love when Jane gets protective.
An inconvenient truth
Speaking of the facts, turns out Edward and Michael made a series of calls to each other over the preceding week. Michael was a whistle-blower who filed SEC complaints about numerous firms, which sure sounds like a motive for murder to me. Oh, and one more fact? Edward and Maura are still married.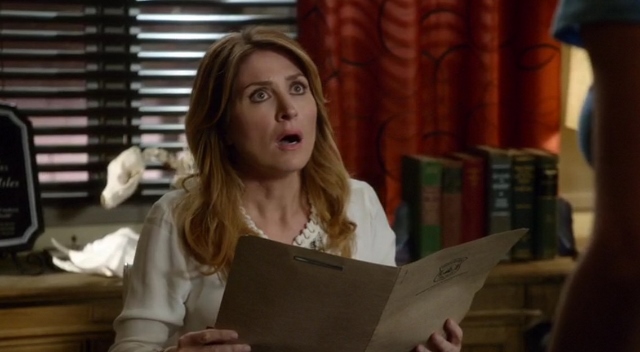 Yup, apparently the lawyer who was supposed to file the annulment papers had a stroke before completing the task. Don't you hate when that happens? Long story short, as Jane phrases it, "You're married to the prime suspect in our murder investigation." When Maura says she's positive Edward didn't do it, Jane reminds her that she never makes definitive statements without evidence. Maura recuses herself from the case due to her relationship with Edward, which leaves her free to "guess, presume, surmise, hypothesize, theorize, even speculate."
Basically, Maura thinks the blood and gunshot residue on Edward's jacket were a result of him touching Michael after he was shot as opposed to actually committing the shooting, and that Edward took Michael's phone to call 911 but was too busy fleeing from the shooter to do so. It's a nice theory, but they need evidence to back it up – like, say, buckshot along the route Edward ran.
Finally, Jane asks what we're all wondering: Why the heck did nobody know about Maura's marriage? Maura's excuse is that it's all in the past, but what she really means is she's with Jane now and it's not good form to talk about your exes in front of your LLBFF. They have a cozy fireside chat about the whole situation, because of course they do. Apparently Edward's mom disapproved of her, and she wanted to attend medical school in Boston. So ultimately, Edward didn't want to move to the East Coast, and Maura didn't want to date men. It happens.
Twisted priorities
Remember Maura's theory that Edward was fleeing from the shooter? CSRU does indeed find buckshot, and Kent concludes it was fired from a rare shotgun. At the hospital, Jane has a terse conversation with Edward's mother Tilly and hedge fund manager Noah Brenner. There's no reason for anyone other than Edward's mother to be there, so Brenner's obviously the shooter.
Anyway, Tilly doesn't want Jane anywhere near her son, but the law says otherwise. "Your son is now a witness in a homicide – I don't need your permission to talk to him," Jane says pointedly. As if an overprotective mom is going to stop her from grilling her girlfriend's ex! However, Edward is refusing to talk. A frustrated Jane eventually asks Maura to convince him to prioritize finding a killer over preserving his family's reputation.
Love in a photograph
So how weird is it that Edward was carrying that 20-year-old wedding photo in his wallet? Maura has a theory: She's the one person in law enforcement who he thinks he can trust, so he put it in his wallet when he realized he was in danger. "You still know how I think," he acknowledges. Apparently when he took over his father's company a few months earlier, he found some troubling inconsistencies in the books. He hired Michael to look into things and agreed to meet him at the park to keep their association a secret. Just as Maura surmised, he grabbed Michael's cellphone to call for help, but was shot at before he had the chance. Oh, and although the shooter stole the incriminating documents from Michael, Edward has copies at his house…
Maura may have recused herself from working the case, but as she tells Jane, there's no reason not to visit his house as his wife. There's just one problem: A gun-wielding Tilly catches her in the act. Maura does her best to talk her way out of the situation, and Jane returns Maura's favor of interrupting the awkward conversation with Angela earlier in Rizzoli & Isles 7×10 by calling at precisely the right time. After Maura puts Jane on speaker, Jane reveals that the owner of the gun used to kill Michael is none other than Noah Brenner. Turns out Brenner was running a Ponzi scheme, and when Edward got too close to the truth, Brenner was prepared to kill him.
Korsak and Jane head to Brenner's office to arrest him, but Brenner's a little busy running Maura off the road and preparing to shoot her. Maura buys some time by offering Brenner the documents in exchange for her life, and Korsak and Jane get there in the nick of time. As Korsak hauls Brenner off to his future in lockup, Jane asks Maura if she's all right. "I am now," Maura replies, and my heart grows three sizes.
Sidebar for the side plots
On to the side plots of the week. At the Robber, Frankie explains to Angela that he flunked Nina's training, so they won't be telling her mom Catherine that they're dating. Angela counters that mothers can always tell, and sure enough, Catherine busts the couple as soon as she lays eyes on them, then whisks Frankie away for a one-on-one chat. Against all odds, Frankie and Catherine hit it off, and the trio decides to head out to dinner.
While Angela's doing her best to eavesdrop on Frankie and Catherine, her ex-boyfriend Ron shows up. Apparently his daughter Joann finally told him about the conversation she had with Angela shortly after the shooting in the season 7 premiere – the same conversation that convinced Angela to break up with Ron for his (and his family's) own good.
Ron: "If my being with you meant that I was at a slightly greater risk of being shot at, then so be it. It's a risk I'm willing to take. You broke up with me under false pretenses, so I reject your breakup."
Angela: "…You do?!"
Then he tells her he loves her, and now I guess they're back together? Straight people are weird.
Happy divorce day, dear Maura…
As Rizzoli & Isles 7×10 winds down, Edward walks Maura home. He asks "Are we really gonna do this?" and Maura counters "I don't think we really have a choice" before they walk into the house holding hands. Um… awkward? But, surprise! Jane, Frankie, Nina, Angela, and Ron are inside with a "Happy divorce" cake and papers ready to sign. After Edward and Maura sign on the dotted line (and Edward tells an anecdote about a wrestling audition and the stage name "Maura the Mauler"), Maura and Jane step aside to talk privately. Maura knows before Jane tells her that Jane's decided to take the Quantico job, and she's happy about it.
They toast to change, but Jane draws the line at toasting to colored shirts. Remember her reaction to the citrine "radioactive booger" blouse Maura let her borrow in the previous episode? Some things will never change.