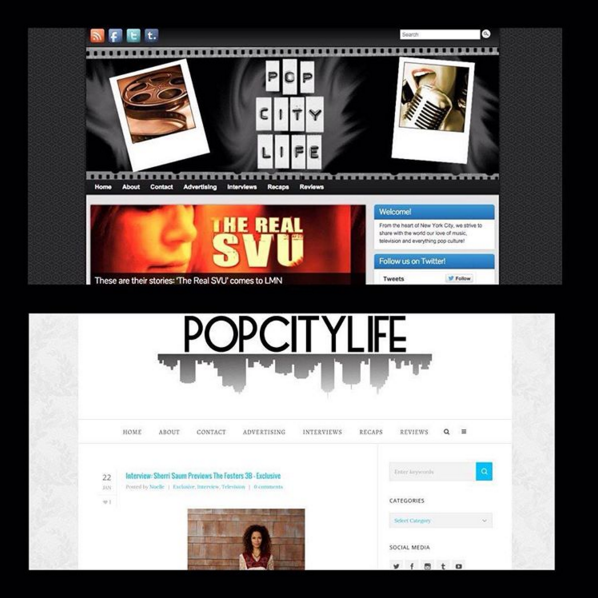 In January, Pop City Life embraced the "new year, new start" idea with a website revamp. Rose worked her design magic, and now there's no more dark background or blue headers! The bulk of the remodel is done, but if you run into any bugs, don't hesitate to let us know by leaving a comment, shooting an email to noelle@popcitylife.com, or contacting us via social media.
Meanwhile, Noelle gallivanted through the month with her weekly Galavant recaps, as the show's second season kicked off on the first Sunday in January and drew to a close on the last. She also interviewed the delightfully named Luke Youngblood, who plays Sid on the show.
January was a busy month for Freeform – and, by extension, for Pop City Life. The network rebranded from its old name (ABC Family); brought back The Fosters and Pretty Little Liars for the second parts of their third and sixth seasons, respectively; and debuted a brand new show, Recovery Road. Noelle reviewed the first three episodes of Recovery Road and interviewed Jessica Sula, the show's star. She also spoke with Sherri Saum of The Fosters, while Nicola interviewed Hayden Byerly and Gavin MacIntosh, a.k.a. the two halves of the show's popular Jonnor ship.
Meanwhile, American Horror Story: Hotel wrapped up mid-month – but recapper Maria didn't get too much of a break, as Grimm returned for the second half of season 5 a couple of weeks later.
Between Brandon's "ex-girlfriend convention" quip from The Fosters 3×11 and the endless laughs from Galavant, it was tricky to pick a quote of the month – but here's Nicola's favorite, courtesy of Recovery Road 1×01. Click the image to head to the Pop City Life Instagram, where you can "like" this quote and check out our other posts!