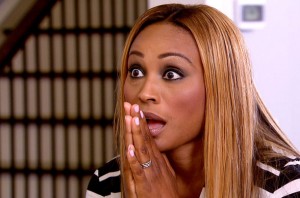 In RHoA 7×14, Apollo drops a bombshell, Claudia and Porsha's feud continues, Kandi and Todd's relationship hits a speed bump, and Kenya's life twirls on. Check out our full recap.
Claudia vs. Porsha
RHoA 7×14 begins with Cynthia and Kenya dropping by Claudia's apartment, where Claudia admits that her confrontation with Porsha at the end of last week's episode is getting her down. Kenya asserts that strong women should stick together (although I'm guessing there's a caveat when NeNe's involved), and Claudia ultimately decides that it's better to not interact with Porsha at all than to attempt to engage the other woman and have the exchange go negatively.
Speaking of negative exchanges, Kandi is packing for L.A., where husband Todd hooked her up with an acting gig in a movie. Todd's coming along too, but he's staying longer than her so he can party, which doesn't exactly go down well with Kandi…
Apollo vs. Chocolate
One person who won't be doing much partying for a while is Apollo. Who else feels like we've been counting down the days until he has to report to prison all season? On the eve of the big day, he goes out with Peter and confides that he went through Phaedra's phone and discovered she's having an affair with an African man she calls "Chocolate." He then proceeds to show the proof to Peter while Peter's driving, which… isn't the smartest thing to do, but then again, Apollo doesn't exactly have a history of making great choices. He brandishes a printout of the offending texts in his personal interview, including the gem, "This time next week, I'm off the plantation."
Peter counsels Apollo not to do anything stupid or let his rage allow him to make bad decisions, then promptly suggests they go for a drink to get Apollo's mind off everything. Perhaps not the best logic, but the excursion is apparently uneventful, because two hours later, Peter arrives back home and relays the conversation to Cynthia. Side note: Cynthia's shocked face is really funny (see above).
Life twirls on… past midnight
Remember Kenya's ill-fated professional partnership with producer Roger Bobb? Their plans fell through, so in RHoA 7×14, she takes on the task of writing a pilot for Life Twirls On herself. How's that going? Well, she's FaceTiming with BFF Brandon and gesticulating with a Bedroom Kandi dildo at 2 a.m. on the morning of the auditions, so take that as you will. The next day, Cynthia blows everyone away with her audition for the role of a Jamaican hairstylist – not necessarily in terms of her talent, but humor goes a long way.
No sooner has Claudia decided to give up on smoothing things over with Porsha that her boss and radio show co-host Rickey Smiley suggests they bury the hatchet – then find Porsha and brings her to talk to Claudia. They don't really resolve anything, but they do pray in a circle, so I guess that's something.
Breaking up is hard to do
Meanwhile, Kandi arrives back from L.A. and confides in BFF/assistant Carmon about her marital problems with Todd.
"I've always been told in order for a marriage to really last, you've gotta have great communication, you've gotta have good sex, and financial stability. Well, clearly we're not having an issue in the financial stability area, but them other two areas is going downhill."
When Kandi brings up the idea of divorce, Carmon is shocked and recommends marital counseling.
Speaking of couples who need counseling, the day Apollo needs to turn himself in has finally arrived, and Phaedra's come out of hiding to change the locks on her doors and the opener to her garage – just in case. Needless to say, when Apollo shows up at the house, he's not pleased. In lieu of calling the police, Phaedra calls in Apollo's friend, the intriguingly named Bun, to help calm things down. Apollo drives off, comes back to brandish a drill and threaten Phaedra not to call the police, then disappears again. Yikes.
For your next weekly installment of southern drama, RHoA returns to Bravo on Sunday at 8/7c.