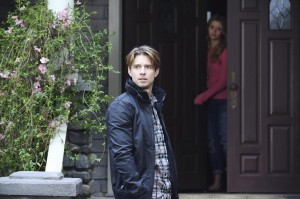 Pretty Little Liars is back! And so is Alison DiLaurentis. But on next week's new episode, not everyone is happy to see her. Mona is busy forming her own army against her and if you ask us, A isn't really gone.
Check out the official preview promo for Pretty Little Liars 5×02: "Whirly Girlie" here:
We'll keep updating as more clips are released. Read our recap of the season 5 premiere here.
ALI'S HOMECOMING IS NOT SO HAPPY IN AN ALL-NEW EPISODE OF "PRETTY LITTLE LIARS," AIRING TUESDAY, JUNE 17TH AT 8:00 PM ET/PT ON ABC FAMILY
Burbank, CA (May 30, 2014) – The girls are on edge as questions arise regarding Mrs. DiLaurentis' whereabouts in "Whirly Girlie," an all-new episode of ABC Family's hit original series "Pretty Little Liars," premiering Tuesday, June 17th (8:00 – 9:00 PM ET/PT).
With the events of New York behind them and back in Rosewood, the Liars are unsettled to still be living under a cloud of secrets. Aria is haunted by the recent past events, while Emily, Hanna and Spencer try to wrap their head around the new normal. Alison, on the other hand, is still sleeping with one eye open as she is forced to stay at home with her family – who she doesn't trust.
Meanwhile, Jason's odd behavior and Kenneth DiLaurentis' search for Jessica starts to raise eyebrows about her disappearance.