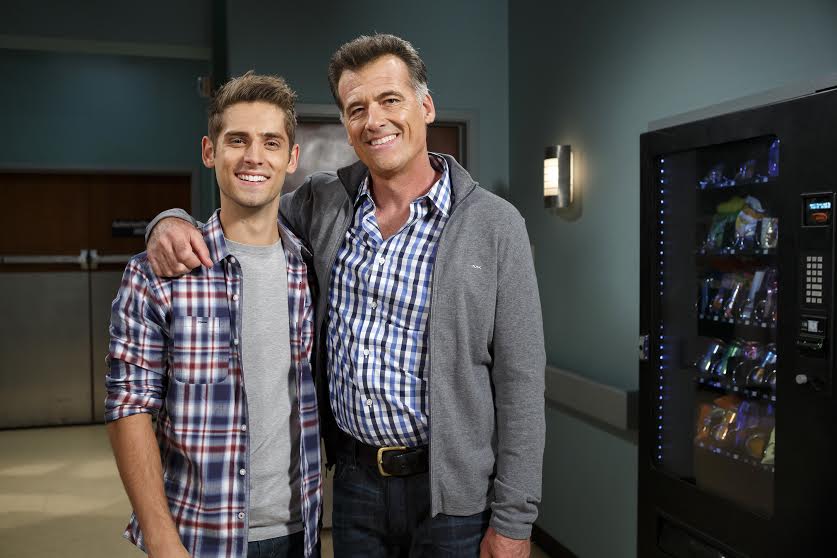 This is so great! We have an exclusive look at the latest Kyle XY reunion on an upcoming episode of ABC Family's hit comedy series Baby Daddy. Bruce Thomas is set to appear in the new episode slated to air March 5th, officially reuniting him with his former co-star Jean-Luc Bilodeau. The duo previously played father and son on the dearly departed ABC Family series Kyle XY. I loved that show so much!
They're both looking good! With Cassie Scerbo also guest starring, this is shaping up to be a great episode.
Baby Daddy airs Wednesdays on ABC Family.
Bonnie decides to break-up with Brad and turns to Danny for help on an all-new "Baby Daddy," airing Wednesday, March 5, at 8:30pm ET/PT on ABC Family.

In "The Bet," Riley bets Ben that he can't get a second date with Heather (Cassie Scerbo). He gladly accepts the challenge, but when Heather doesn't jump at the chance to go out with him again, Ben resorts to desperate measures. Bonnie decides to break up with Brad, but when her realtor boyfriend declares his love, she can't bring herself to go through with it and asks Danny to end the relationship instead.  Further complicating things as only Bonnie can, her love life takes another twist when she unknowingly falls for Brad's father (Bruce Thomas). Meanwhile, Tucker uses Emma to pick up women.
Check out these fantastic exclusive Then & Now pictures of Bruce and Jean-Luc below:
Check out our first interview with Jean-Luc Bilodeau here!