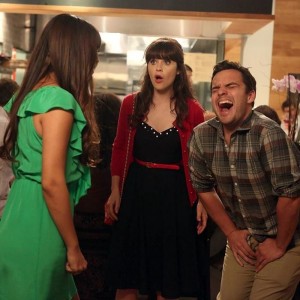 This episode of "New Girl" begins with Schmidt being caught off-guard when Jess suggests that he and Cece double-date with her and Nick, because he's already made plans with Elizabeth that evening (to watch "Dexter" and eat pie). Cece is suspicious of Schmidt's weird(er) behavior, but agrees to the plans. Winston, who has his own love affair with Ferguson the cat, invites himself on the date by promising to get reservations to Picca, the hot new restaurant.
While Nick and Jess are in bed, Cece confides in Jess about wondering if Schmidt's on drugs. Nick, who doesn't want to get involved, is coaxed by Jess to do some recon (with some hilarious Southern lawyer-farm worker-itchy bra roleplay). When Nick checks in with Schmidt, Schmidt traps him with a confession about his double-timing. After a "who's on first?"-eqsue series of questioning, Schmidt begs Nick not to tell Jess about his cheating, but he's now put Nick in the horrible (and impossible) position of keeping a secret.
Meanhile, Winston shows up at Picca in an attempt to get a reservation after calling twenty times, but the hostess tells him they're booked for the next seven weeks, with the exception of the first-come first-serve community table. Winston later tries to get a reservation by pretending to be Toni Morrisson. When that fails, Winston awkwardly sneaks in to sit at the community table, alienates the diners, and calls dibs on the seats by absurdly ordering eight entrees and taking bites out of them to create the illusion that the seats are legitimately taken.
Nick awkwardly puts on a helmet to hide from Jess, who confuses it for role play; in post-coital conversation, Jess asks Nick about his conversation with Schmidt and he easily caves. Jess storms out, calls Schmidt "Long Island Street Trash" (recapper's note: new favorite insult) and threatens to tell Cece about Elizabeth if he doesn't. Nick makes up a happy dance. Schmidt, who initially seems serious about confessing, gets the jump on Jess by grabbing Cece and racing out the door to drive in separate cars.