Last year, improv group The Katydids made a splash by bringing their web series Teachers to television. The show returns to TV Land tonight with what promises to be a bigger, better season. We found out more about Teachers season 2 from The Katydids themselves: Caitlin Barlow, Katy Colloton, Cate Freedman, Kate Lambert, Katie O'Brien, and Kathryn Renée Thomas. Check out the full interview below!
For people who aren't familiar with your show but are interested in watching Teachers season 2, how would you describe it?
Caitlin Barlow: It's basically six elementary school teachers whose messy personal lives bleed into the classroom. It's really about being a young woman and getting your life started and making mistakes along the way, no matter how hard you're trying.
Kate Lambert: Ultimately they want to be good at their jobs, but sometimes they get in their own way.
What can fans expect from Teachers season 2? How would you say it differs from season 1?
Kathryn Renée Thomas: I think that Teachers season 2 differs from season 1 because we're able to get a little deeper into learning about these characters and their personal lives. In the first season, we had 10 episodes and 20-something minutes per episode. It's a six-person ensemble show, so it's hard to really delve too deep when you're just getting to know these characters. We get to learn a little bit more about the characters' relationships with their partners and their families, what makes them tick, and their psychology. We also explore a lot more political and social issues this season. Slut-shaming, being a woman, being a woman in politics, and issues related to teaching, like Common Core, which is a new way of teaching that a lot of people are arguing about. There's a big to-do around whether it's great or it sucks, and teachers are especially opinionated about it.
Katy Colloton: Also, we have some really fun guest stars. We have everyone from Haley Joel Osment to Coolio on the show! We love to call back to the '90s and get nostalgic, so we also have Matt Walsh, Ryan Hansen, Lisa Loeb… and Lisa Loeb is singing, so we're very excited about that!
Related to that, the 10th episode of Teachers season 2 has a musical element. How did you come up with that idea, and what was it like to execute?
Katy Colloton: The musical episode was my favorite to produce and write because it was so much fun. We're all fans of musical theater – some of us more than others! For me, the idea came from how I got into this business as a child doing community theater and school musicals. Every time I auditioned, I was always cast as, like, Peasant No. 3 or The Tree. It's so exciting to be able to write our own musical and do the numbers we'd always dreamed of doing, and the comedy we dreamed of doing. That's one of the fun things about the show – because we have the control, we get to do what we want! It was definitely a dream episode, but it was also really challenging. We did it fast because it was the last episode we wrote and shot of the first 10. We wrote it in two weeks, recorded the songs two days after, and learned dance numbers in one day. A lot of it was thanks to the people helping us! Josh Funk was our composer, and he did an amazing job. The music is absolutely beautiful.
Kate Lambert: We also had the choreographer Kathryn Burns from Crazy Ex-Girlfriend. I'm someone who grew up doing musicals throughout high school and college, and I love them! The thing with musical improv is that a character only sings when talking just won't do anymore, so it's really funny to have our characters become so emotional over everyday things like school lunches.
It sounds like the musical was a major highlight! Do you have a favorite Teachers season 2 scene or episode that fans can look forward to?
Caitlin Barlow: My favorite plot in Teachers season 2 is about Common Core. I was a fourth-grade teacher, and I spent many, many hours trying to decipher Common Core problems. I had to figure out A) How can I, as an adult, solve them? and B) How can I teach children to solve them? It felt very empowering to have an opportunity to get my point of view across – which I think is a point of view shared by a lot of other teachers – and to do it in a comedic way was really fun.
Cate Freedman: I think one of the episodes I'm looking forward to most is one where a tornado comes near the school. The teachers don't behave so well in response to it, and they get sent to a ropes course. That's probably my favorite so far. It was also by far the most terrifying episode to film for myself and Caitlin Barlow, who are terrified of heights! We were what felt like hundreds of feet up in the air shooting some of the scenes!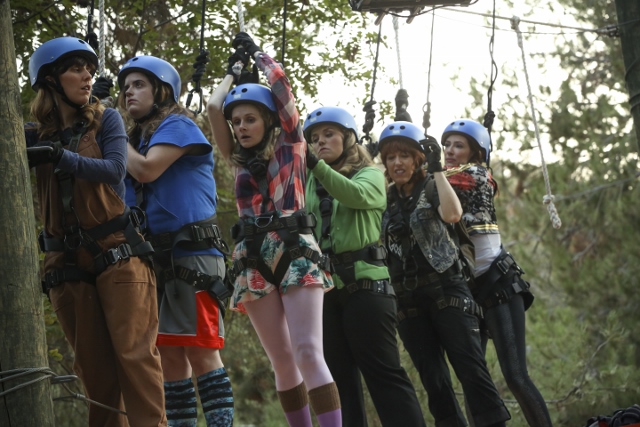 Katy Colloton: My favorite scene in the whole season is Katie Thomas' musical number. It's about adult acne, but parodies Phantom of the Opera – it's just brilliant.
Kate Lambert: It's hard to pick a particular scene, but the musical was so much fun for the reasons we discussed earlier. To see characters like Deb Adler doing something like singing is hilarious.
Kathryn Renée Thomas: I think some of my favorite scenes were at the very beginning of the season with Tim Bagley, who plays Principal Pearson. The principal comes back having changed a bit over the summer! Tim Bagley is so hilarious that he made it weirder and more uncomfortable than we ever could have imagined. Also, I'm a huge Game of Thrones nerd, and we got to do a little Game of Thrones parody in an episode, so I totally geeked out over that!
Your characters are exaggerated versions of different types of people. How do you balance the element of caricature with making sure each character seems relatable to viewers?
Kate Lambert: That's a great question. When we did the web series, the characters were already very different, but when we made the jump to television, we had to make them even more defined. Since there are six of us, the audience really needed to get the differences between everyone. What's great is we've been living with these characters since 2012. We all know our characters and each other's characters so well, so it's easy to ground them even when their emotions are heightened.
Do you share any similarities with your characters? Do you think you'd get along with them in real life?
Caitlin Barlow: The characters are all based on some grain of truth in our personalities. [Cecilia Cannon] is basically who I was in college if I hadn't discovered Madewell and Sephora and gotten really shallow! I think I'd probably be really annoyed with my character in real life, because she'd remind me of who I was.
Cate Freedman: I share a lot of similarities with Feldman, except I have yet to go to a Phish concert and I'm not a criminal! But I think I would like Feldman in real life. We would get along really well.
Kate Lambert: [Caroline Watson] and I are both very organized and like to do crafts! But I think she could relax a little bit more. I would probably take her out for a beer or something.
Kathryn Renée Thomas: I based [Deb] off a heightened version of me in high school. I lived in a very suburban area and fancied myself to be a bit of a punk/goth/alternative kid, but was kind of a poser. Part of the joy of writing her is that it's me if I'd never grown out of that and had been brutally bullied. I think I'd get a kick out of my character if I met her in real life. I'd probably roll my eyes at her a lot, pat her on the hand and say, "Oh, sweetie." But, you know, she's loyal, so I'd be her friend. She can kick some ass if needed.
Katie O'Brien: I would hate my character in real life! Bennigan is so naive. She's sweet, but I feel like I would just be disgusted with her. But she's really fun to play!
Katy Colloton: I would be fake friends with [Chelsea Snap]. There's similarity in that I love pop culture and watch reality TV, but her insecurities would drive me crazy. I like to think that I'm not like her in that I'm not promiscuous or particularly bitchy.
Caitlin Barlow: Katy Colloton is very sweet!
Katy Colloton: We would be friends with a distance between us. I'd keep her at arm's length.
Your collective background is in improv, and writing for TV is a little more structured. How do you navigate that process?
Kate Lambert: The writing room is incredibly collaborative, and we use a lot of improv in the sense of riffing and having hypothetical conversations. One of the tenets of improv is "Yes, and?" and that's helpful with building upon other people's ideas. If somebody has a great joke they want to use, we figure out a way to make that work.
Katy Colloton: We've also been writing and performing together for eight or nine years, so we really know each other. I think the writing process is really fun because it's usually people throwing out ideas for each other. We know each other's strengths and weaknesses. It's fun to write for someone knowing exactly what they can do and how they'll execute it.
Katie O'Brien: We always say the first season was like a master's in television. We had really never written scripts for television before, or a narrative. It was a huge challenge to figure out story structure! We had a lot of help from our showrunners, Ian [Roberts] and Jay [Martel]. They're wonderful and kind and sweet, and they might be in the room right now! But we were genuinely lucky to have them guiding us in turning sketches into full scripts.
Lastly, do you have a message for Teachers fans?
Caitlin Barlow: First of all, we want to thank our fans. We've had an incredible outpouring of support, and we love that people have responded so well to the show. Tune in Jan. 17 – I think you guys are really going to love Teachers season 2. We love it! We took a lot of risks. This season has a lot of teeth.
Katy Colloton: I also want to say that we listen to our fans. Some of the plots were based on feedback we received, including teachers saying they wanted to hear about the Common Core, and a lot about how the copier being broken is the worst day in a teacher's life! We heard it so much that we were like, all right, we've got to do an episode where the copier breaks and no one knows how to talk or relate to their children without worksheets or quizzes! We heard what our fans wanted to see more of and did that, including Hot Dad and Bennigan. Everyone loved to follow that story, so we really went further with their relationship this season.
---
Huge thanks to The Katydids for speaking with us! Keep up with Teachers on Twitter, Facebook, and Instagram, and don't forget to tune in to TV Land tonight at 10/9c for the season 2 premiere.