by Josh Batchelder

Say it ain't so? Two potentially huge deaths were the centerpiece of this week's Scream Queens.
Here are 10 of the craziest, funniest, and most gasp-worthy moments from Scream Queens 2×04:
1. "I can't quit you."
Is there more footage of Chad Radwell and Denise Hemphill role-playing? If so, can it be released immediately?
2. Chanel's response to Denise inquiring about Chad's will.
"You can steal my man with your ample booty and admittedly beautiful weave, but I will NOT allow you to take the money he obviously left for me so I can be rich enough for everyone to like me again!"
3. Chanel's will meltdown.
That slow-motion scream and table dive is one of the most rewatchable moments of the season so far. Totally on par with season 1's lunchroom brawl.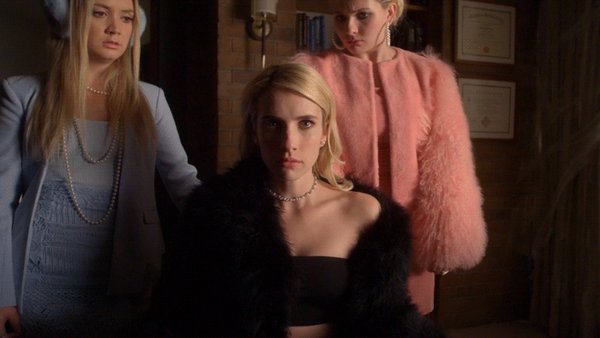 4. CHANEL-O-WEEN Part 2.
Because euthanasia should be legal.
5. Denise talking about wearing Chanel's wedding dress.
"First of all: I look amazing. And I'll admit, I was surprised when I tried it on and it fit like a glove. Because you know, we got different body types. My body type is woman and yours is malnourished Victorian paperboy."
6. Munsch providing Brock's alibi.
"You know, he and I were having a little of the jiffy stiffy in my office. Right before the wedding. Right when Chad was being killed."
7. Munsch's kind words to try to get Chanel to stay at the hospital.
"Look, Chanel, I'm sure once you develop personally, professionally, and physically, you'll have no trouble keeping a man. This is the place to do that. Stay."
8. Ivanka Trump stalking Chanel.
That mask is seriously creepy, right? Lea Michele killed it this episode in basically every way. Her crazy is amped up to 100 and I'm loving it!
9. Chad's GHOST moment.
"First time we made love – 10 back-to-back orgasms."
10. The 2-for-1 special.
Say it ain't so! After so many close calls, looks like Chanel #5 is finally a goner in Scream Queens 2×04. And is Denise Hemphill really dead?! We can't lose Niecy Nash! Tune in to FOX at 9/8c on Tuesday, Nov. 8, to find out who made it and who's actually dead!