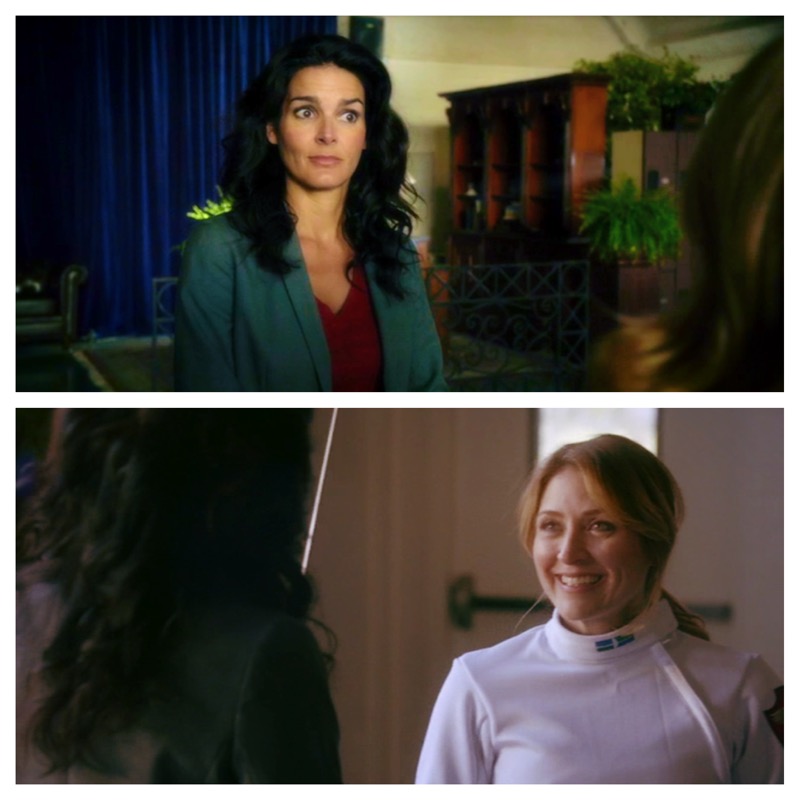 If you follow the Rizzoli & Isles cast or crew on Twitter, you've probably been aware of Community star Yvette Nicole Brown's impending guest role for a few months now. Rizzoli & Isles 7×04 is the episode in which she made her appearance – and what an appearance it was, featuring fencing, badly chosen blenders, and karaoke (oh my). Read on for our recap of Rizzoli & Isles 7×04.
A whole different sword
Rizzoli & Isles 7×04 deviates from the norm in that the initial interaction between the titular characters doesn't occur at either character's place of residence. Rather, a dubious Jane is meeting Maura at her fencing class. Jane's ready with a musketeer wisecrack, but there's just one problem: She addresses the wrong blonde. "This is the épée section," the woman corrects Jane frostily. "Dr. Isles is in the saber section. It's a whole different sword." Honestly, this lady should be a little nicer, given that Jane's clearly not into swords.
By the time Jane locates Maura, she's ready with another zinger. "I didn't know that rich people had their own Stormtroopers," she quips. Let's hope that quick recovery time also translates to the bedroom.
Speaking of recovery, Maura explains that she's taken up "using the sword scientifically" to help build new neural pathways. "You're gonna fence your way out of your brain condition?" Jane asks incredulously. This is arguably the most Maura Isles thing that Maura Isles has ever done. I know I made the same statement two weeks ago, but Rizzoli & Isles 7×04 might just take the cake.
Maura: "I'm just trying a variety of activities. Learning new skills helps the brain create new connections that can compensate for damaged ones."
Jane: "So do you really think that this could help you?"
Maura: "Well, it could. If it doesn't, then at least it's gonna give me good abs."
Basically, this is a win-win situation for Maura and Jane, especially if Maura's open to learning a few NSFW skills.
Maura will try anything once
As Maura's in full fencing gear, she asks Jane to pick up her phone when it rings. Jane obliges, answering "Sir Maura Isles' phone" because teasing Maura is her favorite pastime. She immediately confirms, "Yeah, it's Rizzoli," meaning we can reasonably infer that the person on the other end of the line isn't surprised Maura's spending her downtime with Jane. They are officially more married than people who are actually married, am I right? As if to further prove this point, the duo bickers over whether it's appropriate for Maura to wear her fencing gear to the crime scene, and Jane declares she doesn't want to know where Maura's going to stash her phone. Oh, but you do want to know, Jane – you really, really do.
As they arrive at the crime scene, Jane suggests Maura take up ice hockey. It just so happens that the BPD team is short a player in its game against the fire department next week. "Get me the right mouth guard and I'm in! I'll try anything once!" Maura responds enthusiastically. Ohhhhh friends, I'm not touching that one – there are just too many jokes.
So, to recap, Maura fences and Jane plays hockey. Rizzoli & Isles 7×04 has already given us so many gifts, and we're not even five minutes in.
So the Rizzoli & Isles 7×04 victim of the week is a mailman named Jack. Although he appears to have shot himself, the manner of death isn't conclusive. Jack is divorced and his wife and kids live elsewhere, so who's clattering around in his house? It's none other than Shirley Bennett, a.k.a. actress Yvette Nicole Brown, a.k.a. Agent CJ Prescott, a forthright U.S. Postal Inspector who's about to get into a jurisdictional shooting match with the inimitable Jane Rizzoli.
According to CJ, Jack was involved in an illegal operation related to the trafficking of suspicious packages at a postal facility. Oh, and the potential murder of a janitor could be a factor as well. Jack had agreed to bring CJ proof, but never showed up on account of being… well, dead. CJ's convinced Jack was murdered as part of a cover-up, but back at BPD headquarters, her suspicions quickly fall under scrutiny. According to Frankie's research, the janitor's death was an accident, and CJ had been warned off the case months before. "Both she and her theory are whacked, which points us back to suicide," Frankie summarizes with his trademark tact. You could say it's a Rizzoli trait. But as Jane studies the crime scene photos, she isn't so sure Jack's death was a suicide…
Down in Autopsy, Maura is really serious about this brain connection thing. She's forcing a new electrochemical pattern to fire in her brain by listening (and humming adorably) to The Temptations. As she tells Kent, the association between work and Mozart is already a well-worn neural pathway for her. I also have that well-worn pathway, so, Maura, I feel you, boo. (OK, that's not true; the last artist I listened to at work was Dolly Parton.) Anyway, Maura explains to Kent that she's decided to set aside the idea of surgery for the moment, favoring brain connection-expanding exercises instead. That said, she's prepared to reevaluate if her symptoms worsen. In case you missed it, this part of Rizzoli & Isles 7×04 was definite foreshadowing of her symptoms worsening.
Maura also admits that although Mozart is her default #MorgueMusic, she's not opposed to Motown. In fact, Aretha Franklin's Natural Woman is her go-to shower song – just ask Jane. Kent breaks his streak of not being creepy for a solid minute by announcing, "I've always wondered: What exactly is a natural woman?" Maura duly banishes him to do some filing so she can go over the autopsy results with Jane in peace. Turns out she found a recent chip on Jack's tooth, a hematoma on the roof of his mouth, and markings that suggest the fatal bullet came out of a silencer. TL;DR – not a suicide, y'all.
Maura's thoroughness may have led to a break in Jane's case, but elsewhere, she's showing cracks. First, she experiences another episode of dizziness, then Kent points out an error in a report she wrote. He also continues to be weirdly pushy about surgery, even though Maura's health issues continue to be none of his business.
I'd just like to note that the word Maura misspelled was "myelomeningocele." In my opinion, that shouldn't even count unless she's competing in a spelling bee.
Meanwhile in Rizzoli & Isles 7×04, Jane and Korsak visit U.S. Postal Inspection Services. They tell the newly suspended Agent Prescott that she was right about Jack being murdered after all, and invite her to work with them on the case. Of course, Jack's homicide brings the nature of the janitor's death into question as well. Was it really an accident, or is something more nefarious going on? Back at headquarters, Korsak asks Maura to get her counterpart in New York to pull the autopsy report on the janitor. It looks like Maura's not the only fallible medical examiner on the East Coast! Upon closer X-ray examination, the janitor's neck appears to have been deliberately snapped.
Passion & philately
Over at the Dirty Robber, Maura and CJ bond over the U.S. Postal Service's fascinating history while Jane silently judges them.
Maura: "I'm a bit of a philatelist myself."
Jane: "A philatelist? Sounds dirty."
Maura, in my head: "Yes, it is, and I plan to teach you all about it later, Jane."
Maura, on the show: "It means I collect stamps."
Jane then proceeds to advise CJ to try "a little less intensity" when engaging with people (yes, this is Jane Rizzoli I'm talking about here). CJ counters that she has passion, and "sometimes passion makes you wanna punch people." To no one's surprise, Jane finds herself agreeing.
Things Jane Loves About Maura: Volume 1
When a search of Jack's house and car comes up empty, the BPD plus YNB head to the postal facility to check Jack's locker. The investigators find a granola bar with a hidden postal bar code printed on its wrapper, and after CJ makes a call, the receiver's fake address soon comes to light. (Who knew that undeliverable mail is relegated to a post office's "dead letter bin" and eventually routed to the dead letter office in Atlanta? Not me!) Anyway, now we understand the scam: Jack was intercepting all undeliverable mail to that particular fake address and delivering it to… Well, Nina and Korsak will just have to go undercover as janitorial staff to find out.
Down in the morgue, Kent hands Maura what he says are the DNA results from tests on the mysterious packages, but is actually a list of neurosurgeons who specialize in Maura's condition.
Maura: "I didn't ask you to do this."
Kent: "No, and I knew you'd be upset if I told you that I was doing it."
So maybe you shouldn't have done it, Kent – did you ever think of that? Maura shuts him down by telling him, "This isn't part of your job, which is what I believe you should be doing right now." Boom. Take five steps back, Kent, then another five for good measure.
Meanwhile, with Nina and Korsak inside the postal facility, CJ and Jane bicker outside in the van. CJ takes umbrage with Jane's tone, saying Jane's raspiness and lower register make her feel "very uncomfortable." Uh, guys. Someone hold my earrings.
Luckily, Nina and Korsak get their man before anyone can come to blows. It's Derek, the manager who so helpfully gave their colleagues a tour of the postal facility earlier in the case. There's just one problem – the DNA report suggests the murderer was female. Back at HQ, Jane wants to see the report, but grabs the wrong file and sees Kent's list. The one good thing to come out of Kent's meddling is that Jane and Maura finally get to discuss Maura's fears about her Chiari Malformation. She's afraid she may no longer be the smartest person in the room – which, to her, is practically her identity – and Jane does her best to provide reassurance.
"OK, listen to me. You are always gonna be you. OK? Your intelligence is not what defines you. You are kind and generous and loving, and you are the best friend that a person could ever ask for, OK? That woman is always gonna be there, whether the surgery works or not. Your brain is not what I love about you, Maura. What I love about you is that you took my mother in and now I don't have to."
Beautiful music
Anyway, I guess Rizzoli & Isles 7×04 is supposed to have a more substantial plot than "Rizzoli and Isles hold hands," so back to the case we go. After CJ's hardball tactics don't get her far in the interrogation room, Jane takes a softer approach with Derek – and it works! He admits he's been trafficking drugs since he became addicted to Oxy following a car accident. Eventually, his dealer blackmailed him into getting involved, then he, in turn, recruited Jack. The next drug exchange is that very night, so you know what that means! The Scooby Gang is on the case. Frankie, Jane, Korsak, and CJ all roll out to the drop site and nab Derek's contact, who just so happens to be a woman. DNA match, anyone? There's an intense shootout before CJ ultimately takes the woman out with a good old-fashioned punch, and gets her Postal Inspector position reinstated for her trouble.
As Rizzoli & Isles 7×04 draws to a close, everyone comes together at the Robber to celebrate Kiki's birthday. Earlier in the episode, Angela accidentally revealed to Kiki that Korsak's initial gift choice was a blender, and even her best attempts at faux-cheer ("You're blending your lives together! You can make soul smoothies!") couldn't cover the simple fact that Korsak selected a shitty birthday gift for his new bride. With Angela's encouragement (read: chastisement), Korsak rethought the gift and settled on… a tambourine. Why? Because he and Kiki "make beautiful music together," he explains. But there's more! A jewelry box is hidden in the tambourine, and the necklace it contains features Kiki's birthstone surrounded by Korsak's birthstone to remind her that he'll always be with her no matter what. Yoooooo, Korsak stepped up. Jane better be taking notes.
Right now, though, Jane and everyone else is trying to persuade Maura to take the bar's new karaoke machine for a spin. Kent chooses Natural Woman because he's creepy, and when Maura… well, isn't exactly on-key, Jane sends in reinforcements. As Rizzoli & Isles 7×04 writer Meredith Philpott tweeted, actress Idara Victor was the first African-American woman to play Cosette in Les Miserables on Broadway (um, hello, what, that's a huge deal), so it's safe to say Nina's the Natural Woman for the job here. Sure enough, Nina's powerful voice blows everyone away while Maura shimmies cutely and supplies the harmonies, much to Jane's delight.