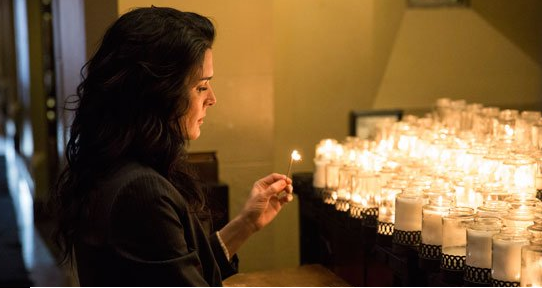 As the second half of TNT's back-to-back premiere of Rizzoli & Isles season 7, Rizzoli & Isles 7×02 continued the thread of the previous episode while also introducing a new case and a new romance. Read on for our recap of Rizzoli & Isles 7×02.
A glazed twist
Rizzoli & Isles 7×02 began with a short scene depicting the case of the week – and we'll get to that later, but for now, let's focus on the two characters we really care about. If you'll recall, after Jane's apartment burned down in season 6, Maura hooked her up with a house belonging to a professor friend on sabbatical. To properly express her gratitude, Jane summarily hooked up with Maura. Wait, did I imagine that part? Anyway, Maura's roaming through the house, admiring the decor and making statements like "The professor's taste is a little dark and masculine, but it kind of suits you because you're butchtastic" (OK, most of those are real words she actually said), to which Jane responds "Thank you" (no, really). Forty seconds into Rizzoli & Isles 7×02 and we're already off to a good start.
It should come as no surprise that Jane has turned the house into an extension of the BPD squad room – complete with papers related to her nemesis, Alice Sands, scattered around. "A home is a refuge, a place where you're supposed to get away from your problems," Maura tells her, to which Jane retorts, "Until some psycho burns it down." I mean… both of them make a good point. One thing I'm pretty sure they can agree on is that a home is a place where you chow down, although Maura probably wouldn't call it that. The good doctor presents "a delicious quinoa, zucchini, and chia seed quiche" for herself (Jane "would rather eat the bag") and a glazed twist for Jane. Interestingly, the "glazed twist" is also a move Jane enjoys in the bedroom.
Toward the end of the season 7 premiere, Maura revealed to Jane that her fall during the shooting at Korsak and Kiki's wedding had left her with some cognitive impairment, like forgetfulness and dizziness. In light of this, there's definite cause for alarm when Maura pauses in the middle of updating Jane on her condition and asks, "Whose house is this?" No worries, though – Maura was just pranking Jane.
I would be mad if she weren't so adorably delighted, and I'm betting Jane feels the same way.
Just then, Jane gets a call about a potential lead related to the Sands case and rushes out the door with the reassurance that Maura will lock up. (Of course Maura has a key to the house. I'm just saying.) Oh, and for those wondering about the fate of the glazed twist, never fear – Maura doesn't let it go to waste.
Call it FAIT…
Back to the case of the week. Frankie's heading up the crime scene as primary for the Fatal Accident Investigation Team, which comes with the rather unfortunate acronym FAIT. The case in question is, funnily enough, a fatal accident – or, at least, it appears to be one. Something's weird about it, though: The college freshman who died in the car crash doesn't seem to have made any effort to brake or swerve to avoid plunging through the guard rail on the road above the car's final resting place.
Maura orders some tests on the car, and Frankie steps up to deliver the death notification to the victim's family. Remember when he was just a beat cop working the Massachusetts Marathon on his bike and angling for a job in Homicide alongside his big sister? He's come a long way. As Frankie and Nina watch the girl's parents identify the body, Nina reveals she was put in that position when her fiance got shot, and Frankie's sympathetic. However, there may be more to this case than meet the eye – according to her parents, the girl's ex-con ex-boyfriend had recently threatened her life. (Incidentally, the victim's name is Layla, which can be spelled about five different ways, but when in doubt, I go with Eric Clapton.)
Elsewhere, Jane zeroes in on the CPA who's believed to be the financial brains of Alice's operation. He doesn't survive the resulting shootout, and down in Autopsy, Maura's dictating her observations when Kent interrupts to note that she confused the peroneal vein with the brachiocephalic vein. I personally do that all the time so it's nbd for me, but for Maura, it's a sign that the symptoms she was laughing about earlier in Rizzoli & Isles 7×02 aren't such a joke after all. As Jane arrives for an update, Kent stares at Maura thoughtfully – in fact, some would say "creepily," including me and Jane Rizzoli, who calls him on it.
Jane: "OK, do you always stare at her like that, because that's just creepy."
Kent: "I could stare at you instead if you like."
Oh my God, Kent, go away and let them have their Rizzles time. Failing that, at least let them enjoy some sexy talk about how Maura found evidence that the CPA recently visited somewhere like a butcher shop or slaughterhouse. Speaking of butcher shops, Maura asks if Jane's eaten anything lately (that was a gross segue – I apologize), then lectures her on the importance of taking care of her body and finding ways to relieve the stress. So… I'm guessing they'll meet in Maura's office in 10 for some private time, am I right?
Curiouser & curiouser
Speaking of the Rizzolis' romantic relationships (see, there's a better segue), Angela has picked up on some sparks between Nina and Frankie, so when the duo visits the Robber, she just so happens to mention in front of Nina that Frankie broke it off with Nicole. Later, Frankie protests to Angela that while Nina's great, she's also his colleague and his friends, so the stakes are too high. That hasn't seemed to stop Jane and Maura, but whatever, Frankie, whatever.
I'm assuming Maura's too busy to help Jane "relieve the stress," so Jane takes matters into her own hands by taking out her frustration on a punching bag. It's… yeah, it's attractive. I can't find any GIFs of it, but trust me on this one. As Jane pummels the punching bag, the highlights of the Sands case run through her mind: her apartment burning down, Maura being kidnapped, the shooting at the wedding, a bleeding Nina lying on the ground. Frankie walks in on her, and they have a short exchange that ties back to her confession at the end of the season 7 premiere:
Frankie: "When we find Sands, what are you gonna do?"
Jane: "Whatever's necessary."
Back in the squad room, Jane and Nina figure out that the deli the CPA dropped by on a daily basis may offer more than just great bagels. Korsak and Jane burst into the deli, guns blazing, and Jane discovers Alice sitting on a couch in the back with a rifle beside her. "Alice Sands, you're under arrest," Korsak tells her (seriously, couldn't he have given Jane that moment of glory?), and Alice responds, "So it seems." Curiouser and curiouser. (Get it? Because her name's Alice? I'll be here for the next 11 episodes, folks.)
Free to go
Locked in an interrogation room, Alice sits impassively while Maura and Jane watch her through the one-way glass. Alice asks to talk to Jane, and against Maura's advice, Jane takes the bait. Alice reveals that she blames Jane's stellar performance at the police academy for the path her life ended up taking, which deviated from the expectations of her cop-filled family.
Alice: "Everybody should have looked up to me, not some plumber's daughter."
Jane: "You know what I remember about you?"
Alice: "Tell me."
Jane: "Nothing."
Bye, Felicia.
Alice does manage to get in a jab of her own, though, pointing out that Jane dedicating her life to the law came with the steep price of endangering her family and friends. On the other side of the glass, her "So it seems" comment comes into sharper focus when Kent arrives with the ballistics results from the gun: It wasn't the one that shot Nina, which means we're halfway through Rizzoli & Isles 7×02 and there's still no physical evidence against Alice. Even worse, Alice's lawyer convinces a judge to hold a probable cause hearing, and although Jane's prepared to testify about her experience in the tunnels in episode 7×01, the lack of physical evidence could really throw a wrench in the works – especially if Alice's lawyer discredits Jane's testimony, which, of course, he does. That means Alice is free to go, and she knows it.
In fact, Alice takes full opportunity of her newfound freedom by trash-talking Jane on the news. Watching TV at the Robber, Angela exclaims to Frankie, "I really hate that bitch!" Meanwhile, Jane, who's watching grimly from the squad room, decides to refocus on the murder of the Maine trooper from the season 6 finale in hopes of digging up something to put Alice back behind bars. She and Korsak are soon poring over a map of the Maine woods through which Alice escaped, as a coffee cup from Boston Joe's holds down one of the map's edges. (Yay for continuity, people!)
While we're on the subject of throwbacks to previous seasons, Jane and Korsak migrate to the computer sitting on the dearly departed Detective Frost's desk to pull up a digital version of the map. While Guardian Chogokin stands watch, they have a breakthrough: There's an old quarry the troopers may have missed, and sure enough, the now-abandoned car Alice used as an escape vehicle has been hidden there.
Lighting a candle
Back to Rizzoli & Isles 7×02's case of the week. Layla's boyfriend, who appears to be innocent, points Frankie in the direction of Layla's best friend, Carmen. According to Carmen, Layla was crumbling under the pressure of being the first one in her family expected to graduate from college – in fact, she was failing three classes. Frankie brings one of Layla's school notebooks to Maura, who determines that the formulas Layla was calculating correlate freakishly closely to the crash data. In Frankie's words, "There weren't skid marks because she was accelerating. Layla drove off that cliff and make it look like an accident. She killed herself." Well, that's a downer.
Frankie doesn't know how to explain the situation to Layla's parents, but Nina's on hand with some advice and encouragement, so Frankie reciprocates with… a kiss? Uh, yeah, that happened. Actress Idara Victor was evidently thrilled by the deepening of her character's relationship with Frankie, but Nina herself is initally less excited – in fact, she says "I can't" and runs from the room, leaving Frankie to fret about how to break the news that Layla killed herself because of her lackluster college performance and her family's high expectations. Next, it's Jane's turn to offer some advice: It's never that simple. Sure enough, when Frankie sits down to speak with Layla's parents, it turns out that a lot of the pressure Layla felt came from her own expectations for herself. She drove herself relentlessly and held herself to high standards, taking failure hard. Remind you of anyone? Say, Frankie's sister, perhaps? Ultimately, Frankie chooses to tell Layla's parents that the pressure she was under meant she'd been distracted on the road that night, and her crash was "nothing more than a tragic accident." I'm… not sure that's legal, but it sure is merciful.
Meanwhile, Kent puts two and two together about Maura's brain injury, and Maura swears him to secrecy because she wants the lab focused on finding evidence against Alice Sands. Kent tells her his focus will also be on helping Maura, and he manages not to sound toooooo creepy when he says it. Progress? Gotta set the bar low with this guy.
The thing about Maura's brain injury is that she was so smart to begin with, she's still really high-functioning even with cognitive impairment – so much so that she figures out a way to combine some partial bloody fingerprints from Alice's escape vehicle and gets a hit! Alice's fingerprints are in the car, as is her DNA, which is enough to connect her to the murder of the trooper. They've finally got her – but now they need to actually physically get her, which means another trip to the deli is in Jane's immediate future. Alice manages to trap Jane in an upstairs room, using a hostage as leverage to prevent Korsak and Frankie from breaking down the door. During a tense standoff, Alice tries to goad Jane into shooting her, and after Jane refuses, Alice forces her hand. Jane shoots, with Alice's last words hanging in the air:
"After you kill me, everyone will think you're a dirty cop: Did Jane Rizzoli really kill that poor woman in cold blood?"
I'm kind of on the fence with regard to how much I care about this Frankie/Nina romance, but I guess it's endearing when Nina approaches Frankie at the Robber and explains their kiss was the first she'd had since her fiance died. "I'm such an idiot," Frankie laments. "It'll never happen again." But, guess what? Nina wants it to – and Idara Victor, for one, is over the moon. Nice matchmaking, Mama Rizzoli.
Rizzoli & Isles 7×02 winds down where it began: With Maura poking through items at the house where Jane's staying. Turns out the professor has some… let's say eclectic tastes, as a box filled with medieval torture devices indicates. Maura's thrilled, Jane's horrified – and now Jane understands why Maura and the professor are friends. Basically what I'm getting out of this is that Maura has a passion for ~devices~. Then Maura mentions that Jane should call Martinez and Jane counters by suggesting Maura ask out Kent, but I'm just going to pretend that didn't happen because noooooooooooope. (One thing worthy of note, however, is that the actor who plays Martinez will not be returning for the show's final season due to scheduling conflicts, according to a TV Guide interview with R&I executive producer Jan Nash.)
The final scene of Rizzoli & Isles 7×02 ends much as 7×01 did, with Jane at her local church. This time, she's lighting a candle, and when she bumps into the priest who took her confession the last time, Jane admits she's OK with the way things turned out with Alice – and she hopes God is, too.