In part three of our The Fosters 1×01 flashback recap, Mariana made plans to meet with her birth mom, Stef's ex-husband asked to be partnered with her at work, and Brandon had a choice to make. Read on for part four.
Callie's side of the story
So remember that "Should I stay or should I go now?" choice Brandon was facing at the end of part three of our recap? He decided to go, and now he and Callie are awkwardly sitting next to each other on a bus. Callie breaks the silence by asking about that "music thing" he's supposed to attend, and Brandon downplays it, saying there'll be others. Making bad decisions that could jeopardize his future has become a definite theme for Brandon over the seasons, beginning in The Fosters 1×01 and persisting through the season 3 finale, when he uses the money his moms want him to save for Juilliard to buy girlfriend Cortney a house. Facepalm. That being said, it wouldn't have been smart to allow Callie to head alone into the toxic situation awaiting her at her foster father's house – not that it's particularly smart for her and Brandon to do so together, either. While they're together on the bus, there's another Brallie Moment™ – Callie opens up to Brandon about why she was sent to juvie, which paints her in a more sympathetic light:
"My foster father caught my little brother wearing one of his ex-wife's dresses and started beating the crap out of him. I mean, he used to hit me all the time, which, you know, whatever, but when I saw him going after Jude, I just… well, I tried to stop him but he kicked me in the stomach, so I went outside, grabbed a baseball bat, beat the hell out of his precious Trans Am. When the cops came, he told them that I went crazy and he was defending himself. Nobody seemed to care much about my side of the story."
Fun fact: Jude was originally written as a transgender character, which makes this show's initial concept even more badass in terms of diversity. Although the powers that be ended up making Jude a cisgender character coming to terms with his same-sex attraction, the show did feature a recurring transgender character (Cole, played by transgender actor Tom Phelan), who appeared in 10 episodes spanning all three existing seasons.
That time of the month
Back at the Fosters', Mariana tells Lena she's sick and won't be able to attend Brandon's competition. Lena works with teenagers for a living and doesn't buy the excuse for a second, but when she questions Jesus about the meaning behind Mariana's tactics, he claims he's clueless.
Jesus: "Maybe she's actually sick, or it could be that time of the…"
Lena: "If you say 'time of the month,' I'm gonna sign you up for a women's health workshop at my OB/GYN. Don't ever say that in a house full of women."
Lena worries that the twins' strange behavior stems from her pressuring them to meet their birth mom, but Stef thinks Mariana simply changed her mind. "You keep me sane," Lena tells her gratefully, which Stef uses as a great segue into revealing that Mike requested to be partners at work ("I don't know how sane you're gonna feel after I tell you what happened at work today!") Needless to say, Lena's… not thrilled.
Just then, Mike shows up to accompany the family to Brandon's competition, and, of course, it's Lena who answers the door. She manages a frosty "Hey, Mike" that's so unlike the warm, nurturing Lena we've come to know over these three seasons, then proceeds to bring up the elephant in the room.
Lena: "Stef says you asked for her."
Mike: "I did. Look, it was either me, or a rookie. … I just feel better knowing I'm around – I mean, we've got the kids to think about."
Lena: "Thanks. I mean, as a feminist, I'm totally offended and everything, but as her wife, you know, thanks."
"You're not disposable, Callie"
Speaking of the kids, everyone soon realizes Brandon's not in his room preparing for the competition as he's supposed to be, and a quick check of Stef's handy dandy phone-tracking app reveals he's in San Ysidro. The adults rush down to Tijuana, which gives Jesus an opportunity to confront Mariana about taking and selling his pills. When he asks what she needs the profits for, she reveals she's been in communication with their birth mom – and Ana needs money.
Down south, Callie and Brandon arrive at their destination, and Callie spies Jude through a window. (Side note: Actor Hayden Byerly looks ridiculously young in The Fosters 1×01. You might say Judicorn is a mere foal.) Brandon provides a distraction by knocking at the front door as Callie sneaks in through the back, and the situation quickly escalates when her foster father catches sight of her and points a gun at Brandon. Stef, Lena, and Mike pull up outside just in time, and Stef sneaks up to the back door to get a visual read on the situation. If her actions sound familiar, that's because she mirrored them in The Fosters 3×19 after the same man took in (and killed) Jack. With Mike as backup, Stef bursts into the house with her gun drawn, and she means business.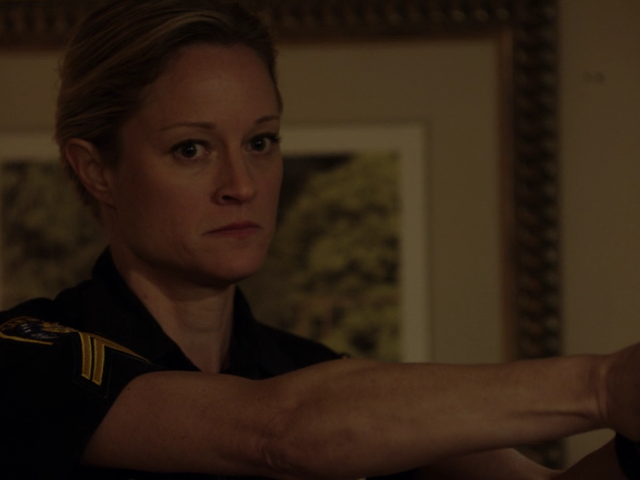 Stef tosses a pair of handcuffs to Mike and witnesses Callie smile for the first time while hugging her little brother. Callie's protective instinct is definitely something Stef can relate to. Meanwhile, Lena's protectiveness comes out too when Brandon apologizes about the scholarship and she responds, "Brandon, I don't care about the scholarship – that guy had a gun. Get in [the car]." Brandon's banishment allows him to bond with Jude over the character on Jude's backpack, while outside, Callie and Stef do some bonding too. Callie says she's OK with going back to juvie as long as Jude gets sent somewhere safe, and Stef hugs her and tells her something she's probably never heard before in her life: "You're not disposable, Callie. You're not worthless."
Making room
Back home, Mariana could use some of that motherly love, because she sure isn't getting it while sitting on a random beach after dark, waiting to meet Ana. Her phone lights up with a call from Jesus, which she ignores, and when Ana finally shows, they have a brief heartwarming exchange ("You're beautiful!" "So are you!") before Ana gets down to business, accepts Mariana's money, and cuts their conversation short. "Your folks are probably wondering where you are," Ana says lamely. "My moms," Mariana corrects her. After making such a terrible impression in The Fosters 1×01, Ana has a lot of work ahead of her in terms of redeeming herself over the next three seasons, and by the end of season 3, she's still very much a work in progress. In fact, Mike of all people will be instrumental in her ongoing recovery – who'd've thought it? When a disappointed Mariana arrives back home after her interaction (or lack thereof) with Ana, she finds Jesus waiting on the front steps, ready to wordlessly put his arm around her.
Speaking of Mike, he carts off the nameless foster father (whose name is Jim Pearson, according to IMDB, but that's not mentioned in The Fosters 1×01), leaving Stef and Lena to decide what to do about Callie and Jude. Lena says her social worker contact Bill is making arrangements to pick them both up the following day, but Stef won't hear of it.
Stef: "We are not sending these kids back into that system right now, all right? Not yet."
Lena: "But we don't have the room."
Stef: "Then we'll make room, OK? We'll make room."
As The Fosters 1×01 draws to a close, Stef, Lena, Brandon, Callie, and Jude arrive home to find Mariana and Jesus sitting on the front steps, and the family heads into the house together.
---
The Fosters 1×01 flashback recap series:
Part One
Part Two
Part Three
Part Four
The Fosters season 4 premieres on Freeform at 8/7c on Monday, June 20. Watch the preview here.