In part two of our The Fosters 1×01 flashback recap, Stef asked Brandon to look out for Callie, Mariana and Callie had an uneasy encounter in the kitchen, and Callie really needed to find a phone. Here's part three.
Hey Jude
Although Callie's late-night kitchen expedition revealed Mariana's stealing her twin brother's ADHD medication, it didn't yield what she was hoping for: a chance to use the cordless phone she saw earlier, which is now upstairs in Lena and Stef's room. Callie improvises, sneaking into Brandon's room and swiping his cellphone, and is finally able to contact the mysterious Jude she was asking about earlier in the episode. "Hey, baby, it's me," she whispers into the phone. "I'm out [of juvie] and I'm coming, I promise, Jude, I just… I gotta figure out how to get there." (I remember watching The Fosters 1×01 for the first time and assuming Jude was a boyfriend, and rewatching now, it's easy to see why.)
Cut to the following day – or, more specifically, the loud familial chaos of the Foster kitchen on a weekday morning. Callie, who is decidedly not a morning person (I feel you, girl), navigates through the hustle and bustle to the coffee machine, then turns to find the entire family quiet and staring. Stef offers cream, having clearly missed the memo that Callie's the type of girl whose taste in coffee echoes the general air about her, and Callie declines. Dark and bitter it is.
Missing something
When Lena and the kids arrive at school, Lena directs Brandon to show Callie to her first class, but he's more focused on getting in 20 minutes of practice before that night's San Diego Music Society Annual Competition finals. The other students' withering looks aren't exactly making Callie feel welcome (seriously, was there no makeup combination that could've made that bloody lip look a little better?), so she hurries after him. And thus begins one of the hallmark scenes in the Brallie timeline: Callie and Brandon, alone in the music room in The Fosters 1×01, talking about the original song Brandon wrote for the contest. He explains that it's about the night Stef and Lena asked him if it was OK for the twins to come and live with them, and breaks down the different elements of the composition for Callie.
That's me… and these are my moms… This is all of us – this is me, mom, Lena, the twins. See how it all works better? I don't know, I still think it's missing something.
Looking back at The Fosters 1×01, the "missing something" line signifies something totally different than it did in the moment. It is missing something, Brandon! It's missing Callie and Jude, the latter of whom you don't even know exists yet!
What it's not missing is Talya, who breaks up the First Ever Brallie Moment™ by having the audacity to come in and kiss her boyfriend. But, hey, bright side: Talya's first class is the same as Callie's, so Brandon's off the hook for playing tour guide. Turns out the class taught by none other than Timothy, a.k.a. the guy Lena will try to have a biological child with later in the series – but for now, Timothy's nothing more than Anchor Beach's mildly attractive English teacher. It's not like Callie's paying too much attention to what he has to say in class, anyway; she's too busy noticing one of her classmates' car keys, then trying (and failing) to get a ride down to San Ysidro because there's "someone [she] needs to see there."
Secrets & lies
So remember how the twins turned down Lena's offer to help them connect with their biological mother earlier in The Fosters 1×01? Jesus approaches Mariana to reveal he's had a change of heart – he'll accompany her for moral support after all. Mariana insists she isn't ready, but later, we see her Instant Messaging with Ana in the school library, setting up a time to meet in person as Missy Higgins' "Secret" plays in the background (PS, check Missy out – she's amazeballs and is currently on a U.S. tour).
At lunch, Mariana and Callie reach an uneasy detente after the former hears the latter asking other students where to find the nearest Metro stop. Mariana promises not to narc on Callie if Callie doesn't tell anyone she's stealing her brother's pills. Callie agrees, so Mariana directs her to the nearest bus stop. And so their sisterly pact is born.
Choices & repercussions
Over at the SDPD, San Diego's finest are toasting Stef's exiting work partner, who's transferring to Sacramento. Enter Stef's former life partner, Mike, who, according to her superior, is about to be her new work partner, because that's not awkward at all.
Stef: "May I ask why?"
Mike: "I asked."
Stef: "You did?"
Mike: "Is that cool?"
Stef: "Uh… can I have time to think about it?"
Captain Roberts: "No."
Stef: "All right, I think it's very cool! It's a great idea on your part. All right!"
I love her fake enthusiasm – Teri Polo truly is great at comic timing.
Back at Anchor Beach, Jesus discovers a wad of cash in Mariana's purse. I really like how The Fosters 1×01 set up this whole situation – we can infer that Mariana's selling Jesus' meds for cash, but we don't find out how Ana fits into it all until later in the episode. In the meantime, Talya invites Brandon to sleep over at her house while her parents are away, but Brandon's too distracted by the sight of Callie sneaking out of school to give her a definitive answer. Basically, Callie's already getting in the middle of Brandon and Talya's relationship, soooo… foreshadowing, anyone?
Outside school, Brandon tries to talk Callie out of leaving, but their argument is interrupted when Brandon gets a call from an unknown number. Callie grabs the phone – it's Jude, and although her side of the conversation is vague, one thing is clear: There's trouble afoot. After she reveals Jude is her brother, Brandon wants to get Stef involved, but Callie is convinced that if Stef looks into her case, the complaints made against her by her foster father will pop up and get her sent back to juvie, leaving Jude stuck in a dangerous situation. With three seasons in the rearview mirror, we know Stef and Lena wouldn't have thrown Callie back in juvie without at least getting her side of the story about an abusive foster parent and a little brother in peril, but Callie's in full-on "us against the world" mode in The Fosters 1×01, which means nothing's going to stop her.
Brandon glances back at the school – at the life he knows as a responsible son and student with a girlfriend named Talya, a promising future as a musician, and a competition to perform in after school – then looks ahead at Callie's rapidly retreating figure. He has a choice to make.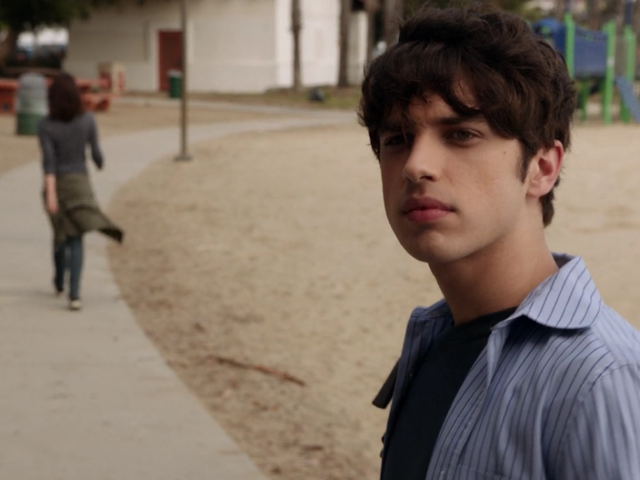 ---
The Fosters 1×01 flashback recap series:
Part One
Part Two
Part Three
Part Four
The Fosters season 4 premieres on Freeform at 8/7c on Monday, June 20. Watch the preview here.