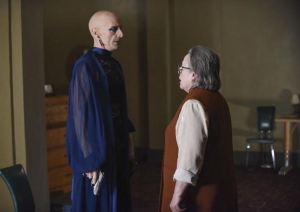 The Hotel Cortez versus The Countess. Who is going to win?
Read on for our recap of AHS Hotel 1×11, "Battle Royale," to find out.
Where we left: Liz Taylor and Iris storm into The Countess' apartment, where she is having a confrontation with Donovan about the death of Valentino, and fire their guns.
AHS Hotel 1×11 shows us Liz and Iris getting ready for the assault. Donovan tries to shield The Countess from the bullets, and somehow she manages to escape while Iris checks on his son, suddenly remembering she is a mother. Donovan doesn't want to die inside the hotel, otherwise he'll be stuck there for all the eternity. Iris and Liz help him out of The Cortez, and so he dies.
In the meantime, Sally saves The Countess' life. She saves her because she wants John back to the hotel, and she wants him dead so they can stay together for eternity – but for The Countess to do the job for her, she needs to get better. The Countess tells Sally she needs blood like hers, Donovan's. But Sally tells her he is dead.
John goes back home with Alex, Holden, and Scarlett, who is not so sure they will be able to be a happy family ever again. How to explain that her big brother is still a child, and that her mom and brother have to drink human blood to stay healthy?
Since Donovan is out of the games, Sally thinks it's a good idea to feed The Countess her children's blood. The Countess doesn't want to drink it – apparently she cares about them. But Sally doesn't care as much as The Countess does.
Out of options now, Liz and Iris decide to free Ramona in the hope that she will finish their job.
Ramona needs a fix first, so Iris and Liz think the new hotel's guest could be just who they need. It turns out that their guest is Queenie from AHS Coven (American Horror Story season 3). Unfortunately for Ramona, Queenie is not one you want to mess with. Her powers are very particular – she is like a human voodoo doll. As Ramona tries to hurt her, she hurts herself too. But Queenie doesn't know that a ghost can kill her, and that's exactly what March does. But why did March help Ramona? Because, surprise, he wants The Countess dead too, but she has to die inside the hotel so he will be able to spend the rest of the eternity with her.
Coming back home, John doesn't find his family. He goes to The Cortez, where Sally tells him that March has them. March needs John to finish his job: One more kill and he'll be free to be with his family. John needs to kill a murderer in order to complete The Ten Commandments Killer's job.
Finally, The Countess and Ramona are face to face in AHS Hotel 1×11. What Ramona doesn't expect is for The Countess to apologize for what she has done to her over the years, and she proposes to give The Hotel Cortez to her. The next thing we see is The Countess leaving her apartment alive. She calls for the elevator, but inside, there is John. As soon as the doors open, John shoots her several times.
The Countess is dead. John has killed a murderer.
March is very proud of him, and he saves his life when Sally tries to kill him, to have him all for her. March is especially happy that The Countess will have to spend the rest of the eternity trapped inside the hotel with him. He says he's so happy to have her with him that he is even ready to forgive her for turning him to the police when he was still alive, only The Countess says she didn't do it. It was Miss Evers, who wanted March all for herself. March doesn't react very well – in fact, he banishes her from his presence.
Miss Evers finally feels free for the first time, and she leaves March and The Countess, who is now living inside a cage with a man she doesn't love… forever.