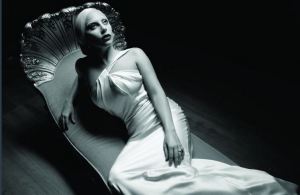 The Hotel Cortez's origins are being revealed in the second episode of American Horror Story: Hotel, "Chutes and Ladders".
Read on for our recap to find out who is behind it.
The second episode of American Horror Story: Hotel opens with Sally sewing Gabriel's body inside a mattress.
One of the Swedish tourists we met in the Season's premiere is still trapped inside the hotel, serving as a snack for the kids. She dies shortly after.
We also find out why those kids (including John's son) are staying at the hotel: to provide "fresh" blood for the Countess and her lover.
John is still staying at the Hotel Cortez. One night, he sees again a kid who "appeared" to him the first time he visited the hotel. Chasing the kid, he ends up in the hotel's bar, where he meets Sally. We learn that John used to drink, a lot. He tells Sally about Holden's disappearance while he was under his care.
The next day, while he is at work, he receives a package. Inside, there's an Oscar award, covered in blood.
During a party held by the Hotel's new owner Drake, we meet Claudia Bankson (Naomi Campbell), a Vogue editor.
When John comes back to the hotel with his daughter, he meets Claudia and Drake, who asks them to stay at the party.
Later, The Countess and Donovan join the fashion show.
Claudia tells John that Will Drake booked a special guest for the fashion show, a male model named Tristan Duffy (Finn Wittrock) who's not  the usual model. After he makes quite an impression, he cuts his face and tells Drake he's done modeling.
While wandering around the hotel, he finds himself in a strange floor where he meets James March (Evan Peters), the Hotel Cortez's original builder. He kills a girl right in front of him. Tristan runs away, only to find the Countess inside the elevator.
She really likes her new lover, and teaches him the "beauty of the virus": you never age, and that's why she craves human blood. The Countess tells him she was born in 1904.
When Donovan finds out that Tristan has somewhat taken his place, he's not happy about it, but the Countess tells him he has to go.
Bored with the fashion show, Drake's son Lachlan brings John's daughter Scarlett to see a place inside the hotel where he found four coffins. Inside, we find the kids who live at the hotel.
The next day, Scarlett comes back, to find the coffins empty. She finds the room where the kids play, and she finds Holden, who still looks exactly the same, he hasn't grown up. Holden says he doesn't want to go home because he likes where he is now. Scarlett takes a picture of him, and he tries to bite her.
When Scarlett comes back home, she finds her parents terrified because they couldn't find her anywhere. She tells them about Holden and gives her dad her phone, so he can see Holden. The picture though is all blurry, so we can't really see Holden's face.
John goes back to the Hotel and talks to Iris. She tells him about James March, and how he decided to build the Hotel Cortez in 1925. Iris says that March was basically building a torture chamber. People walked in, and they just vanished. All for his own (and his wife) pleasure. The laundress, Miss Evers (Mare Winningham), was his minion.
Someone though, Iris thinks his wife, told about his crimes to the police. But before they can arrest him, James kills Miss Evers, and then kills himself.
Iris tells John that room 64, the room he is staying in, used to be James' office.
Back in his office John is coming to the conclusion that there is a serial killer out there who is killing people who somewhat disobeyed the Ten Commandments. Since the first killings from James March, someone is picking up where he left off.
We finally learn who is the evil mind behind the Hotel Cortez, and why the Hotel Cortez is so "special". I think I have an idea about who is Jame's wife. Do you?