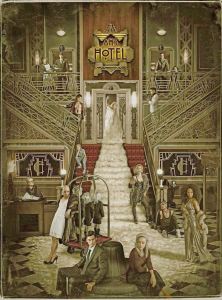 American Horror Story is back with a brand new season called "Hotel". We won't see the amazing Jessica Lange anymore, while a new character played by Lady Gaga will surely catch your attention. Sarah Paulson and Kathy Bates are back, as well as other familiar faces from previous seasons.
Curious to know what happened in this first episode, called "Checking In"? Read on for our recap!
Two Swedish tourists arrive in Los Angeles, where they made reservations at the Hotel Cortez. As they step inside the hotel though, something about the atmosphere doesn't sound right. They almost decide to leave, but they decide to stay, in the end.
They are "welcomed" by the hotel's manager Iris (Kathy Bates).
Once inside their room, there's a terrible smell inside, coming from the bed. They realize there is something inside the mattress. A human body, "alive".
Terrified, they call Iris, who gives them another room, number 64, and tells them the police is on its way, claiming she has no idea how something like that could have happened. But this room is not even remotely safer than the previous one. During the night, one of the girls wakes up, finding her friend lying in the bathroom, while two kids are drinking her blood…
Meanwhile, in another hotel, the police detective John Lowe (Wes Bentley) is investigating the cruel attack to two lovers. Shortly after, he receives a call from a man claiming to be the attacker. He says he's at the Hotel Cortez, room 64, and he says he's going to do it again.
Another guest arrives at the Hotel Cortez, Gabriel (Max Greenfield) and Iris gives him the room 64, again. Once inside the room, he's attacked by a creature, The Addiction Demon, right after he took some drugs. While he's attacked, we meet another hotel's resident, Sally (Sarah Paulson), who sits there and watches the scene.
John arrives at the hotel to investigate the phone call he received. He asks to see the room 64, and he's accompanied by Liz Taylor (Denis O'Hare), a hotel employee.
When John enters the room though, Gabriel is nowhere to be seen, and neither Sally.
John lies down on the room's bed and falls asleep. When he wakes up, he sees a kid standing next to the bed. The kid runs away so John follows him.
John is back home, to his wife Alex (Chloe Sevigny) and daughter Scarlett. While he's at dinner with her, he receives a text from his wife, in which she gives him an address and asks for his help. John drives there with his daughter, to discover two human bodies. Another phone call, and it's the same man who previously called him.
A flashback shows us John with his wife, daughter and son Holden in Santa Monica. Holden suddenly disappears.
Back to the present, Alex is terrified because of what has just happened.
Meanwhile, we meet The Countess (Lady Gaga), the Hotel Cortez's owner, and her lover Donovan (Matt Bomer), who is also Iris' son. We find out the two have a particular craving for human blood.
We meet our Swedish tourists again, trapped by Iris. We find out Iris and Sally are not getting along very well, in fact they despise each other. Iris tells Sally she is the source of all her suffering.
Looks like Iris has to prepare the girls for someone, so that they will taste good.
Sally sets one of the girls free. She tries to run away, but she finds The Countess standing right in front her, and she is killed by the Hotel's owner.
A familiar face from American Horror Story Murder House (Season 1) comes back. It's the real estate agent Marcy, who gives a tour of the Hotel Cortez to Will Drake (Cheyenne Jackson), a fashion icon, and his son Lachlan. Drake is the new Hotel's owner. Iris didn't know anything about it, and is not pleased.
Drake meets The Countess and Donovan. While Donovan takes Drake for a tour, The Countess brings Lachlan to see a special hidden place. A room, where some kids are playing video games. In this room, we find Holden, John's lost son.
In another flashback, it's 1994. Iris rushes inside the Hotel Cortez following Sally, who's with Donovan. They are both drug addicts, and Iris wants to stop her son. She finds him in the room 64. Donovan seems to be dead, while Sally leaves the room. She is walking along the hotel's corridor, and she is standing in front of a window, when Sally pushes her out of it. When Iris goes back to the room 64, she finds The Countess lying next to Donovan, ready to taste his blood.
In the last scene of this episode, we see John checking in the Hotel Cortez.
I have to say this season seems more exciting and mysterious than the previous one. It has a bit of the atmosphere of the season 1 Murder House. Sarah Paulson and Kathy Bates are both always at their best, while I still need to see more of The Countess to decide if I like Lady Gaga for this role.