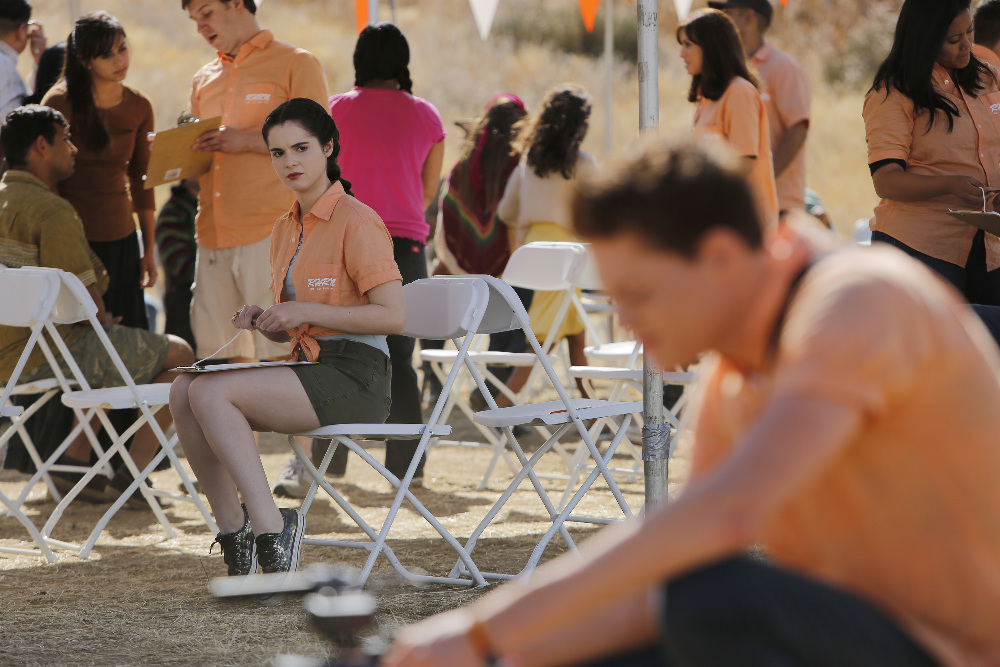 Goodbye, Kansas City; hello, Mexico. This week's episode of Switched at Birth took the characters way out of their comfort zones – in more ways than one. Read on for five things we learned during Switched at Birth 4×15.
1. Emmett still has a penchant for surprises.
When Emmett unexpectedly shows up in Mexico to do charity work with his mom, he runs into three people he's had a strained relationship with of late: Travis, Daphne, and most of all, Bay. Needless to say, things are awkward – especially after Bay finds out about the true nature of his relationship with Skye. By the end of the episode, he and Travis aren't speaking, but at least he seems to bury the hatchet with Daphne.
2. Daphne loves charity work – and charity workers.
The combination of Daphne's giving nature and passion for healthcare ensures she has a blast fitting people with the hearing aids they need, and the fact that there's a cute charity worker leading her group doesn't hurt either. Touched by the case of a 15-year-old girl who's profoundly deaf and can't communicate, Daphne persuades a man who can speak Mexican Sign Language to hold classes in the town square. Against the advice of Cute Charity Worker, she leaves to track down the girl's mom and tell her about the classes. Did I mention she and CCW kiss? Because they do.
3. Gabe wants to be a parent.
And not only that, but he wants Melody to raise a child with him. When he initially suggests adopting a deaf girl, Melody's unsure, but later in the episode, she tells him she loves him and she's on board.
4. Bay isn't over Emmett… and Emmett isn't over Bay.
Bay's come a long way since the beginning of season 4B (the fact that she's doing charity work in Mexico and not crying in bed is proof of that) but the double whammy of seeing Emmett and learning about him dating Skye makes her feel bad, mad, sad, and… vengeful. Her attempts to make Emmett jealous end up with Emmett and Travis trading punches in a bar. The next day, Emmett admits to Travis that seeing Bay flirting with someone else bothered him.
Cut to Bay having a conversation with a woman who knew her idol, Frida Kahlo. She learns firsthand about the tumultuous relationship between Frida and her husband, Diego, which involved having affairs with each other's friends and family members to get back at each other. "The jealousy, the obsession – it destroyed her," the woman says of Frida. Bay goes back to talk to Emmett, and they agree not to spend the rest of their lives torturing each other.
5. Travis has feelings for Bay.
Some people saw this coming, what with Bay and Travis' friendship deepening following the assault and the breakup with Emmett. Travis doesn't actually admit to anything, but his face when Emmett questions him says it all…
Switched at Birth returns to ABC Family next Monday at 8/7c.