Ahead of tonight's episode of ABC Family's Chasing Life, we chatted with Haley Ramm, who plays Brenna Carver on the show. Haley spoke about Brenna's newfound passion for filmmaking, as well as the character's bisexuality and what's coming up in the romance department. Read on for the full interview!
A lot of the focus for the past few episodes has been on losing Leo and then finding out the real story behind Thomas' death and the last year of his life, but Brenna's still had a few really good storylines of her own. This season, we saw her join the film club at Charton, make and premiere her first short film, and even look into going to summer film school in San Francisco. We haven't really seen Brenna be passionate about a hobby or an interest before, so can you talk a little bit about what filmmaking means to her?
Haley Ramm: I think that filmmaking is a huge thing for Brenna. I think doing anything artistic is a really great outlet and she can let out a lot of her family drama or sadness or whatever, so I was so excited to find out that Brenna was going to become a director. We had a scene in one of the first episodes where Brenna was directing her short film and it was so much fun to play a director because on set, you're always around a director. I told Charlie, our director, "Hey, sit back on this one, let me do the director stuff!"
It's fun that Brenna has a passion and it's similar to something that I love in life: I love acting and a lot of my friends are writers, producers and directors, and they're always creating something, whether it's low-budget and guerilla-style or a really big production. Watching my friends be filmmakers and then getting to play one, I think it's a really badass thing. I love acting but there's something so powerful about being behind the camera and being the boss. I think it's very fitting for Brenna. Brenna does feel out of control sometimes. It's hard to get a grasp on [her] family drama, she's always worried about her sister's illness, and she changed schools. She's gone through a lot, so I think something artistic is a really great outlet for her.
It actually seems like film is so important to her that when she was trying to find ways to get involved at her new school, she went looking for the film club first, and it was only after she found out there wasn't one that she went to the LGBTQAI club. That kind of suggested, to me at least, that she feels even more of a connection to people who love film than she does to people who aren't straight. Would you agree?
Yeah, I think that Brenna's kind of the black sheep in her family a little bit, but her family is very understanding and accepting and loves her very much. She is a little bit different from them and I think that's what the industry is like in real life, a bunch of black sheep all together, hanging out and making stuff.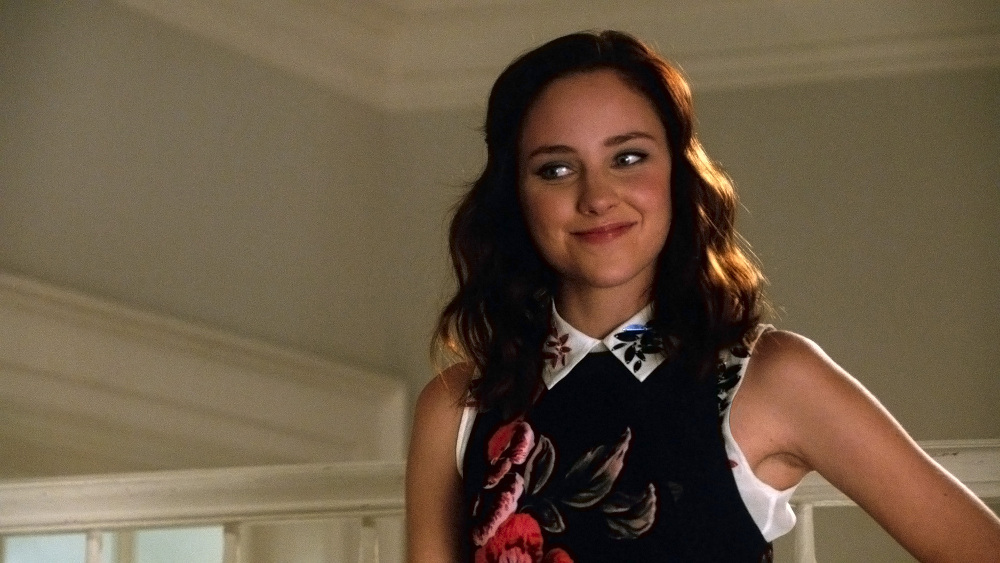 Speaking of the club, Brenna's the first bi member, and when she introduced herself to the other members, she faced some prejudice and misconceptions that hit close to home for some bi viewers and also some gay viewers who had maybe said some of those things to or about bi people. It's been a few weeks since that episode aired – have you had people reach out to you on social media about it, and what has the fan reaction been like?
Yeah, I have had people reach out through social media. When we're live-tweeting, a bunch of girls tweet to me and tell me that they love the scenes. I got a really cool message from this girl saying that she asked out the girl she liked in school because she'd been watching Chasing Life and saw Brenna, and that was just super-exciting. She sent a little picture along with it and everything. It's very heartwarming to see people like Brenna come forward.
Related to that, we have a couple of questions about romance or potential romance in Brenna's life. First, are we going to see her friendship with Finn develop into something more?
In the next episode, something will change with Brenna and Finn. I think that everyone has kind of seen it coming because they've already admitted their feelings for each other even though there's not much that they can do about it. It really turns into a sweet high school love story but there's so much more at stake because he has cancer. It's much more of an intense high school love story, and it's really sweet – I like what they did with it.
And the second question is about last season's really sweet high school pairing of Greer and Brenna, which was super-popular last season. Greer moved away, but we did see Brenna was emailing her and still in touch with her at the beginning of this season. Are we ever going to hear from Greer again, and could there be a future for them as a couple or the potential for actress Gracie Dzienny to come back to the show?
They've definitely kept the relationship alive and they're definitely still in contact. I think they'll always stay friends no matter what because what they had was so special and so sweet, and it ended in a really beautiful way. I don't think we've seen the end of Greer.
Greer's a really cool character, so I think it would be great to see more of her.
I do too, and she was a really great thing for Brenna. I think she came into the story right when Brenna needed her.
Lastly, there aren't a lot of opportunities for Brenna and Beth to have fun scenes together, so I loved that they kicked everyone's ass playing Celebrity in the last episode!
I did too! It's so fun! And Aisha [Dee] and I are super-close in real life too. That reminds me, I actually have to go water her plants after this! But yeah, it's super-fun when we get to have scenes like that. We love it and we're always telling the writers, "Hey, Brenna can start hanging out with everyone now – she's old enough!" I get these text messages from the whole cast – Abhi, who plays Danny, and Italia and Richie and Aisha – everyone texts me when they have a group party scene together and they're like, "Why aren't you here?!" So I think we've all decided Brenna's old enough to start partying!
Catch Chasing Life on Mondays at 9/8c on ABC Family. You can keep up with Haley by following her on Twitter, Instagram, and Facebook.