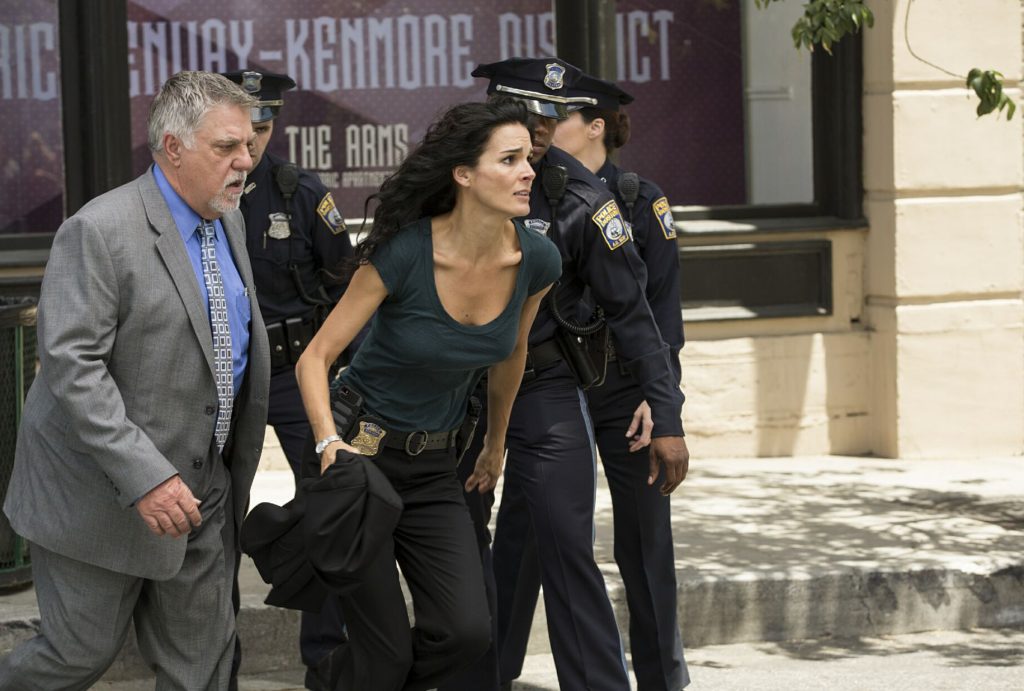 This week's episode of Rizzoli & Isles was the last of the year. Is season 6 over so soon? Well, yes and no. Although Rizzoli & Isles 6×12 was the summer finale, there are six episodes left of the season – but they won't air until February 2016, per executive producer Jan Nash. TL;DR, this episode's cliffhanger will be hanging for a while. Read on for our recap!
A hopeful tattoo
At the end of last week's episode, Nina traced the hacking activity associated with Jane's accounts to a video that indicated the fire at Jane's apartment was arson. As Rizzoli & Isles 6×12 begins, Maura's freaking out, Jane's trying not to freak out, and ultimately they both freak out. Then Maura gets a call about a murder, and Jane doesn't. Whaaaat? Jane's confused too. Apparently Korsak wants her to go through case files until she figures out who might have a vendetta against her. She starts by printing out all the threatening emails she's received, much to the chagrin of the other officers waiting to use the printer.
Over at the crime scene, Maura determines that the victim, Leanne, is a former drug addict who cleaned herself up, started over at a halfway house, and got what Korsak describes as a "hopeful" butterfly tattoo. At first glance, cause of death seems to be a drug overdose, but that theory doesn't hold water upon closer inspection. Then Frankie uncovers a wad of cash and Korsak finds a male shoe print at the scene, adding credence to the idea that this is more than a simple death by overdose.
In the BRIC, Nina accesses the raw footage of the video of the fire. Turns out the hand holding the lighter is attached to a wrist sporting none other than a butterfly tattoo. Jane and Nina are about to contact every local tattoo artist in Boston when Frankie comes back from the scene of Leanne's murder and saves them the trouble.
5:26
Nobody can find a connection between Jane and Leanne, but maybe someone with a grudge against Jane hired Leanne to do his or her dirty work? Maura examines the door of Jane's apartment and determines that the perpetrator is "smart and motivated," as a sophisticated lock-picking technique was used to gain entry.
Maura: I'm worried about you.
Jane: I'd worry about the person who bumped my lock when I find him.
Maura: Jane…
Jane: Nobody bumps my lock, Maura.
I love when Jane gets all butchtastic and Maura gets all "caring girlfriend."
In fact, Maura is so "caring girlfriend" that she puts together a psychological profile of the person who hired Leanne and hacked Jane's accounts, then tells Korsak she wants to get a bodyguard for Jane… and pay for his services herself. Korsak talks her out of it, maintaining that keeping Jane on the case may help draw out the perp.
Meanwhile, Frankie interviews Leanne's ex-boyfriend, who confirms that around the time Jane's apartment burned down, Leanne began working for a mysterious man who paid her a lot of money for whatever she was doing for him. The autopsy yields more questions than answers: In Leanne's stomach, Maura finds several balloons from a shoe store that closed down eight years earlier, all filled with cocaine and deliberately perforated to ensure Leanne's death, plus one watch set to a specific time (5:26) and date (the 26th). The fact that Rizzoli & Isles 6×12 is named "5:26" suggests this little detail is going to be important. Sure enough, the 26th is the following day – oh, and the watch itself? It's Jane's.
'Maybe he's not a he'
Korsak puts the entire department on the case, except for Jane. Needless to say, she's not pleased, but as Korsak points out, "This guy is willing to kill an accomplice just to leave a clue as to what might happen next." Remember Maura's bodyguard suggestion? In light of the increased danger, Korsak actually takes her up on her offer. Enter Boris Martin, with much eye-rolling on Jane's part.
Boris: Tell me about your living arrangements.
Jane: I live with my brother. …It's temporary.
Boris: He might have to move until this is over.
Jane: Finally, some good news.
Meanwhile, Frankie is frustrated that he can't track down the man who's doing this to his sister. Maura widens his perspective by suggesting "Maybe he's not a he," which I'm guessing she's said before – probably whenever Angela asks about men Jane's dating. Frankie heads to the prison at which Leanne was recently incarcerated for petty theft, where he interviews the warden and resident psychiatrist.
Speaking of Angela, Jane decides not to reveal what's going on an attempt to avoid worrying her mother, but Angela can sense something's wrong anyway thanks to the "silver cord" that she says always connects a mother and her child. She takes "triple-platinum overtime" at the Dirty Robber to distract herself and eventually heads over to Frankie's apartment to talk to Jane, interrupting a meal cooked by Boris that Jane says "smells like angels." In a hilarious moment that breaks up an otherwise tense episode, Angela misreads the situation, determines that Jane and Boris are romantically involved, and threatens to "kill [him] dead" if he hurts her daughter.
Mystery novels in Maine
The next day, Frankie's neighbors are evacuated, bomb-sniffing dogs are brought in to search the building, and snipers take their positions as 5:26 creeps closer on the clock. Jane and Boris are inside the apartment, Korsak and Nina are on the street right outside, Frankie's back at the BRIC, everyone holds their breaths… and nothing. Finally, Jane figures out that the time isn't a time at all – the numbers represent something else. Despite being under police- and Boris-enforced house arrest, she finds a way to get back to BPD headquarters. That's our Janie.
Jane seeks refuge in Maura's office (of course she does) and admits she's having doubts about whether her job is worth the stress it causes her and the people around her.
Jane: Don't you ever feel like doing something else? Something that doesn't involve dead bodies?
Maura: Sure, I'd like to get an engineering degree and work for Elon Musk on SpaceX, or move to Maine and write mystery novels. Sometimes I imagine being the person who makes up the names for colors in the J.Crew catalogs. You know, faded ebony, dusty cobblestone, neon persimmon. You?
Jane: No, I can't think of any other life.
Fun fact: The mystery-novels-in-Maine thing was a reference to Tess Gerritsen, an author who lives in Maine and just so happens to write the Rizzoli & Isles book series upon which the show is based. I see what you did there, writers. I see.
Nothing left to take
Jane heads upstairs and searches for answers in another type of book: the Bible. She zeroes in on Matthew 5:26, which reads "Truly I tell you, you will not get out until you have paid the last penny." It seems the person harassing Jane is seeking revenge. A frustrated Jane tells Nina, "He's taken everything; there's nothing left to take." I guess that's true, with the exception of her loved ones: her brother, her mother, her girlfriend, ya know.
Speaking of her mother, the watch was a gift engraved with the words "Love, Ma," which prompts Jane to rush out of the BPD in search of Angela. On the way, she bumps into Korsak, who points out that when the numbers are reversed, they form the penal code for kidnapping. The two of them race to Maura's house, where Jane finds Angela safe and the two share an emotional embrace.
Cut to Maura, who's still in her office. She receives a call about a homicide and tells the person on the other end of the line that she's on her way. As Jane, Angela and Korsak share some Scotch at Maura's house, someone pounds on the door, but it's just Frankie worried about his mother. With her brother, mother and colleague surrounding her, Jane picks up the phone to call the one person who isn't there: Maura. The M.E., busy exploring the crime scene she was called to, doesn't pick up. Maura sees she has a missed call from Jane and is about to call back when she's grabbed from behind and hauled away by a dark figure. The last frame of Rizzoli & Isles 6×12 features Maura's dropped phone with Jane's face on the screen.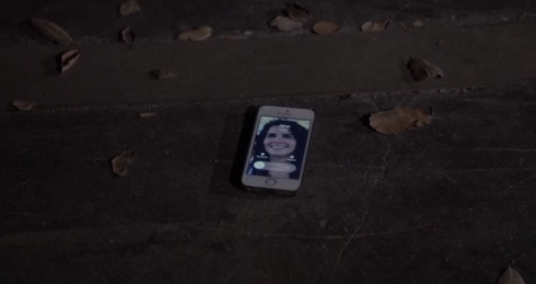 …Sooo, how many days till February?