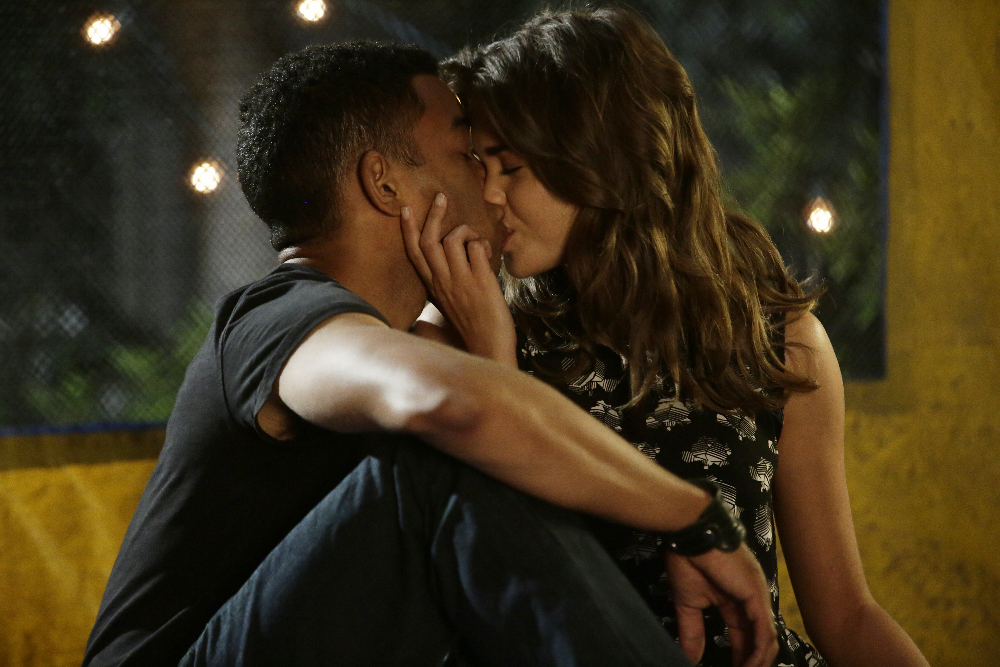 Before anything else, let's talk about how The Fosters has been back for a month and a half. What? I know. Anyway, on with our recap of The Fosters 3×06, a.k.a. "The One With the Dramatic Party to End All Parties."
It's Callie's party
In case the title of this episode ("It's My Party") wasn't enough of a clue, Callie's birthday is coming up, and she announces at dinner that she wants to celebrate by buying a car with the $800 she's managed to save up. Although Callie makes a compelling case (who knew air bags have been standard in cars since the 1990s?), Stef and Lena ultimately shoot her down, which is probably good given that a synonym for "$800 car" is "death trap."
While Mariana helps Stef and Lena with the dishes, they ask when (and, indeed, if) she's planning on telling Callie that she slept with Wyatt. She wants to wait until after Callie's party, which is TV show code for "The secret will come out beforehand and blindside everyone." After she leaves the room, Lena questions whether she should even confess at all.
Stef: I'm sorry, do I know you?
Lena: It's just… Mariana's really hurting. I know she would take it back if she could, but she can't. It's not like she's dating Wyatt. It's just gonna hurt Callie. Maybe everything doesn't have to be talked about.
Stef: Well, I'm not gonna argue with you about that one. Does this mean we don't have to go to therapy tomorrow?
Well played, Stef. Well played. Also, I suspect Lena may be talking as much about what happened between herself and Monte as she is about Mariana and Wyatt.
Forgiveness vs. permission
Just then, a wild Judicorn appears. It turns out that although Callie's expecting a small family party limited to the Fosters and the Quinns, a big surprise bash is actually in the works for The Fosters 3×06.
The following morning, Mariana wakes Callie by giving her a birthday gift of $600, with the rationale that $1,400 will be enough to buy a car their moms will deem suitable. Overcompensating for her guilt, much? Callie doesn't want to accept the money, but she makes a compelling counter-offer: They could pool their funds and buy a car together.
Callie: We just have to get moms on board.
Mariana: Why? Sometimes it's easier to ask forgiveness than permission.
…Let's see how well that reasoning holds up when Callie finds out about Wyatt.
Callie and Mariana find the perfect candidate (car-didate?) in the charmingly named Nelson, but they end up missing out after Mariana's negotiation tactics fall flat. The second time around, Callie takes the wheel (pun fully intended) and they tell the seller that they'll be able to pay him the following day.
At their first couples therapy session, Stef and Lena are assigned homework to make lists of what they like and dislike about each other. With her trademark bluntness, Stef counters, "Aren't you supposed to be helping us stay married?" and promptly starts referring to the list of dislikes as a "hate list." Well, they're off to a good start.
Remember how last week's episode left off with AJ receiving a call from his long-AWOL brother, Ty? Apparently they were supposed to meet, but Ty didn't show, so he calls to reschedule. When Brandon overhears, AJ covers by claiming it was Mike on the line, but Brandon's not buying it.
Surprise!
Back at the house, the Girls United contingent and assorted other faces leap out and surprise Callie.
…Unfortunately, one of those assorted other faces happens to belong to Wyatt. If he has any sense, he'll keep his distance from Mariana, but since when do teenage boys make smart decisions? When Mariana reveals she had a boyfriend at the time they slept together, he responds with, "So, you had a boyfriend, or you have one?" Way to miss the point there, buddy. He then proceeds to ask her out, rationalizing that Callie probably won't care. In turn, Mariana concludes that Callie probably also won't care about them sleeping together. Shaky logic at its finest.
Meanwhile, the girls of Girls United plus Cole perform a birthday rap by Callie, stunningly punctuated by Rita's "Drop it like it's hot, ladies!" (I kind of want to make a ringtone out of Rosie O'Donnell saying that). Then, Callie's former boss at the drop-in center – Rafael – appears in what I can only assume is a bid to out-awkward Wyatt, given that Stef and Lena still don't know Callie got fired.
But wait! As if the party isn't awkward enough, something's going on between Sophia and Robert; they arrive separately, and Sophia seems to be avoiding him. In the process, she runs into Brandon and asks what he thinks about AJ. Brandon reveals that AJ stole his signed baseball and then returned it, but he can't tell his moms because he subsequently had to sell it to "replace something [he] lost" – namely, the keyboard he gave to the Mexican cops to avoid getting arrested for hang-gliding. Sophia urges him not to give up on catching AJ doing something he shouldn't, and the two plot to get their hands on AJ's phone so they can check the call history. Sophia volunteers to slow-dance with him, a suggestion Brandon promptly vetoes ("You're 15 – I'm not pimping you out") before realizing the phone is charging in the kitchen, unaccompanied by its owner.
The web unravels
The web of deceit woven in The Fosters 3×06 begins to unravel when Rita casually asks Rafael how Callie's doing at the drop-in center, and Rafael reveals that he had to let her go because of AJ. Rita, if you'll recall, had front-row seats to Callie's forbidden love story with one of her other foster brothers. Is history about to repeat itself? Rita stays quiet about that topic, but sits down with Callie and urges her to tell her moms about what happened at the drop-in center.
When AJ discovers his phone isn't where he left it, he confronts Brandon, who's in the middle of denying all knowledge when it rings from inside his pocket. Smooth. They get into a physical fight in the middle of the festivities, and after all that, the caller isn't even AJ's brother. Way to look like a jackass, Brandon. Mike tells Brandon to leave AJ alone, and Stef warns him against playing favorites. When he goes to apologize to Brandon, Brandon's hostile until Mike assures him that he'll never choose AJ over him. Next, Mike approaches AJ, who reveals he has been talking to his brother after all.
Things fall apart
Ready for another dollop of awkwardness? Stef tells Robert she's sorry to hear about his separation from Jill, and he promptly reminds her that she was the one using his affair to blackmail him in the first place. Eesh.
Back to the weird Callie/Wyatt/Mariana situation. When Mariana broaches the subject of her dating Wyatt with Callie, Callie gives her the green light but later tells Lena that she's not as OK with the idea as she made it seem. Lena talks to Mariana, who tells Wyatt she reconsidered, and Wyatt in turn confronts Callie. What begins as a conversation about how Callie has no right to keep him and Mariana apart quickly morphs into Wyatt revealing that he and Mariana have already hooked up. So much for not telling Callie until after the party. "What do you mean, you 'hooked up'?" Callie queries, but before Wyatt can answer her, out comes the birthday cake all ready for Callie to blow out the candles. Perfect timing. When she confronts Mariana, the situation doesn't exactly get any better.
Mariana: I just thought…
Callie: That in this case, my permission would be easier to get than my forgiveness?
Touche. Mariana goes on to explain that she's been trying to talk herself into dating Wyatt so she doesn't feel bad about sleeping with a boy she barely knows. She assures Callie that she was planning to confess everything once the party was over, and Callie counters with "The big surprise party I didn't want?" Of course, Jude's in earshot, and he's crushed.
Things come together
Sooo, I'm guessing Callie and Mariana won't be co-buying a car anymore – but it's OK, because Robert bought one for Callie as a birthday present, and it's parked outside the house. But, surprise: Callie wants to honor her agreement with Mariana, even after everything that's happened. Robert reveals that he told Sophia about the affair to stop her from lashing out at her mother, and Callie tells him that the best gift he ever gave her was not giving up on her even when she hated him.
Back inside, Callie catches Jude before he leaves the party to go to Connor's house and explains that although she appreciates his effort, she's overwhelmed by all the attention associated with the surprise party.
Jude: But you used to love your birthdays.
Callie: Yeah. I guess I don't really remember that girl anymore.
Jude: Well, I guess I have to remember her for you.
Trust Jude to be the only person NOT bringing the drama in The Fosters 3×06. And, even better, he has one more surprise up his sleeve: A bounce house. Suddenly, the party doesn't seem so bad after all – especially not when Rita clambers in to join them.
Following the tense exchange she had with Robert, Stef approaches him again, this time with a peace offering of cake, an apology, and a question: Did Callie like the car? …Amid all the very serious misunderstandings in this episode, the car thing is pretty hilarious.
While Stef speaks with Robert, Mariana approaches Lena to tell her that the secret's out and she doesn't think Callie will ever stop being mad at her. Lena glances at Callie in the bounce house and notes that she doesn't seem mad before uttering what's arguably the best line of The Fosters 3×06: "Go bounce with your sister."
Slowly, more and more of the rifts that opened up over the course of this episode are tentatively mending. One of the bigger ones that's still outstanding involves Stef and Lena's "like" and "dislike" lists – but not for long.
Stef: You'll be happy to know that I apologized to Robert.
Lena: Nice! I'll add that to my love list.
Stef: Oh, good. At least I'll have something on that list.
Lena: Honey, almost everything I write ends up on the love list. It does. Whenever I think of something that drives me crazy about you, I immediately want to come to your defense because I know why you're quick to react – because you're protecting our family. And I know why sometimes you snap – because you're stressed from taking care of everybody. I don't think those lists were meant to make us focus on all the bad stuff.
As they kiss, Rita gracefully falls out of the bounce house in the background. AMAZING.
Following a cute montage of the family bouncing together, AJ approaches a lone Callie to deliver her present: A drawing of her as a superhero. They kiss, and AJ apologizes, saying he knows nothing can happen between them while they're under the same roof. In a super-cheesy but also cute move, Callie glances up at the moon and responds, "There's no roof here." Could The Fosters 3×06 actually have a happy ending? Not so fast – when AJ and Callie kiss again, Stef sees them…