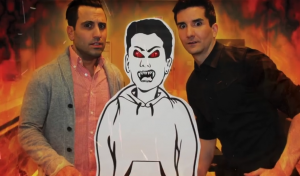 This is not a drill. An 'Are You Afraid of the Dark' mini reunion took place! The show's first, thanks to ET Canada, took place to celebrate 25 years since 'Are You Afraid of the Dark' first started traumatizing children of the 90s. Ross Hull (Gary), was joined by former co-stars Daniel DeSanto (Tucker) and Elisha Cuthbert (Megan) to talk about the show that made nightmares a Nickelodeon staple.
When Ross and Daniel later meet up, they talk about Daniel losing his "drinking virginity" with co-star Joanna Garcia while a creepy, possibly possessed cardboard cutout of Tucker looks on. It's amazing and a real treat for any fan of the show. Check it out below:
Video:
I have so many questions. Where did Ross get those piano skills? How does he keep his apartment (?) so clean? Does Cardboard Tucker just chill with him during nightly reminiscing sessions? How many Mean Girls jokes were made? Do they both bathe in a unicorn's blood? Because they both look amazing.
The Nickelodeon Slimed event and this reunion made me so happy. So the most important question?
When is round 2?
Be sure to subscribe to Ross Hull's YouTube account "GUYFROMTHATSHOW" and his Twitter for all 'Are You Afraid Of The Dark' updates!
If you haven't seen it already, be sure to watch Ross's official 'Are You Afraid of the Dark' documentary below:
Video:
We're in it!
Links:
In Case You Missed It: Our exclusive interview with Ross Hull
ET Canada:
Watch their interview and reunion with the cast.