The Fosters 2×20 picked up with the aftermath of last week's explosive cliffhanger, during which a shot rang out while Jude, Connor, Daria and Taylor were in the line of fire. Read on for our recap.
Shots fired
It turns out that Taylor's father's attempt to shoot the perceived intruders at his house resulted in one of the teens – Connor – being hit, but the wound isn't serious. The Fosters 2×20 opens at the hospital, where Stef and Lena are in the waiting room with a shellshocked Jude while Connor and his father are being briefed on Connor's foot injury. After being assured that his son will likely make a full recovery, Mr. Stevens (whose first name, apparently, is Adam – who knew?) proceeds to lay into Connor.
Mr. Stevens: What the hell were you thinking, sneaking out like that? What kind of idiot breaks into somebody's house in the middle of the night? Is this about that girl? That girl, Daria? Is that why you did this? Is that why you snuck out?
Connor: No!
Mr. Stevens: It's not? It's not why you did it?
Connor: It's not, OK? I snuck out so I could see Jude, all right?
Mr. Stevens: …What does that mean?
Connor's dad leaves the room and goes to tell Lena that he doesn't want Jude and Connor to see each other anymore because, according to him, Connor claimed sneaking out and drinking was all Jude's idea. In the hallway at school, Jude runs into Taylor and tells her Connor placed the blame on him. Upon learning that Mr. Stevens doesn't want the two boys to speak, Taylor volunteers to pass along a message when she visits Connor at the hospital. After school, Jude receives a text from Taylor – but it's actually Connor using her phone. Connor never actually blamed Jude – but he did tell his father he's gay.
Tea & stereotypes
At Anchor Beach, Lena and Monte are discussing the Connor situation when Craig – the teacher who runs STEM club – shows up with coffee for Monte. "He never brings me coffee," Lena observes wryly. "Aren't you more of a tea-drinker anyway?" Monte parries. Best. Euphemism. Ever.
When Craig asks Monte out, she declines, then tells Lena that she's sworn off men after the debacle with her ex-husband. She muses about trying women, and Lena assures her they're not any easier. They share a lingering look, and I don't like where this is going.
Speaking of STEM club, its members are preparing for the upcoming Coders' Challenge. The boys in the group volunteer to do the coding and engineering, while Mariana and Emma are assigned to marketing.
Remember how Emma joined the dance team after Jesus revealed her deep, dark cheerleading past to Mariana? The wrestling and dance teams are still sharing a practice space, and when the wrestlers walk in on the dancers, one makes a snarky remark about Emma. At their next practice, Mariana notices a change in Emma.
Emma: It's just… I'm not sure that this is for me.
Mariana: What? Why? You've been having so much fun.
Emma: I guess I just want to be taken seriously and I don't think anyone is going to do that if we're out there shaking our asses.
Mariana: Is this because of the wrestlers?
Emma: It's not just them, it's everybody. I mean, look what happened today in STEM. They put us in charge of marketing and social media.
Mariana: Yeah, and? We got put in charge – it's not like they asked us to be secretaries or whatever.
Emma: Yeah, they put us in charge of the girl thing. We might as well be spokesmodels. I am, like, the best coder in there, but suddenly I'm a joke.
Tia: Oh, and you think that's because we're on the dance team now?
Emma: It doesn't help.
Tia: We're athletes!
Mariana: Look, I'm sorry, I just – I really don't get it. It's not like you suddenly became stupider because you joined the dance team. What's wrong with being sexy?
Emma: Nothing, I just don't want to be perceived that way. I have more to offer than just my ass, you know.
Mariana: Who said you didn't? Why can't you be both smart and sexy? Why do you have to choose?
Emma: 'Cause that's just the way it is.
Later, when Emma shows up at the Fosters' to tutor Jesus, Mariana continues the conversation, telling Emma:
"You smile just as big when you nail a turn as when you solve one of Craig's unsolvable coding problems. Why are you letting a bunch of boys decide what kind of girl you want to be? You say that's just the way things are, but, no, I don't accept that. If things aren't the way they're supposed to be, then you have to change them, right?"
One of the many reasons I love this show is because of all the stereotypes it tackles and boundaries it breaks in terms of sexual preference, race, gender roles and more. The Fosters 2×20 tackled a very real and serious issue in this scene without being preachy or forcing any of the participants to act out of character, and that's really cool.
Emancipati-on… or off?
Remember Stef's master plan to get Callie emancipated? During a meeting to go over the details, it transpires that Callie has accrued $24,000 in credit card debt despite never having signed up for a single card. This girl just can't catch a break. Unless she can prove that someone stole her identity, she won't be able to get off probation, which means she won't be able to get emancipated, which in turn means she won't make an adult decision about where she wants to live – i.e. she won't be able to stay with the Fosters. Stef determines that the thief is using the cards to buy high-end handbags, likely to sell online for a profit, and vows to catch him or her.
Over at the drop-in center, Callie's boss informs her that ID theft is common among foster kids because so many people have access to their information, which sucks. Something else that sucks? Sarah, the girl who was victimized by Callie's rapist and former foster brother Liam, shows up at the center – and while she's there, Callie notices her designer handbag. When she grabs the opportunity to snoop in Sarah's purse, she finds credit cards with her own name on them.
Meanwhile, Stef meets with a handbag seller she connected with online only to find she recognizes him – it's Liam. She goes all badass cop on him, declaring "I'm Callie Jacob's mom, and you're under arrest for fencing stolen goods." Go Stef!
At the precinct, Liam denies all knowledge that the handbags were purchased using Callie's stolen identity, and Sarah backs him up. Callie has an idea: Why not check Sarah's credit report? Sure enough, it's just as bad as Callie's. Stef tells Liam that being presented with her credit report prompted the underage Sarah to tell the truth – and not only about the ID theft, but also their sexual relationship. Translation: Liam's going to jail and Callie's all set to get off probation and move forward with the emancipation.
Family reunion
Mariana isn't aware that her moms changed their minds about not adopting Ana's baby, so she's eager to persuade her grandparents to do so – but her visit to their bakery doesn't exactly go to plan. She introduces herself to her grandfather and is about to deliver the letter Ana wrote to them when her grandmother appears, at which point her grandfather lies about who she is. Mariana leaves, but returns the next day. This time, the three of them sit down to talk, and Ana's mother explains that she and her husband didn't know Mariana and Jesus existed until after the Fosters had already adopted them, a revelation that caused them to become estranged from their daughter. Mariana reveals that Ana is sober and pregnant, then hands over the letter.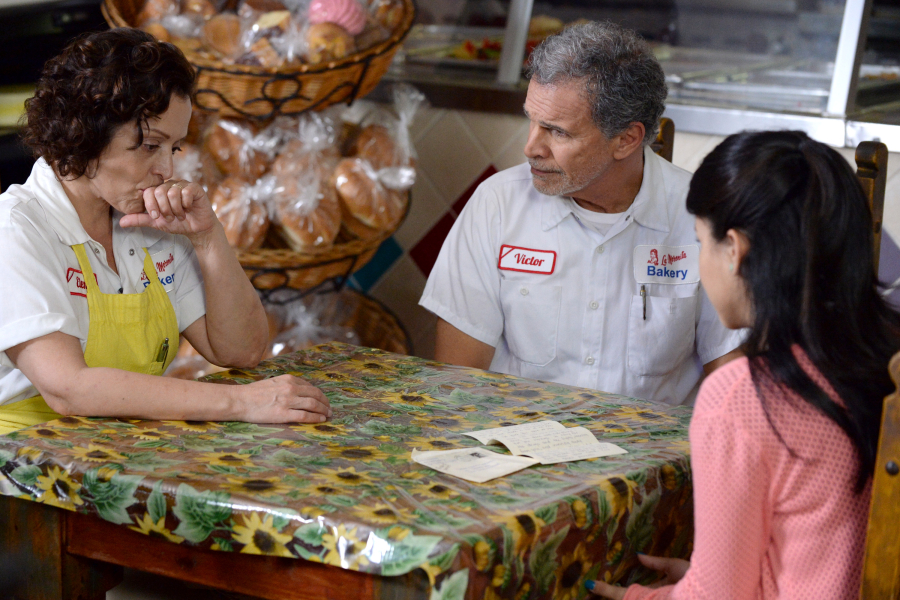 Speaking of Ana, she's moved out of Mike's apartment despite his objections, and he's worried. Stef tells him that he needs to let go and accept that he can't control everything, so he gives her a bottle of pills that Ana allegedly left at his place and says it's now her responsibility to pass them along. She shows up at the motel (do all motels look the same, or is that just me?) and knocks on Ana's door. Of course, it turns out the pills aren't Ana's after all, and Mike was using them as a ruse so Stef could see the sketchy area where Ana's living for herself. Needless to say, Stef invites Ana to stay at the Foster house, so it looks like she and Lena need to tell the kids they'll be raising the baby sooner rather than later…


Check out the preview of The Fosters 2×21 below and tune into ABC Family next Monday at 8/7c for what promises to be a dramatic season 2 finale.