Rizzoli & Isles 5×16 begins with a lone driver having car trouble on a desolate road in the dead of night. Suddenly, another vehicle pulls up, but is the driver friend or foe? This is a crime show, so you already know the answer to that. Read on for our full recap.
You've got mail
Back at Casa Isles (and Rizzoli and Rizzoli), Maura's having mail trouble. Specifically, she gets a package from a store she hasn't shopped at in a long time, which contains shoes she loves but are in the wrong size. Jane brings the box inside while holding an envelope in her mouth, which she assures Maura is hers because "I would not put your mail in my mouth."
Two things here:
1) Why is Jane getting her mail sent to Maura's address anyway?
2) Mail wouldn't be the first thing of Maura's that Jane's put in her – oh, look at that, they're getting a call about the murder.
More questions than answers
At the crime scene, several things transpire:
The motive for the murder isn't obvious.
The victim, Todd, was struck twice before he died.
There's a handkerchief near the body that may hold an important clue.
Korsak's life coach has encouraged him not to use "cop talk" all the time, and his efforts to expand his vocabulary are pretty hilarious.
At the victim's house, Jane talks to Todd's widow, who explains that her husband switched to the graveyard shift after she lost her job so he could provide for his family. Then, Todd's son, Logan, details a mysterious visit from a man who visited his father a couple of days earlier and didn't seem too happy. Logan says he didn't see the man's face but he'll never forget his voice.
Korsak does some digging but fails to come up with any evidence of "extramarital philandering" (I love the Wordsmith!Korsak of Rizzoli & Isles 5×16), while Maura's examination of the body reveals the absence of defensive wounds. However, Nina does find something: The family was struggling for money, maxing out credit cards and taking out a second mortgage, but two large, unexplainable cash deposits showed up in their checking account a month before. Jane's thinking "loan shark," and a voice mail on the victim's phone leads the investigators to a suspect – but Todd's son doesn't recognize his voice.
Remember the mysterious shoes delivered to Maura's house? She visits the store, only to find there are many more items set aside in her name – including some choices she never would have thought of, but loves. In fact, she buys a dress right then and there, which Jane is just as impressed by as she is.
Obviously, Maura's identity has been stolen, but instead of reporting the crime, she wants to "observe the impostor in its natural habitat," so she decides not to tell Jane lest she get all "detective-y." (Of course, Jane eventually ends up finding out anyway.) Maura reviews the fraudulent charges on her card, tracks the ID thief to a high-priced restaurant and stages a stakeout with Angela as backup. The stakeout turns into a therapy session when she admits it seems as if the impostor is living her life better than she is and Angela assures her that Fake Dr. Isles isn't smarter, better or more respected than the real deal. As if to cement this, when there's a medical emergency at the restaurant, Maura helps out while Fake Dr. Isles slips away – but not before a quick-thinking Angela captures her image on camera.
Sabotage
Upon closer examination of the car, Maura and Susie find that it was sabotaged with a sock in the gas tank to make it stall on that road in the middle of the night. Meanwhile, a Det. Guthrie from Maine shows up and announces that he and the BPD are hunting the same killer – and he has the handkerchief and the sock to prove it. Moreover, the victim in the Maine case visited the same grocery store as Todd shortly before being murdered…
Down in the lab, Susie is comparing the handkerchiefs from the two cases when the sprinkler system goes off as the result of a trash can fire in the men's room. She and Frankie try to save the evidence, but it's compromised – which means any DNA is gone.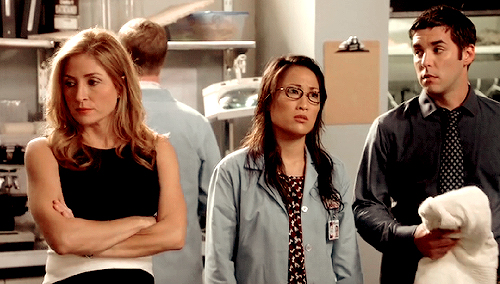 When Jane checks out the trash can, she finds that the cause of the fire – a cigarette – hadn't been smoked and was solely used to start the blaze. Jane meets with the detective from Maine to break the bad news and "accidentally" spills coffee on him, causing him to raise his voice. Cut to Jane playing an audio recording to Logan, who positively identifies the speaker as the man who yelled at his father.
So, why did Guthrie kill Todd? Turns out he was the victim of bullying at summer camp in his youth, and Todd was the leader of the pack. When Guthrie called his stepfather from camp to pick him up, the stepfather publicly embarrassed him in front of his fellow campers. A camp reunion two weeks earlier ignited his long-repressed anger, so now the other men involved in the bullying might also be targets. Frankie tails Guthrie as the detective leaves the city, but surprisingly, he doesn't head toward any of the campers' homes – instead, he makes a beeline for what the investigators soon realize is his stepfather's house. After a tense standoff, Guthrie is arrested.
Back at the precinct, the victim's son, Logan, wonders whether his father would be alive if he'd told his mother about Guthrie's visit to their house. Jane reassures him that none of it was his fault, and there's a heartbreaking exchange about the late Det. Frost's Guardian Chogokin action figure ("It belonged to a friend of mine." "Does he play with it?" "Not anymore.")
Everything comes together
The main crime in Rizzoli & Isles 5×16 isn't the only one that's all wrapped up: Jane's also able to get Fake Dr. Isles arrested, thanks to Angela's photo.
Jane: That picture made the case. The detectives were able to charge her with a much more serious felony.
Maura: What's more serious than identity theft?
Jane: Making the Chief Medical Examiner question her life's work.
Awww.
The episode ends with Jane and Maura enjoying some ritzy French wine paired with pizza, which is kind of the perfect representation of the fact that they're two very different people who somehow fit together well.
Catch the final two episodes of Rizzoli & Isles season 5 next Tuesday, beginning at 8 p.m. ET/PT on TNT.