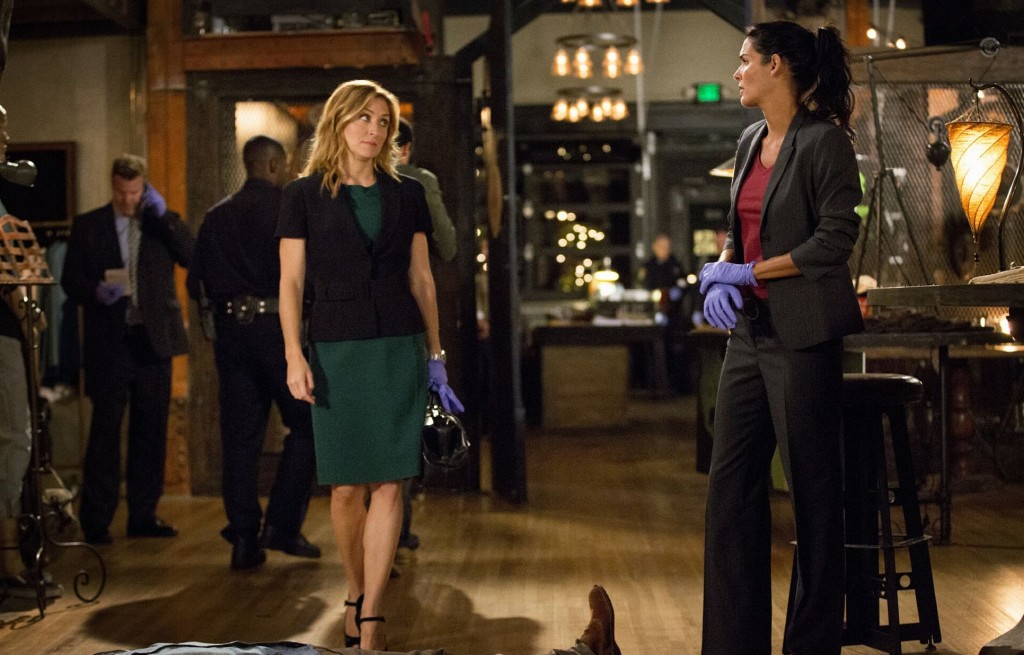 Who else is super creeped out by the idea of a perpetrator hiding in a clothing store after hours and pretending to be a mannequin? It's very Evening Primrose and I don't appreciate it. Anyway, that's how Rizzoli & Isles 5×15 begins. Read on for our full recap.
The mannequin-impersonating perp soon sneaks into a second-floor office to palm some paper files and download something off the store's computer, and he's almost done when he's caught in the act by the co-owner of the business. Cut to said co-owner plummeting unceremoniously over a ledge and onto the floor below. Now we've gone from Evening Primrose to How to Get Away With Murder. Yikes.
Escar-gross
Meanwhile, over at Casa Isles (a.k.a. Casa Isles Plus Her Girlfriend Plus Her Girlfriend's Mom Plus Assorted Other Members of the Rizzoli Family at Any Given Time), Angela is eagerly awaiting the delivery of takeout from a classy French restaurant. The meal doubles as a thank-you-for-everything gift to Maura and a way for Angela to sample some high-priced food now she's earning more money at her new bartending job at the Dirty Robber. Jane deems snails to be "escar-gross," and Maura encourages her to think of them as "a garlic and butter delivery system." …There are two kinds of people. Lucky for Jane, dinner will have to wait because she and Maura and have a crime scene to escar-go to.
After they arrive, Maura notes that the bluish-gray tint of the victim's skin and the bloodstained foam on his nose and lips (talk about escar-gross) aren't consistent with death-by-fall. Frankie puts out a BOLO on a partial plate number provided by a witness who saw a van speeding away from the store around the time of the crime, while Jane hones in on the office computer. Are they looking at a case of corporate espionage? They need to learn more about the company to find out. Right now, the victim, Dylan, seems squeaky clean – a passionate believer in selling socially conscious clothes who treated his employees right. Even his accountant says he was an amazing person.
Back at the precinct, Korsak tells Jane that his search for the store's other owner, Zoe – also Dylan's wife – has proven fruitless thus far, so Jane says she'll send Frankie to do some digging. However, Frankie might want to spend more time at the firing range than working the case, as Korsak lets slip to Jane that her little brother recently failed his firearms qualifications test. That doesn't sound like Frankie, so Jane heads to the range to check out the situation. Perhaps Alexandra, the attractive new firearms instructor, is to blame… Way to prioritize, Francesco. At least he has two more chances before his license to carry is revoked, and he's confident he'll pass next time.
Two kinds of people
Maura confirms that the fall wasn't the cause of death – in fact, Dylan was poisoned, but she's not quite sure how. Thankfully, the lab's new Bio Orbitron MS-8000 mass spectrometer will be delivered later that day, much to Maura and Senior Criminalist Susie Chang's delight, so the nature of the poison won't remain a mystery for long.
Susie: It is the most advanced chemical analyzer in the world!
Maura: Ultra-high resolutions!
Susie: Recombinant glycoprotein characterizations!
Jane: Oh my gosh! Remember when you girls got that new DNA splicer and you talked about it for weeks?!
Maura: Yeah!
Jane: …This is even more boring than that.
As I said, there are two kinds of people. Luckily for Jane and Maura, opposites attract.
The BOLO leads Jane and Korsak to a van owned by the excellently named Jerry Jankowski, a private investigator whom they find to be in possession of the stolen files. Jerry, who was hired by the victim's now-missing wife, admits he was at the crime scene but claims he had nothing to do with what happened and was only in the building to look for evidence of an affair. As for the alleged murder, the P.I. claims Dylan was "acting crazy," stumbled backward and fell to his death unaided. After Jerry gives the investigators the number of Zoe's burner phone, Frankie soon tracks her down and brings her in for questioning. Zoe claims her husband told her that "dangerous people" were after them but he had evidence that would put a stop to the intimidation. Rizzoli & Isles 5×15 spoiler alert: That didn't quite work out the way he was hoping.
Remember Frankie's confident assertion that he'd pass the firearms qualifications test the second time around? He tells Jane that even though he actually tried this time, the fact that Alexandra was standing so close to him meant he failed again and is now down to his last chance. He begs Jane to accompany him for Test No. 3 and she reluctantly agrees, but urges him to "stop thinking with [his]… gun."
In the closet
Frankie's not the only Rizzoli to be making poor choices of late. Turns out Angela's splurge on French cuisine wasn't her only recent extravagant purchase, so Jane urges Maura to talk to her about managing her money. Maura attempts to do so, but Angela turns the conversation around, making a pointed reference to the contents of Maura's study closet. What's the over-under that there are expensive shoes involved? Later, when Jane inquires how the exchange went, Maura is evasive and urges Jane not to follow up with Angela.
"She hasn't said anything to you, has she? About, I don't know, investments… or… closets?"
Jane's mystified response indicates Angela hasn't mentioned anything about the closet in Maura's study – or the fact that her daughter is still in one.
Maura swiftly changes the subject and reveals that the victim died from an extreme overdose of an odorless, tasteless, synthetic hallucinogenic drug. What's more, victims who overdosed on the same drug were found in three other cities in Massachusetts and Rhode Island – the same cities in which Dylan and Zoe's small clothing chain operated stores. Could the company be a front for a drug distribution operation? The fact that the young chain wasn't profitable yet but was still attracting major investments raises a red flag that adds credence to the drug distribution theory – what if funding socially conscious fashion wasn't the main goal? Jerry the P.I. volunteers the fact that Dylan frequently stayed in the same room at a crappy motel, and Frankie and Korsak discover that the room just so happens to overlook Dylan's company's distribution warehouse. Hmm…
Back at the precinct, Jerry puts together a timeline using the surveillance photos he took of Dylan, and Jane notices that Dylan left the motel room with a travel mug, returned without it, then went and retrieved it the next morning. Jane checks the mug and finds a secret video camera containing footage that shows the owner of the warehouse handling suspicious packages. Meanwhile, Nina uses her tech mojo to reveal that Dylan and Stanton Ward, the owner of the warehouse, both use the same accountant.
Maura's got a gun
At Casa Isles, Angela's fighting fire with fire – or, more specifically, with the impressive array of skeletons in Maura's study closet. Maura admits she likes to indulge in retail therapy when she's stressed out, and Jane comes out with an admission of her own: She's concerned about Angela's finances because after she first joined the BPD, she got herself into debt and doesn't want the same thing to happen to her mother. Aww.
Angela then produces a small case of Maura's that contains something she deems "surprising" before opening it with a flourish. It's pink, it's vaguely phallus-shaped, it's… it's a gun, OK, that's totally what I thought it was.
Jane: Maura, it's a weapon – it doesn't have to match your purse.
Maura: Jane, accessories always have to match.
I'll say it again: There are two kinds of people.
Rizzoli &… Jankowski?
Cut to the firing range, but instead of Frankie, it's Maura who's shooting. "Look at you go with your girly gun!" Jane exclaims before pointing out that blowing off some steam at the range is a much cheaper stress-reliever than shopping. She goes on to assure Maura that she's always there if the other woman needs to talk. (I'm assuming "talk" is a euphemism.) Speaking of stuff that's totally gay, turns out Alexandra is. Yup, as in she actually has a wife. So much for Frankie's crush. He quickly knocks his test out of the park and slinks off to lick his wounds.
Jane's amused by this turn of events, but she can't chuckle over her brother's misfortune for long because Jerry gets kidnapped, likely by Stanton. The accountant thinks Stanton probably took Jerry to a body shop he owns, and the investigators rush over to find Jerry bloodied but alive. Before Stanton notices their presence, Jerry makes him confess to poisoning Dylan.
After Stanton is taken into custody, Jane checks on Jerry as he recoups in an ambulance.
Jerry: I think we're a great team: Rizzoli and Jankowski.
Jane: …No.
Sorry, buddy. Looks like Frankie wasn't the only one barking up the wrong tree in Rizzoli & Isles 5×15.