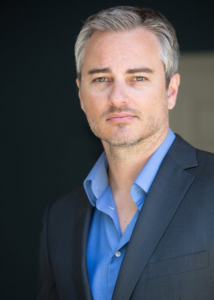 The character of Robert Quinn was first introduced to the Foster family's lives in The Fosters 1×21, when Callie's birth certificate revealed she had a different birth father to Jude and thus couldn't get adopted. Since The Fosters 2×1, when Kerr Smith made his debut in the role, the Quinns have been making the Fosters' already complicated lives even trickier – and according to Smith, there's plenty more where that came from.
Read on for our full interview with Kerr Smith.
Robert has been in the picture since the beginning of season 2, so quite a while now. I think it's fair to say he hasn't always been particularly popular with fans of The Fosters because many regard him as trying to break up the family. What is it like playing a character who some viewers don't really support?
Fun! It's one of the reasons why I decided to do this – it's because it's a challenge. For me, what I try to do when I play an antagonist is get the audience to feel for him, even though what he's doing can be viewed as wrong, because everybody who watches a show honestly has the perspective from the Fosters' point of view, but you've got to understand Robert's perspective. I mean, he didn't know about Callie, and if he knew about Callie back in the day then I probably wouldn't have taken this job, because it would have been very difficult to do what I wanted to do, but because of that, because he missed out on 15 or so years of her life, Robert is as much of a victim as Callie is in this situation, and there's a lot of guilt involved there for not being there for her, but it's not his fault. I think there's a lot of people that are starting to get on the Robert Quinn boat. It's never gonna be as full as the Fosters' boat, but I think a lot of people are starting to think, 'Well, wait a minute, this guy didn't know, I kind of feel for him.' And he's not ripping her out of the foster situation. He knows that she has a good situation over there, but he is the biological father of this girl and all he wants to do is get to know his daughter. I don't think that's wrong. I don't think there's anything wrong with that.
I've definitely been warming to him personally over recent weeks, and I think the whole thing with Sophia helped a lot of people feel sympathetic to him.
Absolutely. The Sophia thing aside, there's a lot of things going on behind the scenes in the Quinn household, where, you know, we could have our own spin-off, there's enough going on. It's a crazy family. I find the storyline really interesting because there is a lot going on there, especially with Sophia, and you're going to see a lot more of her too in episodes to come.
When Callie went to Robert after she was approached by the police about Daphne's daughter's abduction, Robert stepped up and told her that he was going to take care of it and her. Do you think his desire to help and protect Callie is fueled by guilt over the fact that he didn't know how troubled Sophia was until it was almost too late?
Interesting question. The only thing I can say about the Sophia situation is that it makes him look at his ability as a parent and that he may not be as good of a parent as he thinks he is, but then again, our children have their own minds and they make their own choices. You just set up the best situation that you can for them in order to grow as an individual but apparently he hasn't done that here with Sophia because she's just wrought with so many problems. You know, I've touched upon that in my own mind over the episodes: Can Robert properly raise a child knowing that he may not have done that with Sophia? So I think that's an insecurity, maybe, that he has, but I don't think it in any way influences his willingness to get to know his daughter more.
At the end of last week's episode, Callie told Stef and Lena that she thought she should go live with Robert. Obviously that would hugely affect the show – without giving too much away, what kind of fallout can we expect from that announcement?
Well, you can expect the Fosters and the Quinns to butt heads big-time now – as if they weren't already. Teri [Polo] and I always joke about how every scene we do together, we're giving each other the stink-eye. There's going to be a lot more of that, there's going to be more courtroom scenes, obviously, you don't know what's going to happen here, and in the end, Lena, Stef, Robert, Jill, all we really care about is Callie and her well-being, and in this particular situation with the law getting involved here with this decision that Callie made, her safety, and I think that's Robert's primary reason right now. I don't think he's using her situation to get her to move in with them; it's more about protecting your child and being there for your child as a father and as a safety net.
Kerr Smith and Hayden Byerly
You played Jack McPhee on Dawson's Creek, so The Fosters isn't the first show on which you've regularly appeared that has an immensely loyal fan base. What is it like to be involved in something that's so popular and that people are so invested in?
In some ways [The Fosters is] like Dawson's, and in some ways it's not. What I love about The Fosters is – and this is really the first time that I've had this experience – Peter [Paige] and Bradley [Bredeweg] and Joanna [Johnson], they've somehow managed to bring together a very family-oriented organization that includes everybody who works on the show. At the top of every show, we sit down and do a table read, and with a cast as large as this one, sometimes there's 25 actors there, but I've never seen studio heads – from ABC Family or any other network or studio – show up to table readings on a weekly basis, and that happens here. So at any given read-through, there's 50 people there, and that's pretty amazing. Then you get into the scripts and people get emotionally involved, and I don't think I've read one script in all the episodes that I've done for them where people aren't crying at the end of it. It's a pretty remarkable experience in this family that they've managed to spawn. It's pretty cool. And it shows, you know? I'm telling you, that energy is just kind of pushed through everybody in the production and I think it's a large part of why people watch the show because the people that are working on it are into and there's just a really good energy there.
We'd like to thank Kerr Smith so much for taking the time to chat with us! We really appreciate it!
Be sure to tune in to The Fosters, Mondays at 8/7c on ABC Family.