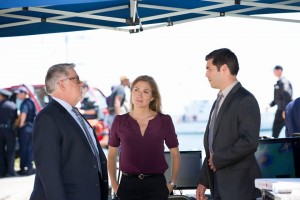 It's been a while, but our favorite almost-but-not-quite couple is back on our screens. Rizzoli & Isles 5×13, "Bridge to Tomorrow," picks up with a flashback to where the summer finale left off: with Jane diving off a bridge to save a suicidal prosecutor, Paul Wescourt, who had been framed for murder. Read on for our full recap of Rizzoli & Isles 5×13.
"She was determined to talk him off the bridge," Maura summarizes in a handy-dandy voiceover to kick off the episode. "She told him she didn't believe he killed his girlfriend. She was sure he was set up and he needed to bring the real killer to justice. Then, he slipped."
Cut to the following day. Jane and Wescourt are still missing, and a search is underway. Maura frets about how long they'll be able to survive in the cold water and blames herself for letting Jane jump. Meanwhile, Frankie asks Korsak to level with him about Jane's chances. "People have gone in the water around here and been swept right out to sea, but they weren't Jane Rizzoli," Korsak responds stoically. (Also, if Jane dies in Rizzoli & Isles 5×13, who's going to solve crimes for the rest of the season?)
Side note: Who missed the Irish jig-esque opening titles? I sure did.
Just keep swimming
In a weirdly Finding Nemo moment, Frankie assures Maura that Jane will "keep swimming." Right on cue, they get word that the Coast Guard found something. Frankie, Korsak and Maura rush to the dock to meet a boat carrying a bedraggled-but-alive Jane and Wescourt.
"I've never been so happy to see you," Jane tells Maura. They embrace, and Rizzles shippers' little hearts all flutter in unison. The moment doesn't last long, though; Maura frostily extracts herself from Jane's arms and says she'll see her back at the office before walking away.
Later that day, Mama Rizzoli theorizes that Maura's reaction was borne out of fear she was going to lose her best friend.
Angela: Look, I'm just saying [your job is] hard sometimes on the rest of us.
Jane: OK, then why aren't you upset?
Angela: Well, I'm not happy that you jumped off a bridge, but I have wasted too much time over the years worrying about things I can't control. It never did me any good with you or your father.
Jane: Ma, you've got two kids that lay their lives down every day for other people – when is that gonna be something you're proud of?
Angela: Jane, I'm proud of you! You're great at what you do. I don't want to stop you from being who you are, so I'm learning to accept your job and the way that you do it.
Jane: Are you back in therapy?
I love their relationship.
Bucket lists & gluten-free pizza
Following her talk with her mother, Jane sheepishly walks into Maura's office with a gift bag containing the M.E.'s favorite perfume. The gesture seems to mollify Maura slightly, but she's not off the hook. Finally, Maura opens up about the guilt and fear she felt while Jane was missing.
"I was just afraid I lost you, and I just kept thinking that I didn't do enough to help you. Why didn't I go and help you talk Paul down, or why didn't I stop you from going over the railing? Why wasn't I closer to grab you?"
Ironically, egghead Maura doesn't realize she has survivor's guilt until Jane points it out. "Why didn't I think of that?!" she exclaims. "Well, there's a first time for everything," Jane responds wryly, then reassures Maura that she couldn't have done anything differently.
Jane admits that while she was falling, she thought of all the things she still wanted to do with her life, like learning how to brew beer and make ravioli from scratch. Maura suggests that she and Jane each make their own bucket lists to share with each other, to which Jane responds, "…Couldn't I just take you out for gluten-free pizza?"
In the meantime, however, they have a case to solve, so Maura goes back to the drawing board with Senior Criminalist Susie Chang (that's so much more fun to say than just "Susie") to determine who framed Wescourt for the murder of his mistress, while Jane questions Wescourt. The only out-of-the-ordinary occurrence that Wescourt can think of involves the sense of being followed by a nondescript red car, which isn't exactly compelling. Eventually, Maura finds a similarity between Wescourt's dead mistress and a victim from one of his cases – both had their hair cut after death.
A riddle, wrapped in a mystery, inside a package
While Jane and Maura are discussing the case in Maura's office, a package arrives. It's related to something on Jane's bucket list, only Maura won't allow her to open it until later. Now there are two mysteries: Who (and where) is their murder suspect, and what's in the box?
Korsak visits the hair-cutting perpetrator and determines that the man had a penpal who knew the details of his crimes. Sounds promising. They track her down, but she turns out to be wheelchair-bound. However, the woman tells the investigators that she thought her ID was stolen at the building where she got physical therapy – which just happens to be the same place Wescourt's wife, Carol, saw a psychiatrist. Time to reexamine the wife's alibi and credit card records, the latter of which just so happen to include a rental fee for a red car. Carol claims she was online playing chess when the murder occurred – but was she? Maura's encyclopedic knowledge of famous chess games (is anyone surprised?) reveals that Carol copied the moves from a famous game and pre-programmed them into her computer.
Jane: Bye bye, alibi.
Korsak: Later, later, perpetrator.
As Wescourt wears a wire in the hope of getting his wife to make a confession, Korsak and Jane sit outside the couple's house. Korsak discusses his three failed marriages with Jane, noting that his emotional attachment to work got in the way, and Jane admits she wonders whether she and ex-boyfriend Casey would have been able to balance a marriage with their careers. Just then, Carol tells Wescourt she knows he's wearing a wire, and Jane and Korsak bust into the house just in time to stop her from shooting her husband. Wescourt is sorely tempted to shoot her himself, but Jane talks him – well, off the ledge, so to speak.
A shiny kitchen thingy
Rizzoli & Isles 5×13 ends with Maura finally unveiling Jane's gift ("It's a shiny… kitchen… thingy…" "It's a pasta-maker!"). The women swap bucket lists and, unsurprisingly, their aspirations are very different. As for Maura's idea that they do things from each other's lists, Jane scoffs, "I'm not going to Paris Fashion Week!" (Funny thing is, Angie Harmon, who plays Jane, actually did attend the event in 2013.) Eventually, Maura proposes something that could work for both of them: an archaeological dig in Egypt. Jane's in, provided she gets to wear an Indiana Jones hat, so all's well that ends well.
Rizzoli & Isles 5×14 airs next Tuesday at 9/8c on TNT.