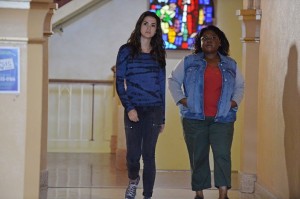 Kiara. Timothy. Wyatt. Emma. The Fosters 2×13 should have been called "Blast from the Past" – but "Stay" works too. Check out our full recap of The Fosters 2×13 below.
Science, Technology, something, and Math
We open with Stef and Lena explaining that the transcripts from Callie's various schools are in the wind, so she'll have to go to summer school and do an independent study. Mariana appears at the absolute worst time to say she got the highest math evaluation score in her grade and was invited to join STEM.
Stef: Well, that sounds fun! …What is it?
Mariana: Science, Technology, something, and Math. It's like Computer Club, but like a team or something. And they go to like coding competitions and stuff. It's kind of a big deal.
…Close enough.
Much later that night, Callie is awoken by an SOS call from Kiara, whose foster parents are being threatened by a man with a knife. She wakes up Stef, who suspects the foster parents are dealing drugs and brings Kiara back home with her for the time being. Never a dull moment.
The next day at school, Hayley – otherwise known as the classic Clingy Girlfriend™ – is mad at Jesus for missing her solo at the dance competition. He says he was at birth mom Ana's AA meeting, and that Ana is pregnant but Hayley shouldn't tell Mariana. Hayley agrees, but as Cierra Ramirez worded it in a recent interview with Pop City Life, "Secrets don't last very long in the Foster family."
Uncertain futures
Mariana goes to her first STEM meeting and ends up sitting next to Jesus' ex-girlfriend, Emma. "What are you doing here?" Emma asks. "I was invited," Mariana responds. I love the smell of shade in the morning. Mariana apologizes on Jesus' behalf for how things ended between him and Emma, and Emma says she doesn't think Hayley was the problem – rather, Jesus couldn't deal with her being smarter than him. Uh-oh. I definitely wasn't surprised when Mariana shaved 10 points off her score when talking to boyfriend Mat later in The Fosters 2×13.
Back at home, Brandon is pleading his case to Stef, Lena, and Mike about going on tour with Someone's Little Sister. "As you're deliberating, I want you to think of this as less than a tour and more of like, a rite of passage," he concludes. Oh boy. Ultimately, Lena and Mike are against the idea, but Stef, surprisingly, is on board. Stef and Lena's next stop after considering Brandon's summer plans is Jesus' room, where they urge him to go to Alateen – a support group for teens whose friends and family have struggled with substance abuse.
Remember the Kiara situation? She's being forced to go back to the foster home Stef rescued her from, and is planning to run away. Callie urges her to stay, but Kiara's out of options. "Don't you get it?!" Kiara exclaims. "My foster parents know I narced on them. Think they're gonna welcome me back with open arms?" Callie brings her to a drop-in center for foster kids, and when she finds out the legal help process will take weeks, she yells at the representative who's trying to help them.
Stef, who's also frustrated that the system is making Kiara go back to the house, admits to Mike that she's "thinking of making a house call." He offers backup if she needs it. Cut to the two of them exposing inconsistencies in the foster parents' stories before Stef, predictably, gets heated. Later, she takes a smarter approach that involves going to the couple's landlord.
Meanwhile, at Anchor Beach, the new principal tells Lena that Anchor Beach needs to revamp its English curriculum to be on par with other local schools and get its charter renewed. Lena speaks to Timothy, the head of the English department, who says he'll teach the way he wants. She takes this back to the principal, who threatens to fire him.
"Don't play small, my love"
One of the drawbacks of having a mom who's an assistant school principal is that when you lodge a request for your name and math evaluation score not to be called out during a school assembly because you don't want the attention, your mom is bound to find out about it.
"Mariana?" Lena says incredulously. "My Mariana? Said she didn't want attention? That girl used to make the whole family clap every time she put on her shoes." Bus…ted. She figures out that Mariana is trying not to upstage Mat and confronts her daughter.
"If he can't handle the math genius and the pink nails, then he doesn't deserve you. Don't play small, my love. Not for him, not for anybody. You're already really short."
Ultimately, Mariana tells Mat her real score, and he reacts positively.
Following a hostile interaction with Callie toward the beginning of The Fosters 2×13, Wyatt approaches his ex-girlfriend again and manages not to be a complete ass this time. In fact, after hearing that Callie's biological father, Robert, is making a play for custody, he suggests the two of them run away again. Will history repeat itself? Stef comes home to find Callie and Kiara gone, and a note on Callie's bed.
Speaking of history repeating itself, Brandon finds himself outside the Alateen building – this time, not because of his issues with his alcoholic father, but because he's accompanying Jesus. The brothers ultimately decide to skip the meeting and get pizza, at which point Jesus complains about Hayley constantly texting him and proceeds to show Brandon the tattoo he got of her name. After Brandon stops laughing, he admits that he's done worse (Dani, anyone?) and they decide to go to the meeting after all.
Choices
Callie meets Wyatt at his car, but this time, she's not leaving, and she urges him not to either.
"You know, you really only have two choices. Either you give up or you keep trying."
When she gets home, Stef hands her the note – it's from Kiara, who ran away.
Later, Stef and Lena discuss the potential Someone's Little Sister tour, and Lena concedes that it might set Brandon apart on college applications. Stef also floats the idea of potentially being partners with Mike at work again, and Lena says she'll think about it. The Fosters 2×13 closes with Callie going back to the drop-in center and asking to volunteer there for her independent study.
What did you think of The Fosters 2×13?