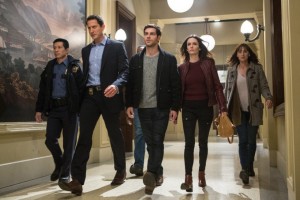 "May the God of Vengeance now yield me His place to punish the wicked".
Will Nick and his friends be able to save Monroe's life?
Read on for our recap of the new Grimm episode, "Tribunal".
While Nick, Hank, Wu and Captain Renard are hard at work to find Monroe, Juliette and Rosalee are doing some investigation of their own. They figure their friend Bud can help them, so they call him and ask him to go to JUliette's house. But, Bud is being followed, and he's kidnapped too as he leaves Juliette and Rosalee.
Nick and friends figure the officer who was in charge of guarding Monroe's house when he's been kidnapped is Wesenrein too, and he is the key that could lead them to Monroe.
In the meantime, poor Monroe is in front of the Wesenrein tribunal, charged with marriage outside his bloodline, and the befriending of a Grimm.
Monroe tries to escape once again, and while doing so, he kills one member of the Wesenrein.
Poor Bud is brought to the tribunal, where he will have to testify that the accusations moved to Monroe are true.
The team finally manages to know where Monroe is, from the officer who had to guard him. But they are running out of time, Monroe is about to be executed, and Bud with him.
Luckely they arrive just in time. Some of the Wesenrein die, and some are arrested.
Monroe and Rosalee can finally leave for their much deserved honeymoon, while Wu spends some quality time alone in Nick's trailer, to learn more about the wesen.
Juliette shows Captain Renard her new wesen side…