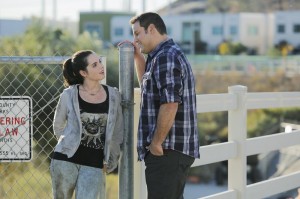 Uhoh! Is there some trouble on the horizon for Bemmett? Bay and Emmett's relationship is put to the test when Emmett makes a new friend at film school.
Watch the promo and sneak peeks for Switched at Birth 4×03: "I Lock The Door Upon Myself" below:
BAY JUMPS AT AN OPPORTUNITY WHILE
DAPHNE STANDS UP FOR HER FRIENDS
IN AN ALL-NEW EPISODE OF "SWITCHED AT BIRTH,"
AIRING TUESDAY, JANUARY 20 AT 9:00PM ET/PT ON ABC FAMILY
Burbank, CA (December 22, 2014) – Bay jumps at an opportunity to showcase her art while Daphne challenges the dorm prankster to a competition in an all-new episode of "Switched at Birth," airing Tuesday, January 20, 2015 at 9:00PM ET/PT on ABC Family.
Bay gets an interview for a long-awaited submission with the Kansas City Artist Showcase to have her art be part of a public display but realizes her current status may prevent her from qualifying. When a dorm resident continues to prank the deaf students, Daphne challenges him to a dorm triathlon. Regina finds herself drawn to an East Riverside coffee house and its owner. A birthday milestone gets John thinking about the next chapter in his life.
Meanwhile, Emmett makes a new friend at film school who gets him a gig on a real production.
Check out Switched at Birth 4×03, Tuesday, January 20th on ABC Family.