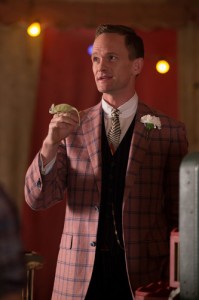 A confession and a punishment; psycho meets psycho.
Read on for our recap of the new episode of American Horror Story: Freak Show, "Magical Thinking".
Stanley convinces Jimmy that giving away his left hand to a freak collector could raise money enough to pay for a lawyer who could get him out of jail. Only after the "surgery", Jimmy realizes that Stanley has taken away both his hands.
Dell tells Elsa what happened to Jimmy. She tells him he has to get him out of prison, and Eve offers him her help, and together they manage to help Jimmy escape from the police's custody.
Bette and Dott meet Chester, a salesman dreaming of being a magician, who stopped by to try to sell some of his wares.
Elsa offers him a job helping with the bookkeeping, and she will let him do some magic tricks to warm up the audience before the shows. Chester has a particular best friend, a dummy called Marjorie, with whom he talks a lot, and without whom he doesn't seem to be able to do anything. Later, he asks Dott and Bette to be his assistants during his number.
We also find out that Dandy has hired the policeman who had killed Regina to spy on the twins, and he finds out they have a relationship with Chester. Dandy is not happy, at all.
Elsa sells the Freak Show to Chester. She's ready to pursue her dream.
Chester is about to give his puppet Marjorie the happy news, but she's nowhere to be found… While looking for her, Chester meets Dandy, who tells him he saw Marjorie, that she's very angry because of his relationship witht the twins, and that she's going to tell what happened to Chester's wife and her friend / lover Alice, who were murdered by Chester, who left a note telling Marjorie did it.
Chester finds Marjorie, and she "tells" him he has to kill the twins.
Maggie comes back, and she has Ma Petite's body with her. She shows it to Elsa. Desiree is back, too, and she confronts Dell. Right after he confesses he has murdered Ma Petite, Elsa shoots him.