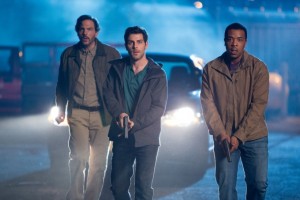 "There is no mercy in you. You cut off the heads of men and women and these you wear as a garland around your neck."
Is Nick finally a Grimm again?
Find out reading our recap of the new Grimm episode, "Highway of Tears".
Juliette is ready to do whatever it takes to help Nick being a Grimm again, and this involves turning into Adalind and sleep with Nick…
Monroe and Rosalee are naturally upset after what they have found outside their house. A warning from other wesen, who want to keep wesen pure. To them, inter-marriage is a crime.
Nick, Juliette and Hank want to help their friends, and the only way it can be done, is that Nick becomes a Grimm again.
Adalind finally agrees to collaborate with Prince Viktor, and she tells him about Kelly, Nick's mother. They both come to the conlusion that Kelly must have Adalind's child.
Renard's mother helps Nick and Juliette with the potion, and then leaves, telling Renard that she's going to find her granddaughter.
The case of the week involves a car accident, happened to wife and husband. The wife says something came out of the woods and took her husband away. Looks like the accident was intentionally caused by whoever took the man away.
Various hints lead Nick and Hank to believe it is a wesen case, creatures who choke their victims into silence, to bury them alive as a sacrifice to the goddess Kali.
It is while solving this case that Nick realizes that Elizabeth's potion worked, he's a Grimm again!
Trubel is being followed by Chavez's men, and Josh suddenly arrives at Nick's house, asking for Nick's help.