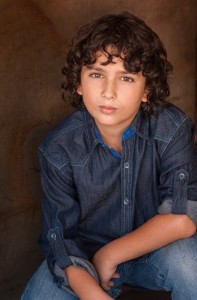 You might know Gunnar Sizemore's face from his role as Micah on Nashville or recognize his voice as that of Ignacio from animated movie The Book of Life. We spoke to the pint-size actor about his upcoming projects, how he juggles school and his career, and his aspirations for the future.
Check out our exclusive interview with Gunnar Sizemore below.

Gunnar, you've done a lot of work for not even being 10 years old yet. Was there anyone who inspired or influenced you? What initially got you interested in acting?
Gunnar Sizemore: My dad is an actor and I used to go to all of his auditions with him, even when I was still in my baby-carrier. He would bring me into the room and I would just watch him, in awe. When I was around 2 years old, I'd just walk in and sit with the casting directors and directors and watch what he did. I must have gone on 200 auditions with him over the years! His commercial agent knew I started reading at a very early age so he invited the entire family (Mom, Dad and me) to go in for a family audition. It was for Juicy Juice and I ended up booking the commercial but my parents didn't (haaa). After that, I was fortunate to book a few more commercials and that led me into then doing voiceovers and TV/film.
As you mentioned, your father, Kevin Sizemore, is an actor who's appeared in many memorable projects such as Resurrection and Under the Dome, and he's currently filming the football movie Woodlawn. How does he feel about you following in his footsteps, and does he give you any tips?
He wasn't on board with it when I was a toddler because he didn't want me going on those cattle call auditions for kids. Now that I'm older and have the experience I do, he's very happy for me. Both my mom and my dad always stress that my schooling is the most important thing, though, so if I get too many auditions or jobs and it looks like my studies might suffer a little, they pull it back. The acting and V/O business isn't going anywhere and I can do it whenever I want. My parents also have stressed that relationships with family and friends [are] No. 1 and how you treat people is most important.
You've appeared in movies, shorts and a now TV series. You've been doing voice work for a while on projects like Clarence, Doc McStuffins and The Book of Life, which is currently in theaters. When you're onscreen, you get to act with your body and use non-verbal cues. What was it like only being able to act with your voice?
I think what people don't realize about voice acting is that it is VERY physical. In order to get the emotion across with your voice, you really have to live it in front of the microphone! Sometimes when I'm in the booth with other voice actors, we have to be several feet apart from each other so we don't hit each other! It's hilarious!
The character of Micah on Nashville was your first recurring TV role. What's it like to be on the Nashville set?
Awesome! I am so happy to be a part of Nashville. I've been fortunate to have a really nice storyline, thanks to the awesome writers, and I get to bring some of my musical talents to the show as well. It's really great knowing that they enjoy what I'm doing with the role of Micah and they want to keep me around for a little while! I am really blessed. Really blessed.
What attracted you to this role, in particular? What do you enjoy most about it?
It's my mom's favorite show, so that holds a lot of weight already. Seriously, though, I liked the arc of [Micah] being a kid that doesn't know too much about his past. He's living with his mom and he never knew his dad. It's as much of a surprise to him as it is to the audience! I also get to play some drums and guitar this season and a few other surprises as well. Being able to live in Nashville has been so much fun. My dad used to live here so we have built-in friends! I really love this city!
You're in your second year of Chinese school. How do you keep up with that and regular school while you're shooting on Nashville or lending your voice to projects like the Adventure In Odyssey series and the upcoming Max & Me?
I have tutors on the set for my regular school (hey Kellie and Keri!) that keep me on track. I have to do at least three hours of school a day on set, whether I'm filming or not. Mr. Li is my Mandarin tutor and I meet with him once a week for a few hours. That's not required, but it's just giving me a chance to learn another skill and be a good tour guide if my family ever goes to China. But seriously, I feel like Chinese is the language of the future, especially for business. And my parents didn't tell me to say that, either!
Any other projects in the works for you right now, aside from Max & Me?
I just voiced the character of Ralf for the stop-motion animation I'm Scared produced by an awesome team of guys: [producer] Dan Levy, [director] Pete Levin and [creator] Greg "Craola" Simkins. You can visit ImScaredTheMovie.com for more info. I had such a blast voicing the character of Ralf because I could really relate to him being scared of things in his room! What kid isn't? And there's a super cool twist at the end.
You're still young, but you've already accomplished a lot as an actor. What are your aspirations for the future?
I would like to do some comedy stuff, like Adam Sandler-type movies. I love those movies! It would be cool to make other people laugh through my acting. That would make me happy!
Is there anyone you'd love to work with some day, if you could pick anyone?
Kevin James and Adam Sandler because they are really funny.
Thanks so much for taking the time to talk to us!
Thank you for the opportunity!


Follow Gunnar on Twitter (@GunnarSizemore) and keep an ear out for his voice in the upcoming animated feature Max & Me!