Christie Laing can next be seen appearing in ABC's hit series Once Upon A Time. She will be joining the show for season 4 as Marian, a role that has been getting plenty of buzz as we roll into the new season. In addition to this big break, Christie will also be starring in the new Lifetime series Un-Real. Set to premiere later this year, this series is a behind the scenes look at a fictional and chaotic reality dating competition.
We had the opportunity to chat with Christie Laing about her upcoming role on Once Upon A Time, what viewers can expect from her character in the new season, what's ahead for Marian, Robin Hood, and Regina, and the other exciting projects she has coming up.
Read on for our exclusive interview with Christie Laing below:
To start off, what inspired you to get into acting?
Christie: My first memory of wanting to act was seeing a little girl 'in' the TV and thinking "I want to do that". I was very shy growing up and found a world in acting where I felt safe. I felt as though I could share my feelings but since I was playing a character I was less vulnerable.
Is there anyone you would love to work with someday, if you could pick anyone?
Oh wow, that really is a very tough question. I would absolutely love to work with Halle Berry. Being that I have always looked up to her, working opposite her would be a dream come true.
For those who may be unfamiliar, can you talk about your role as Marian on ABC's 'Once Upon A Time'?
** Spoiler Alert ** Marian was introduced to Once Upon A Time in Season 2 and fans learned of her death early in Season 3 — leading to a big surprise during the Season 3 finale where Emma traveled back in time and unknowingly saved Marian from her death at the hands of the Evil Queen. Marian has since been reunited with the love of her life Robin Hood and her son Roland in the world of Storybrooke.
The series has been a massive success for ABC. How did you react when you learned you were joining the show? Were you a fan beforehand?
When I first learned I would be joining this incredible show I could not have been more excited. However, the character was killed off very early on which was a bit of a disappointment knowing what a fantastic character and story Maid Marian is. When I found out I was coming back I was thrilled and very surprised. I had watched some episodes of the show following my original appearance and really fell in love with the stories.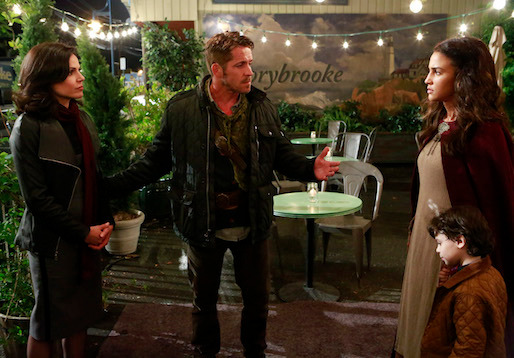 Marian has found herself in quite the love triangle with Robin and Regina. How will Marian and Regina be handling things? Is it safe to say things are going to be tense?
I love that Once is touching on the topic of modern families. The Robin, Regina, Marian triangle is a unique one to say the least and they will have to 'work' through some challenges.
'Once Upon A Time' fans are very passionate about these characters and eagerly await the new episodes. Were you a little worried at all about the fan reaction to the love triangle?
I actually wasn't worried and was very aware of the position I would be in knowing how invested the fans were in Robin and Regina. I was prepared to be met with mixed reactions.
Have there been any other challenges while filming a fantasy role?
The biggest challenge has been keeping so quiet about the amazing surprises Adam [Horowitz] and Eddy [Kitsis] have in store for everyone.
What else can you tease about what fans can expect from you in the new season?
It's going to be a very cool introduction.
For those who may be unfamiliar, can you talk about your upcoming role in "Un-Real" and what attracted you to the role?
'Un-Real' will go behind the scenes of a reality dating show and reveal to the viewers what "really" happens. I play Shamiqua who will face a lot of challenges finding her place and proving she belongs — which was why I was so attracted to the role. You have a lot of strong women fighting for one thing which can prove to be very interesting.
Is there anything else your fans can look forward to from you next?
I have recently jumped over to Bravo's 'Girlfriends Guide to Dating and Divorce' which will air on Bravo, December 2nd.
We'd like to thank Christie Laing for taking the time to answer some questions for us! We really appreciate it.
Keep up to date with all things Christie Laing by following her on Twitter @ChristieLaing!
Once Upon A Time premieres September 28th on ABC while Un-Real debuts on Lifetime in late 2015.