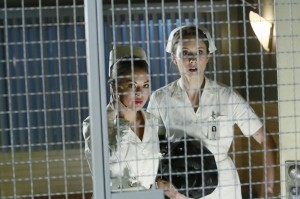 So. Sh*t got real real fast on the season finale of Pretty Little Liars. Are you ready for the shocking conclusion to the Pretty Little Liars Fatal Finale? This was one of the best episodes in a long time. It was full of action and suspense and I feel like I almost peed in anticipation. So, of course, the ending did not go the way I was hoping. But did we finally learn the identity of A? Maybe. Or at least until the writers change their minds.
Read on for our recap of Pretty Little Liars 5×12 "Taking This One To The Grave" and who died on the fAtal Finale below:
My theories on the episode were pretty spot on. In fact, the whole episode was pretty obvious. I think that is what I'm most mad about. Plus, I actually liked the character that goes.
Turkey Day
It's Thanksgiving! In Pennsylvania. And none of these bitches are even wearing sweaters. Emily is decorating for Christmas and I really don't know how the girl is so chipper. The episode kicks off with a flashforward at a crime scene. Hanna is crying after witnessing something terrible. There's lots of blood and Spencer is nowhere to be seen. Flashback to 36 hours earlier.
A New Team
The girls go to Mona for help. They need to team up after learning that Alison has voluntarily gone to the police to take a lie detector test and throw the girls under the bus. Mona uses her military grade software to find out what Alison told the cops. It's not looking good for Spencer. Alison admits that she had nothing to do with Bethany's murder and that Spencer was "desperate" and "on pills". There is now a warrant out for her arrest. Before they can get to her, Mona and Spencer decide to investigate and snoop about Bethany at Radley.
The best part of this new team up, to me, is Mona spelling it out for the girls. Alison is A. Alison chose these girls for a reason. Their distinct and different personalities makes them the perfect pawns for this psychopathic game that Ali is playing. She can never get bored with them. But she can replace them.
Alison is making her own army.
Pretty Little Liars 5×12
Undercover
Mona and Spencer set to work to find out anything they can about Bethany that would have made Alison the original person of interest in the crime. Because she was before Spencer was thrown. They discover that Mrs. Dilaurentis was having yet another affair with Bethany's father…and Alison KNEW Bethany. Mrs. D got around town. The girls can't celebrate too long because TOBY GETS IN AN ACCIDENT. CUT TO COMMERCIAL.
Rude. Making us all think that Toby would be the shocking death tonight. But alas. He just broke his leg. While they're getting coffee, Spencer is arrested and taken away.
Can I just stop and say that Toby graduated from that police academy and is already in uniform after like two days? That explains SO much about this town.
One Last Bad Ass Act
Mona has solved everything just in time to eat turkey. It was Alison all along. She was jealous of all the time her mother was giving to Bethany and she was not happy about it. She lured Bethany to Rosewood to kill her. Alison is A and Mona has the proof.
Unfortunately, a very blonde assailant in a black hoody breaks in and brutally murders Mona. I'm talking blood all over the walls and glass everywhere. Mona put up one hell of a fight.
The scenes afterward are heartbreaking and disturbing. Mona's mother crying in the streets, the creepy and unprofessional copper ruling it a homicide…and revealing that the body was not left behind. Is there hope??
Nope. :(. A is shown placing a baby Jesus (wtf?) on Mona's body in their trunk. This scene is seriously disturbing.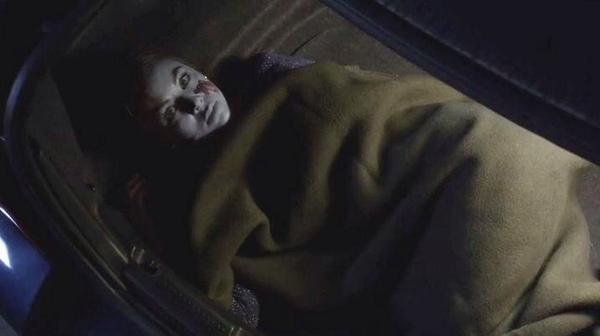 Farewell, Mona. we barely knew ye. Just when I was starting to like you again :(.
What did you think of Pretty Little Liars 5×12? Was the Pretty Little Liars Fatal Finale what you thought it would be? Will you miss Mona? Is Alison really A? Did she murder Mona? Are they still going to do the twin twist? With Spencer in jail, won't Ali be a prime suspect? Or will her army be her new alibi?
There are so many questions to hold us over until December.
The cast returns during the Halloween season and the ABC Family 13 Nights of Halloween for a special Q&A episode.