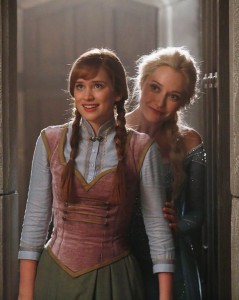 We've been seeing plenty of Queen Elsa appearing in her new role on season 4 of Once Upon A Time and even a glimpse of Kristoff and his reindeer. Now, we have a first look at Anna and Elsa together in the new season. Following the introduction of so many new characters, I'm curious what direction Once will be going after Peter Pan and the Wicked Witch. Elizabeth Mitchell has been cast as the potential new "Big Bad" of the season and Georgina Haig, Elizabeth Lail, and Scott Michael Foster join the cast as Kristoff, Anna, and Elsa.
I actually think these two look great in the roles. Only time will tell how good a fit they are once the cameras start rolling.
Season 4 of Once Upon A Time returns on September 28th at 8/7c on ABC.