Kira Kosarin can currently be seen as one of the stars of Nickelodeon's hit television series The Thundermans. She plays the lead role of Phoebe on the superhero live-action comedy. The highly anticipated second season of The Thundermans is set to premiere later this month on Nickelodeon.
We had the chance to chat with Kira about what viewers can expect when the show returns and what's ahead for her character.
Read on for our exclusive interview with Kira Kosarin below:
Can you talk a little about your role of Phoebe on "The Thundermans" and what originally attracted you to it?
I was especially excited about my Thundermans audition and the role of Phoebe. I auditioned for three or four other shows in the same week I auditioned for Thundermans, and when my agent called to tell me I had a callback, I remember thinking "please be for that Thundermans superhero show!" I loved that the characters were dimensional, and I thought the audition scripts were really funny. It wasn't just a silly kids' show. I thought it had the potential for some great storylines. I even said to my parents that if I didn't get the job, I still wanted to watch the show!
How excited were you to be joining the Nickelodeon family in a lead role on "The Thundermans?"
I was so excited I cried. For a long time. In the middle of a restaurant. Four years ago, on my first day in Hollywood, someone asked me what job I would pick if I could pick literally any job in Hollywood. I said I wanted to star in a Nickelodeon show. A few years later, Thundermans really did make my childhood dream come true and I'm so grateful to be part of this amazing network that influenced me so much growing up.
What inspired you to get into acting? Has anyone inspired or influenced you?
My parents did Broadway theater, so I grew up around performing. I always loved to sing and dance and perform, and I wanted to do musical theater. When I was around 11, I took an acting-on-camera class and fell in love with it so quickly.
Season 2 premieres this month! What can fans expect from Phoebe in the new episodes?
I'm so excited for season 2 to start airing! There are some amazing new episodes with some really exciting guest stars, crazy plotlines, and even a few special event episodes. Phoebe is definitely different this season. She's testing her "good girl" role a bit, breaking the rules, holding her own with Max, and just growing up in general. I love the way she's maturing. She also gets a total style update second season, with some cool new hairstyles and accessories and a cool bohemian vibe.
With filming in a family atmosphere, how has it been working with the cast? Are there any funny moments behind the scenes?
We really have become a family. Addison, Diego, and I are all only children, and Jack's siblings are all much older half-siblings. We all kind of became the siblings we never had. There are so many hilarious behind-the-scenes moments. We tease each other like siblings, and it's really fun watching Jack and Diego wrestle like brothers.
Is there anyone you would love to work with someday, if you could pick anyone?
I love the show "The Big Bang Theory," and if I ever got a chance to work with any member of the cast, it would be amazing.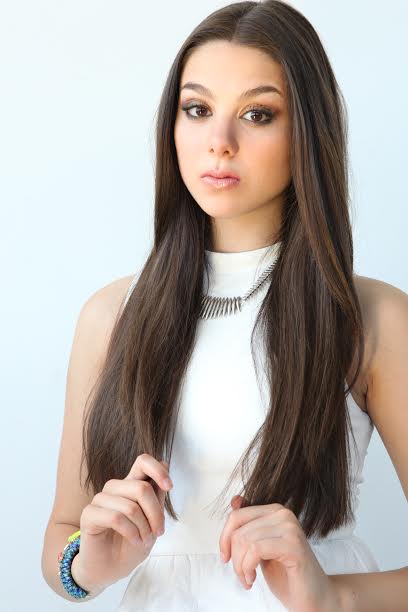 Will viewers be seeing any new faces this season or any guest stars?
Definitely! Max gets a new group of guy friends, Phoebe gets a few new crushes, and the band MKTO joins the cast for a special episode. There are also a couple of episodes with guest stars from other Nickelodeon shows, but I can't give that away just yet.
How has the fan support been so far? Are you enjoying interacting with them on social media?
The fan support is absolutely amazing. The fans' social media presence is overwhelming, and I love interacting with them as much as possible. I almost feel like, when fans recognize me and watch the show, I get more excited to meet them than they are to meet me. Without the viewers, we're just a bunch of kids pretending to be superheroes, so I'm unbelievably grateful for their constant love and support.
What do you think sets "The Thundermans" apart from similar shows out there? What is it about the series that has made it such a success?
It's got something for everyone, which is, I think, thanks to its really strong ensemble cast. From six-year-old boys to 14-year-old girls, to their parents watching with them, most people can find a character or plotline they really identify with, which I think is really special.
What are you most excited for fans to see in season 2?
There is a crazy exciting Thundermans event happening during season 2 that I can't spoil yet. It's going to be absolutely amazing, though. Aside from that, the cast and I are really proud of how we've all grown and changed, both as people and characters, and can't wait to share it with everybody. I hope everyone enjoys watching it as much as we love making it!
We'd like to thank Kira Kosarin for taking the time to answer some questions for us. We really appreciate it!
You can keep up to date with Kira by following her on Twitter @KiraKosarin.
Be sure to tune in to season 2 of The Thundermans when it premieres August 16th, 2014 on Nickelodeon.