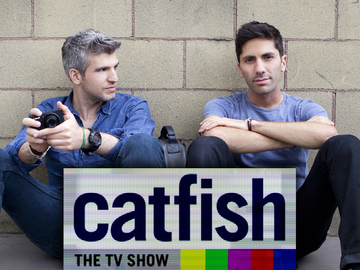 It's the season finale of Catfish! Can you believe season 3 went by so fast? Selita Ebanks guest stars…and David Spade appears.
Read our recap of the season 3 finale of Catfish: The TV Show featuring Bianca and Brogan below:
Catfish 3×10:
Bianca had been talking to a girl named Brogan for 5 months. They bonded over a love of piercings and tattoos which, you can imagine, isn't a big scene in North Carolina. One day, Brogan randomly vanished without a trace. She deleted her Facebook and reappeared a year later like nothing had happened.
Nev and Max are joined in this episode by model Selita Ebanks. There's no real reason for it other than she wanted to hang out with them. I kind of don't see the point of her being there. Max is feeling threatened and I'm saddened because an additional presence will cut his sass time in half. She did, however, provide a funny (but a little skeazy) moment when David Spade randomly calls during the investigation. Blech. I don't want to think about why David Spade is calling her.
We're headed to North Carolina.
The Search
They can't find anything during the investigation when searching for photos and phone numbers. They do find an old deleted Tumblr post from a girl wanting to know who the hell Brogan is. The girl in the pictures is a girl from England named Chloe.
Nev calls "Brogan" and gets her to admit that her real name is Tia. She lives in Iowa and she's willing to meet.
The Meet Up
I'm so ready for the Catfish to one day be revealed to be a creepy old man. We need a little variety methinks.
She's an average looking girl who got addicted to being someone else. Meh. She says she used to be 300 pounds. Well, of course. We had to get that insecure girl thing in there. This is kind of a boring season finale. Give me the creepy old man instead. Bianca isn't really feelin' it and neither am I. Is this the last of the hope for Bianca and Brogan?
There's a cute commercial in between of Nev in a bookstore telling people about the book that he wrote. This is the best part of the episode so far and it's just a commercial.
The trio goes to meet with Tia without Bianca.
Selita seems annoyed that Tia wasn't bullied enough and tries to get her to give them a reason to understand her. It comes off like "I don't feel bad for you or give two shits about you. Give me a reason to care." And then Tia has to admit she was a victim of sexual assault. I think it's kind of gross that she's forcing this girl to admit the bad things that happened to her. Max would never.
In the end, Bianca and Tia agree to be friends and see where things go.
All in all. This was a pretty boring season finale. I don't even see why this is deserving of a Chatfish live aftershow on MTV.
What did you guys think of the season finale? Were you rooting for Bianca and Brogan?
Chatfish
Gasp! Max can't appear but Selita can. Conspiracy! #SaveMax
@SelitaEbanks you are not taking my job girl. Don't get too cozy over there on the TRL stage. #catfish

— Max Joseph (@maxjoseph) July 10, 2014