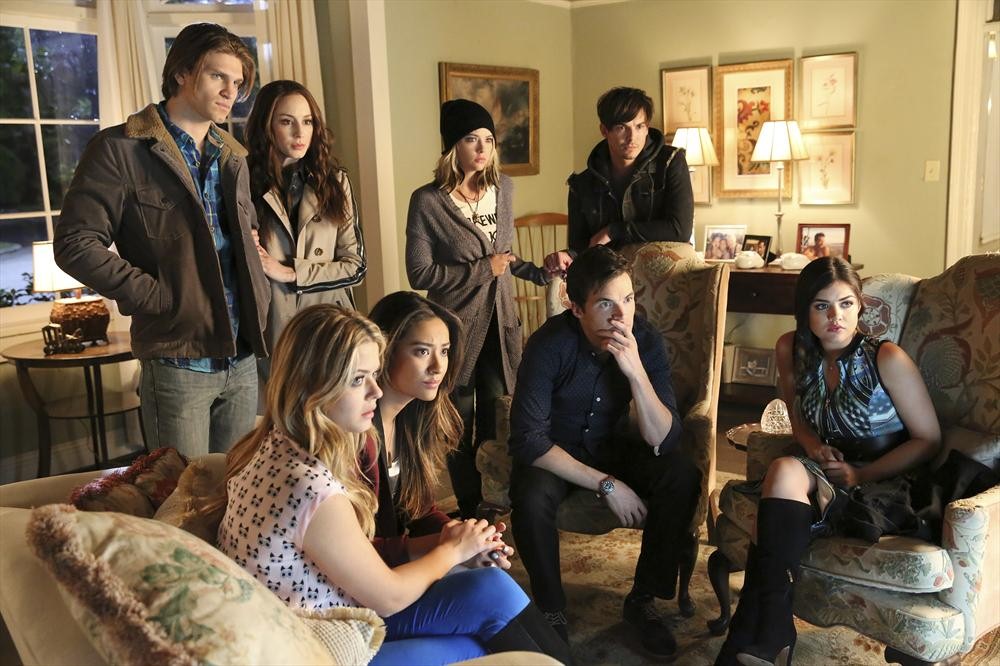 If you're a fan of the infamous ships of Pretty Little Liars, then you are going to love the 100th episode. Let's just say the episode ended with quite a bang…in more ways than one.
Read on for our recap of Pretty Little Liars 5×05: "Miss Me X 100" below:

Are you ready for some familiar faces? Because the PLL 100th episode starts off immediately by revealing that Jenna is back in town. YES. Things will finally start to get more interesting. Toby tells Spencer that Jenna was living in New York and she knows that Shana was murdered. Awww here it goes.
Aria has sympathy for her, and I don't know why because she can't be trusted, so she wants to make sure Jenna is okay. She walks into the house (and doesn't knock, by the way. Jenna is blind, not deaf!) and sees Jen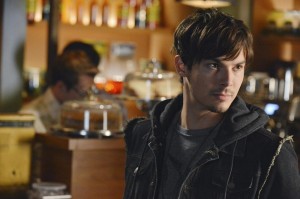 na on the floor crying her eyes out. Jenna confronts Aria and they have a spot of tea. I mean. Okay. But is she back to finish what Shana started? Oh, and that girl on the swim team that befriended Emily? Cindy? Sydney? Whatever. She's working with Jenna and Mona.
Spencer is worried about what her dad has done and her mom isn't helping matters. Mrs. Hastings shows up at school and pulls Spencer out. She announces that she's leaving Spencer's hot dad and she wants Spencer to come with her and live in a hotel. We all know he didn't do anything! I hate these Red Herrings. At this point, I'm getting a little suspish of MRS. Hastings.
Well, today was the day. Alison is back at school. Everyone stops and stares at Alison and no one is really that happy to see her. But Alison has a plan to schmooze everyone and win them over. But will she succeed? Mona and Lucas and Paige definitely don't want her to.
While Paige and Alison try to make amends, Lucas invites Hanna to a party to meet his girlfriend. We never see her but Hanna gets really drunk. Why? Because Caleb is back! He has a haircut, a bit of a beard, and no ghosts are with him. RIP Ravenswood.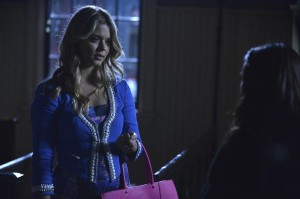 With Paige out of the way, Alison begins to, in my opinion, easily manipulate Emily again. Emily is so stupid. That's probably why she's Alison's favorite. Alison tells her that the kisses weren't for practice and before you know it they're making out in Emily's bed. Oh yeah, it's a big night for those couples. Toby and Spencer are making out in a truck and Aria and Ezra finally reunite as Ezria. Their sex scene is so steamy (we're talking counters and Aria on top) that I'm a little surprised ABC Family is airing it. But the Ezria shippers are gonna be thrilled. Me? I'm barfing. He should have been A.

Anyway. Have you missed Mona? Ali hasn't. Mona follows Alison into the creepy church and threatens her with her knowledge of what the girls did in New York. She slaps Alison and Alison slaps her back. The next day at school, Mona throws herself a pity party and shows the school an edited video of what happened between them — making it look like Alison viciously attacked her. Even the PLLs are against her now!

But everyone is drawn together when a press conference on the news announces that the identity of the girl in Alison's grave has been discovered. I'm so excited! It's someone called Bethany Young, a patient at Radley who escaped. Who is she? Is she related to Alison in any way? Ugh.
Just when you think the episode can't squeeze anything else in, the girls get a …blast from the past. A few car bombs BLOW UP TOBY AND JENNA'S HOUSE and the girls receive another fateful text from A.
A is back.
What did you think of Pretty Little Liars 5c05?
Watch the preview and sneak peeks from Pretty Little Liars 5×06 here.