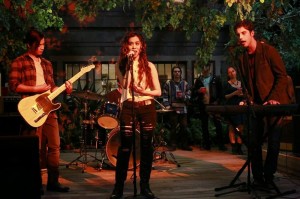 If The Fosters 2×03 proved anything, it's that when Stef and Lena are away, their gaggle of children will play. But how does a quiet night in turn into an outdoor concert, a drunken party, a hookup and a smashed window? All will be revealed in our recap of The Fosters 2×03, "Play":

As the episode opens, a last-minute scheduling snafu seems set to scupper Stef and Lena's plans for a "babymoon" – which, as Stef explains, is "kind of like a honeymoon, except instead of going away after you get married, you go away after you get pregnant." In lieu of actual parental supervision, Brandon and Callie volunteer to keep an eye on things.
Remember Someone's Little Sister from last week? (Not Callie's little sister, although there'll be more on her in the next episode.) Turns out Brandon's been practicing with the band – and clashing with the lead singer, Lou. He agrees to let them perform at the house the night Stef and Lena are away. Once Mariana finds out, she invites the members of her dance troupe, with whom she's still struggling to fit in. Word spreads, and pretty soon the guest list is out of control.
Callie wants no part of the event and recruits Wyatt to help keep everyone out of the house and confined to the garden. When she and Brandon bicker over logistics, Wyatt remarks that it's the first time he's seen the two of them act like brother and sister.
Jude stands his ground
Following last week's revelation that Connor's father doesn't want his son hanging out with Jude because he thinks Jude's gay, Jude's been giving Connor the cold shoulder – even after Connor approaches him at school and says they can still hang out behind his father's back because he doesn't care if Jude is… you know.
What? Gay? You can say it. It's not a bad word. But why do I have to be anything? Why does everybody go around labeling people all the time? Putting us in boxes? I don't get it.
Jude proceeds to inform Connor that he doesn't want to be anybody's secret, and tells him it was nice knowing him.
Fast forward to the party. Instead of Connor, Jude invites two girls from his class. They try to get him to play Spin the Bottle despite his obvious lack of enthusiasm ("We don't have a bottle…" "There's an app for that!"). When Connor shows up unannounced, things get interesting in more ways than one. His father is hot on his heels, and just as the bottle app decrees that Connor and Jude should kiss, the bedroom door bursts open. Mercifully, it's only Callie, and she's able to sneak Connor out of the house before he's seen. By the time Connor's father walks into the bedroom, Jude is sitting between his two female companions and announces he's "Just hangin' with my girls." You go, Judicorn.
Judging by the hijinks involving some of Mariana's dance troupe, it seems she should be hangin' with her girls a little less. Highlights include a hookup with Jesus and vomit all over Stef and Lena's bed. Lovely. Also, is shirtlessness in every episode written into Jake T. Austin's contract?
Old song, new twist
Callie implores Brandon to lure everyone out of the house by getting the band to play something. Lou bails, and Callie finds her in Brandon's room, looking at his trophies. Callie explains that since the accident, Brandon can't play classically like he used to, which explains his interest in Someone's Little Sister.
"Brandon's not doing you a favor," she tells Lou, "you're doing him one."
Outside, Brandon performs "Outlaw" (a.k.a. the Brallie anthem from season one) because it's the only non-sonata he knows. Lou joins in on the harmonies, while Callie watches with Wyatt by her side. After, Brandon attempts to explain the song choice to Callie, but she waves him off. He awkwardly thanks her for being a good sister.
A smashing babymoon
At least Stef and Lena are away from the madness – but they're facing some problems of their own. Lena points out that Stef no longer talks to her about anything other than money or the kids. After a brief squabble, they resolve to work harder on their relationship – then get interrupted by a butt-dial from Jesus. The kids cover themselves, but after they hang up, Callie utters the fateful words: "At least nothing horrible happened."
…Cut to the porch swing smashing through the front window. Wyatt volunteers to put in a new window before Stef and Lena arrive home the next morning – and it lasts just long enough for them to step through the front door before falling apart.
What did you think of The Fosters 2×03?
Watch the preview and sneak peeks of next week's episode, "Say Something".