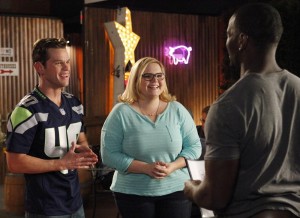 Big changes are ahead on this show.
Read on for our recap of Switched at Birth 3×14: "Oh, Future" below:
Daphne is struggling with her identity this week. Upon researching for colleges, she realizes the really good med schools charge 64 thousand dollars. A YEAR. Holy hell. Bay encourages Daphne to ask John and Kathryn for the money because, well, let's face it, they're loaded. They're already paying for Bay's school and Toby isn't using his college fund so, why not? Damn. That must be nice.
Either way, Daphne has reservations about taking that much money for them. Regina encourages Daphne to try out for an interview for a Latina scholarship. Not believing herself to be truly Latina, Daphne ends up withdrawing her application.
Regina had originally turned down John and Kathryn's offer of money because she didn't want Daphne to become entitled like Bay. But the truth is, she was just worried about losing a piece of Daphne.
"You would be less mine if they could give you something I couldn't."
In smaller news, Kathryn becomes chummy with her frenemy Sarah Lazar and gets her to drop the lawsuit. At the same time, she regains control of her book and learns that John was never unfaithful to her.
Travis bummed with lots of talk about his family so Mary Beth schemes to cheer him up. She learns that Travis' favorite football player is in town and takes him to see him. Derrick Coleman guest stars.
Perhaps the biggest changes of the night come from Emmett's side of the story. Bay panics when she overhears that Melody has been given a great job offer. Only downside is, it's in Wisconsin. And Melody is considering it.
Not wanting Emmett to have nowhere to go…or worse, to have to go to Wisconsin, Bay schemes to get Emmett closer with his dad. Cameron is throwing a house warming party with his girlfriend. Boy are they surprised when Melody and her hot boyfriend, Gabe turn up too.
Why? Well, they had a few announcements to make. They decide to turn the party into a surprise wedding. Even better? They're having a baby.
Watch the preview and sneak peeks from next week's episode here.