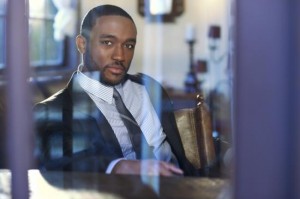 At the end of last week's episode,
Det. Korsak
took a call that would change the series forever. In Rizzoli & Isles 5×02, the characters deal with
Det. Frost
's untimely demise – a storyline that's made all the more poignant by the fact that the actor who played Frost, Lee Thompson Young, committed suicide last August. Read on for our recap of Rizzoli & Isles 5×02,
"Goodbye"
:
It should come as little surprise that
Jane
's quintessential over-involved Italian mother,
Angela
, is worried about how her daughter is coping with the loss of Frost. Jane's pregnancy (the one Angela's not supposed to know about) is an additional complicating factor, and Angela's concerned she's bottling everything up when she should be having "a good cry."
While Jane retreats from her feelings, insisting on going to work as usual, Maura takes a scientific approach to the grieving process. She cites the Kübler-Ross model of the five stages of grief: denial, anger, bargaining, depression, acceptance. Angela's response? "OK, that sounds great – when's the crying start?"
At BPD headquarters, Korsak also tries to make Jane go home, but he's interrupted by a grieving Mrs. Frost. Jane volunteers to help plan the funeral, but worries about it becoming a "photo op." She decides to "keep what Frost liked, ditch what he hated," which means the mayor won't be present but bagpipes will.
Faking it?
The day takes an unexpected turn when a woman shows up at the precinct covered in blood, holding a gun. She claims to have lost her memory but thinks she may have killed someone. Down in Autopsy, Maura processes her for evidence. Because the woman's real name is unknown, Maura decides to call her "Jessica Doe" based on the most popular female name in the approximate year she was born. ("Oh, no," Jane says later to Korsak, "Maura's named her; now we'll never be able to give her back.")
Jane and Korsak assume "Jessica" is only pretending to have amnesia, but Maura thinks she's in a dissociative fugue state. After Jane asks if that's Greek for "faking it," Maura explains that it's a rare psychiatric disorder afflicting victims of serious trauma: "A bad thing happens and they forget anything related to the bad thing." Because the live autopsy revealed that "Jessica" had recently eaten Indian food, Jane and Korsak decide to drive her around the city in the hope that one of Boston's Indian restaurants will jog her memory. Nothing clicks, but the stress on Jane begins to show when she thinks she sees Frost across the street and runs out into traffic to reach him.
The effort isn't a total bust, however; "Jessica" sees children and remembers that she's a teacher. Frankie does some digging and comes up with her real name, Lily Green. At her apartment, the investigators find money wrappers and establish a connection with a man, Toby, whom they find dead. But is Lily the attacker?
Using blood spatter analysis, they determine this is unlikely. The blood spatter on Lily's shirt indicates she and Toby were both kneeling at the time he died, so she's probably a victim. Once Lily sees a picture of Toby, the memories come flooding back. It turns out that Toby stole some drug money to pay his bills and then got killed for it. Korsak, Frankie and Jane pick up the perp after some humorous bickering that's sorely needed in such a heavy episode.
Saying goodbye
With the case taking up so much of their time, Jane and Maura are still struggling to deal with Frost's death. Maura's clinical approach continues as she tries to forecast her big cry ("I'm not planning it, I'm just narrowing down the window of its arrival") and tells Jane they should start thinking about their last wishes. She wants a boat with a cello and classical music, but Jane claims that would be too much work.
Maura: I want to return to the primordial soup that spawned us all!
Jane: I want to die one day before you so I don't have to go out on a boat.
Maura finally breaks down after a CSRU tech offers his condolences, but Jane still hasn't cried by the time the funeral arrives, although she does get choked up as she delivers the eulogy. In a touching convergence of the fictitious death of Frost and the all too real passing of Lee Thompson Young, pictures of Lee as a kid and with his real-life castmates are mixed into the display.
When Jane gets home after the funeral, she sorts through her mail, finds a postcard from Frost and finally breaks down.
An important note about Rizzoli & Isles 5×02
Following Lee Thompson Young's suicide, his mother and sister founded the Lee Thompson Young Foundation. According to its website, the foundation is "a national, non-profit organization dedicated to erasing the stigma associated with mental illness, advancing holistic health treatments and improving the lives of all those impacted." Check it out here.