Emily Osment is gearing up to star in the highly anticipated new ABC Family original comedy series Young & Hungry. The series follows the character Gabi Diamond as she maneuvers her way into her dream job as a personal chef to a young billionaire. Also starring Jonathan Sadowski, Rex Lee, and Kym Whitley, the buzz about Young & Hungry continues to grow before the pilot episode has even aired. Young & Hungry is executive produced by Ashley Tisdale and will be a new addition to ABC Family's Comedy Wednesdays.
We had the opportunity to chat with the former Hannah Montana actress about her role as Gabi Diamond, what fans can expect when Young & Hungry premieres, and why working with the cast is a dream come true.
Read on for our exclusive interview with Emily Osment below:
Thank you for talking with me today! To start off, can you talk a little about your character Gabi on Young & Hungry and what attracted you to the role?
Emily Osment: Yeah, sure. Young & Hungry is about a young girl living in San Francisco. She is as broke as can be and she gets this amazing opportunity to audition to be a personal chef for a young tech entrepreneur billionaire. She miraculously gets the job and it's her very first big career move. She learns as she goes and we get to watch this girl go through all the blunders of being in your young 20s, falling in and out of love, and figuring out if where you are is where you wanna be. It's a sweet and sexy story and follows this very interesting and intricate love story between Gabi and Josh. You fall in love with these characters. It's a very sweet show.
Judging by the preview, it looks to be a good set up for funny situations to come with Gabi and her boss. Are you more comfortable in a comedic atmosphere?
Emily: I don't know where I'm comfortable. I think that's the best part about working in a new environment. If you get too comfortable, you're probably doing something wrong. Every time I go to work, I'm put in a new situation and that's what's fun about it. Playing the same character can get a little old. This is very fun and I'm having a great time.
How does Young and Hungry differ from other sitcoms out there or even what viewers are used to seeing on ABC Family?
Emily: I think this differs a lot from the other shows on TV right now. It pushes the envelope quite a lot. It's realistically sexy and realistically funny. It follows the story of a girl who isn't perfect and who doesn't have her life together. I think that's what we see too much of on TV — these perfect characters. This girl's a mess and it's fun to watch. I think that's what really sets us apart.
The cast camaraderie, I think between myself and Jonathan, Rex Lee, Kim, everybody that works in Josh's home — it's a very unique dynamic and that's something that is very funny to watch.
Can you talk a little about what it's been like working with the rest of the cast? Have there been a lot of funny moments on set?
Emily: Yeah, definitely. This is a group of people who know how to be funny. Kim is one of the funniest women in comedy and the fact that we booked her for this is amazing. Rex Lee is side-splitting funny and doesn't know it. That's the best part about him. He just has no idea how clever and funny he is. He adds so much to a scene just by the way that he's standing. He's brilliant. I'm really enjoying becoming good friends with this cast and we're all getting to know each other better. It's a good environment to work in. It's what you dream of when you think of the perfect job.
Ashley Tisdale is producing the series and Jesse McCartney is guest starring… were you excited to be working with them?
Emily: Yeah! Jesse McCartney is guest starring and Ashley guest starred for an episode. We've had some pretty amazing guest stars already just with these 10 episodes we've been working on. Ashley is producing the show and she oversees from her office. She's the one who keeps everything together.
I know everyone is probably going to ask you this but, do you yourself love to cook?
Emily: I do, yeah! My parents are Southern and I grew up every night with a home cooked meal with my family and I think that kind of instilled a love for food. I think you should grow up and know how to bake a pie and cook a meal. Just as a human you should be able to do that. I think my mom definitely did a good job teaching me the basics of cooking and when the show came around I got to learn more. I love that new addition in my life. It's something I've learned to love even more now.
Have you picked up any tips from your time filming on the show?
Emily: Yes, definitely. There are some dishes in the episode that I've never even heard of before. I had to Google them. So, I'm definitely learning a lot about food.
Now that you guys are a part of ABC Family's successful comedy lineup, what are your hopes for the series? What are you most excited for people to see?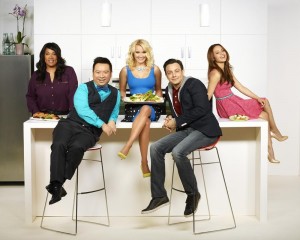 Emily: My number 1 dream and goal is for the show to blow it out of the park and be as successful as it could possibly be. We can all work on a show that we love for as long as we want and that's the dream. I'm having a really good time with this and I feel like it's very cool to work for a channel that believes in the show so much. Oftentimes you'll work on a show that feels like you're working on a channel with 1000 other shows and this really feels like home. I've worked with ABC Family before and when the show came together, they just had so much faith in it. They put so much into promotion and we have like, 380,000 likes on Facebook already and we haven't even aired yet. It's insane. It's like everybody really believes in this and it's so cool to see where the show could possibly go, so that's really fun to be apart of.
How has the fan support been so far?
Emily: Really great. They're killing it with all those posters in the malls right now. It feels like we're in every mall in America. I keep getting tweets from fans who are taking a selfie in front of a picture of me taking a selfie. That's always very funny to see.
I saw some fans say that they're already having a hard time coming up with a shipper name for Gabi and Josh. They're so excited for that.
Emily: I would call it "Gosh". I think that would be appropriate for Gabi and Josh. Jabi would just be weird [laughs].

Be sure to tune in to the series premiere of Young & Hungry when it airs Wednesday, June 25th at 8/7c on ABC Family!
Keep up to date with Emily Osment by following her on Twitter @EmilyOsment.