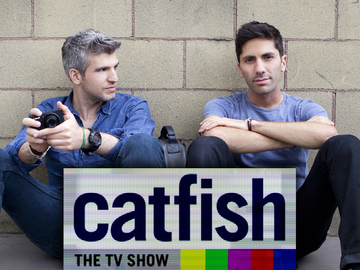 Half of this season of Catfish has been a confusing one. The episodes where Nev exploded were always amazing but the ones that were obvious plugs were more than a little snoozey.
Tonight, we discover the story of Solana and Elijah. Solana met Elijah on Myspace when she was just 14. It's a match made in Hot Topic! And the ending is one hell of a mystery.
Catfish: Solana and Elijah Recap:
Elijah randomly disappeared from Myspace for 2 years without a trace or a goodbye. Then, as most of us remember, Facebook was invented and Elijah returned. They spoke on the phone once, 6 years ago, and then never again — Elijah claims he doesn't have a phone or a webcam.
Solana's bond with Elijah is made complicated by the fact that she's dating a guy, Danny, in real life. She wants to find out the truth about Elijah and if he is who he says he is so she can move on with her life.
Let's let the search begin.
The boys begin by searching the phone number and immediately wonder if Elijah is actually a woman. Couldn't that phone number just be registered to his mom? They search "Elijah Prok" on Facebook and several pages and duplicates come up. A picture search brings the guys to a YouTube channel. Is this guy famous? He has many followers and views and, wouldn't you know it, has a camera and Skype. And has perfected the art of Screamo. 5 points to anyone who screencaps Nev's face during this scene.
I'm beginning to worry at this point that this is another episode that is planned between the two to promote something. Similar to that kid that was rapping in a band a few weeks back.
Solana texts Elijah that it's time to meet and he replies "What if I'm not who you imagined?" Max: "That's not good." LOL
The camera crew show up and Solana is wearing her Beetlejuice/Robin Thicke pants. Nev is terrified to open the door and I'm confused as to why. Does he not remember how to ring the doorbell? Then, I see why.
The Meet Up
Joshua answers the door. He has the craziest and scariest eyes and he's looking at Solana like she's dinner.
RUN NEV! RUN!
He claims he's going to go get Elijah and then disappears into the basement. Solana is convinced they're all going to die. I'm not surprised. This is the part of the movie where the crowded theater screams at the screen. I'm so convinced he's about to come back up with a wig on.
And then he does! Doesn't he? My confusion deepens when everyone starts acting like he's real and legit and has been telling the truth all along but…is that not the same guy with a wig and some crayon beard on his face? WHAT IS HAPPENING? Where did Joshua go??
Revealed on Chatfish: The Aftershow:
Joshua is still a mystery and I notice Elijah saying that his head is "sweating underneath".
Solana and Elijah are not together. In fact, Solana got married to her boyfriend Danny about 2 weeks after filming.
An unaired scene of a family sitdown at Elijah's is aired and Joshua is nowhere to be found.
The plot thickens.