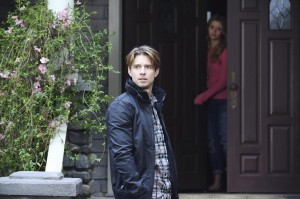 The girls are once again swept up in the web of Alison's lies on tonight's new episode of Pretty Little Liars. Will this sink them?
Read on for our recap of Pretty Little Liars 5×02: "Whirly Girl" below:
The episode begins as the girls walk Alison to the police station. They have to convince her that it is now safe to come home — she doesn't have to run anymore. Alison walks up to Detective Holbrook, determined to tell him the truth about everything, when something seems to startle her.
Suddenly, she's spinning a tale about being kidnapped and held hostage for the past 2 years and how her friends saved her life. This is going to get confusing. Not just for the girls, but for us too.
Alison may be a very good liar, but the reunion between her and her dad is really very emotional. Keep in mind, he has thought his daughter was dead for years! Oddly enough, Ali's mom is nowhere to be found and Jason hasn't shed much of a tear now that Alison has returned. Spencer and Emily spot him cleaning out his car in the middle of the night and find evidence that he was in New York in the trash. What is he hiding? Should we even care? It's so early in the season that he's obviously a red herring.
However, he is acting rather strange. Out of character, one might say. Wouldn't it be fab if he was the one who had a twin? Two of Drew Van Acker? Yes, please.
But when else has Jason threatened the girls before? He tells them to back off when he sees what they're up to and Hanna almost pees her pants!
"You follow him! I have to change my underwear!"
The girls begin to wonder if Jason and Mrs. D are working together after uncovering an email that she sent. It says "I can't protect you anymore." Who? Her child? Her twin? Ali's twin? It has to be one of those, right?
Elsewhere, Aria is struggling with the stress of what she did and is paranoid that A is not only still around, but is back to terrorizing her. It probably doesn't help that Mona is back together with her brother…and is sending out anonymous texts again. Yes, yes. Mona sent Alison one of her texts and that is what startled Alison in the police station.
"You're going to wish you stayed dead."
Damn, girl.

In other news, Toby is home from London and reveals that Melissa was never there and her hair is full of secrets. (That's why it was so big in season 1!) Toby's hair on the other hand…yuck.
A dog is dropped off at the house with the shelter claiming that Mrs. D ordered it a long time ago. Jason does not want that dog anywhere near the house but Alison eagerly takes it in. Later on that day, it's pretty clear why that Dog was necessary.
It has a good nose. It digs up and reveals Jessica DiLaurentis' body in the yard.
Who did it? What theory are you guys believing right now? What did you think of Pretty Little Liars 5×02?
Watch the preview and sneak peeks for next week's episode "Surfing The Aftershocks" here.