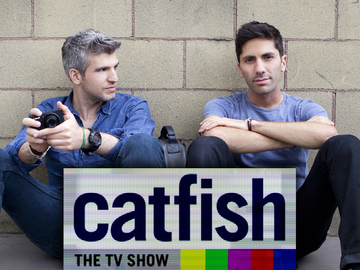 Judging from the preview alone, I'm guessing this is going to be a pretty confusing episode of Catfish. I hope it doesn't disappoint. On tonight's new episode, we investigate what happens when an otherwise intelligent guy is blinded by love.
Wisdom by Max: Love makes you dumb.
Catfish: John and Kelsey Recap:
Tonight, we're meeting John. He's an IT tech who has fallen in love with Kelsey, a girl he met in a psychology chat room. He has only heard her voice once and of course, has never video chatted. She claims to have body dysmorphic disorder and all her pictures are obvious red flags. He needs the help of Nev and Max because he wants to move across the country and move on with his life.
But what's he hiding underneath that hat?!
John may be computer smart but these pictures are so obviously fake. And you don't send a dick pic! C'mon son.
Generally a good idea to video chat once when you're in a long distance relationship with someone you've never met. #catfishmtv

— Max Joseph (@maxjoseph) June 12, 2014
The Search
After having zero luck with the reverse image search, the boys resort to messaging all of the members in the psychology chat room. They want to find out what they can about John and Kelsey. They Skype with two people who echo Kelsey's claims of her disorder and that she refuses to video chat. A cute girl living in some secluded islands is also dating someone in the chat named Adam. He refuses to video chat as well. Ding dong.
Guru Nev works his magic with Kelsey and convinces her to overcome her fears and meet with John. I'm just concerned the reveal will be like the majority of the episodes. I'm hoping for a twist somewhere.
The Meet Up
We're heading to Orlando so John and Kelsey can meet up.
The address does not exist when they get to Florida and Kelsey explains that she's instead at a local cafe. The boys are getting restless. I hope Max brings out the sass!
There are a bunch of old people. I hope it's an old guy! But it IS a guy. It's Adam the Gambler. It was a game to him and Max is PISSED.
Nev's face is killing me.
"This is the kind of loser that gives our show a bad name."
Max throws the camera down and leaves. He's done. DONE.
Get ready for me to explode. #catfish

— Max Joseph (@maxjoseph) June 12, 2014
This troll Adam needs to get some Proactiv and therapy.
The boys go home to crush the dreams of Ellie, the girl who was "dating" Adam from the chat room. Poor girl. She's so cute.
Bromantical Moment: Nev and Max frolicking in the snow like they're on their honeymoon.
When they meet up with Adam a second time, he has changed his tune. Probably because his girlfriend wants nothing to do with him.
He claims to flirt with the guys so they don't hit on his girlfriend and steal her away from him. Also worth mentioning here is how he even got her in the first place. He used her answers to an OK Cupid file to manipulate her that they had stuff in common. That is beyond creepy.
Obviously perturbed by Adam's lack of emotion and the fact he wants to be the "King of Catfish", they bring his girlfriend Ellie into the room on a video chat and force him to explain himself.
Ellie, girl, you can do better.
Two Months Later
Adam has a haircut and apparently, he and Ellie are still together. He tells them he's in LA and Max mutters an "Oh, God" in the background. LULZ.
John is in a relationship with a girl he can actually meet face to face and has no ill-will towards Adam. Max is just in shock. He needs to share his sass.