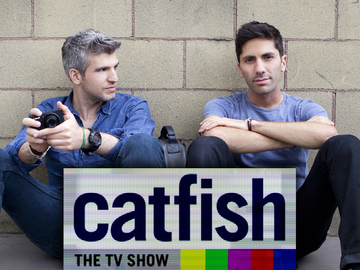 On this week's new episode of Catfish: The TV Show, we travel to Philadelphia to meet Lucille. Lucille is being financially catfished in a relationship that isn't at all romantic. She has been in contact with someone who claims to be Kidd Cole and his manager and now she is on the hook for thousands of dollars.
Catfish: Lucille and Kidd Cole recap:
Lucille was offered the job of her dreams, working with Kidd Cole at a major record label. For some time, she has been organizing events, security, appearances, and using some of her own money to finance it. After being promised compensation, Lucille is learning the hard way that it may never happen. For someone who is struggling with her own bills, she does not want to be charged with over 20 thousand dollars in bills from someone who may be nothing more than a fraud. Are Kidd Cole and Miguel really who they say they are?
The Search
Lucille's cat is licking himself. He is not impressed with Nev and Max.
Nev and Max use their connections at MTV to figure out if "Kidd Cole" is legit. They learn that anyone can build an artist page on MTV.com and their contact tries to find out more.
After running the phone numbers, they determine that Miguel and Kidd Cole are the same person.
After a few more Google searches, they discover a Facebook page dedicated to proving Kidd Cole as a scam artist. The boys decide to head to DC to talk to a woman who was recently scammed by Kidd. Loretta is a limo driver who was scammed out of thousands of dollars. Through her own investigative work, she discovers that Kidd Cole may be homeless and has a record for an arrest for fraud and felony.
The Meet Up
Nev facilitates a meet up under the guise of it being about Kidd Cole's music. He claims that he is not a fraudalent person and he has powerful people backing him up. When the subject of money is brought up, Jerez AKA Cole stares at his phone and refuses to look up. Fed up and without patience, Nev grabs it and tosses it into the river causing a nearby producer to shout "Shit!" The producers separate them and they arrange to meet up the next day so Jerez can prove his music is real.
Now that Nev is the bad cop, I can't be as sassy. #frustrated #catfish

— Max Joseph (@maxjoseph) May 29, 2014
Well, that's bullshit. The music he plays isn't his and the studio isn't his. When Nev wants to lay down some tracks, the guy posing as the engineer breaks down and sells them out. This is hilarious.
After a breather or two, he admits that he was in foster care and just wanted to make a name for himself. No one cares. This isn't how you do it.
Two Months Later
It's two months later and Kidd Cole is still an impostor and still hasn't repaid any of the money he owes. The only difference is that he now claims to work with Beyonce. Lucille however, has been inspired to study criminal justice.
This f*cking kid is still out there doing exactly what he did on this episode. Keep an eye out for him. #KiddColeIsFake

— Max Joseph (@maxjoseph) May 29, 2014