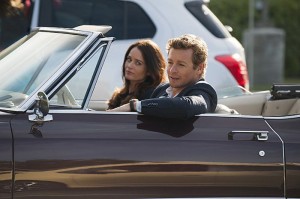 The Mentalist Season 6 Finale, Blue Bird, can be summed up as the moment in which you finally realize that it's now or never. That being honest and open about your feelings is the only good, true path toward love.
Jane (Simon Baker) seems quite in denial about Lisbon (Robin Tunney) leaving for D.C. with Agent Pike (Pedro Pascal).
But as she confirms to him that she will be gone in a day, suddenly an old case needs to be reopened.
The team must go to Miami to investigate the murder of Greta DeJorio, a prominent socialite.
Jane does everything he can to spend all the time with Lisbon, during the investigation. Following leads, they end up in a beautiful hotel, called the Blue Bird.
Jane makes sure to book some beautiful rooms, and Lisbon finds three wonderful dresses to wear for dinner.
But Lisbon finds out accidentaly that Jane had booked the rooms the week before… and so the truth comes out. Jane organized everything so that particular case would be reopened. It was a ruse, to give Jane more time to spend with Lisbon, to finally reveal his feelings for her.
Lisbon is obviously furious, and this is what she tells Jane in the next scene:
"You don't give a damn about what I want or need. I am just a convenience for you. You used me. It's all about you. You used a woman's murder, Jane. You basically dug her corpse up
for this crap. You are so twisted up in your own dishonesty, you have no idea how to act like a decent human being."
Ouch. That hurt. But the truth usually does…
Jane leaves Lisbon alone. And in the rage of the moment, Lisbon calls Pike, telling him that she will marry him, and that she's leaving in that moment for D.C.
Jane finally decides that he won't give up like that, and runs to the airport. Lisbon is already on the plane, so Jane stops it, he runs on board, and finally everything that he has kept inside all this time comes out:
"You're right. I have forgotten how to act like a normal human being. And I play games and I lie and I trick people to avoid the truth of how I feel. And the idea of letting anyone close to me is is terrifying, for obvious reasons. But the truth, Teresa, is that I can't imagine waking up knowing that I won't see you. The truth is… I love you. You can't imagine how good that feels to say out loud, but it scares me… and it is the truth."
Immediately after, Jane is arrested by the TSA.
While he's still in custody, Lisbon goes to visit him.
She finally decided not to leave for D.C. and tells Jane she feels the same way about him.
Jane tells her that he meant every single word of what he said on the plane.
Lisbon then asks Jane to "say it again", Jane kisses Lisbon, and we are left with a beautiful image of the two, finally happy.
The Mentalist's Executive Producer Bruno Heller said that he wrote this finale so that it could be both a Series and a Season Finale.
Luckely, The Mentalist was renewed by CBS, so we can expect a Season 7.
I think the new Season will show the beautiful healing power of true love. As Jane said, the idea of letting someone that close to him again scares him a lot, so we'll see how Lisbon will manage to make those fears disappear.
I think this episode was a beautiful one, a satisfying one.
I think that, whether people wanted to see Jane and Lisbon together or not, this is above all and end that gives hope. Happy endings make us smile, they make us happy, and why not, they give us hope.
In a reality that's already quite twisted, I feel like we need to dream, we need to be taken away for some time from that reality, and be transported in a dimension where there's still hope for people who suffered a lot, where true love still exsists, where it is still possible to heal.
That's exactly what The Mentalist gave to us with this episode, in my opinion.
Thank you for reading my recaps of The Mentalist Season 6, and we'll be back with Season 7, probably in January of 2015.